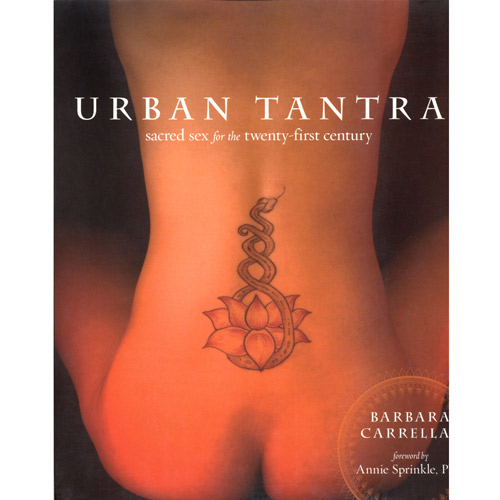 Urban Tantra
Book discontinued
by Celestial Arts
Carrellas assumes you could be a poly queer BDSM sexy freak (in a good way)
Fantastic - one of the best books on tantra out there, especially for folks who come from progressive sexuality perspectives. Read it!
Published:
Pros
Carrellas assumes a progressive sexuality and makes tantra widely accessible.
Cons
Hard to sit down and do the exercises - no matter how progressive, they sometimes feel silly.
When you think of Tantra, what comes to mind; long, sheer, flowy robes and scarves? Hetero couples discussing massaging his 'lingham' and her 'yoni'? Lots of incense and smiley self-help gurus with crazy eyes and hair? Yeah, me too.
But I've taken enough sacred sexuality workshops to know, that the root of Tantra is firmly in a lot of concepts and practices that I believe in; like loving your body, listening to it, honoring your partner(s) (whomever they may be), and being present with sensation and emotion.
Curious about Tantra, I've picked up quite a few books on the subject, and I am inevitably disappointed. But Carrellas's book Urban Tantra is different. It assumes you could be a poly queer BDSM sexy freak (in a good way), because Carrellas is too. It folds ancient tantric techniques into modern, urban, radical practices and language, so as to make the slightly more foreign concepts and practices accessible and relevant.
From the beginning, it is clear that Carrellas knows her stuff, and knows who she's talking to. She is open and clear, and invested in getting YOU involved in opening up, exploring breath and energy in interesting and affirming ways, and using the power of energy to transform all sorts of things.
No matter how accessible or progressive the book, there will still be people who can't take Tantra seriously, who can't suspend disbelief enough to open up and let something happen, who can't sit still with their own breath and physical sensation long enough to let go. If you're one of those people, this book can actually help you get past your disbelief if just read the introduction. You'll swear Carrellas is speaking directly to you. But you have to suspend your hippie woo-woo judgment for a minute, a few chapters, an hour, in order to get to the good stuff. It'll be worth it though, I promise; especially with someone like Carrellas guiding you.
Visit
www.urbantantra.org
for more information about Carrellas, her workshops, her book, and Urban Tantra.
This product was provided free of charge to the reviewer. This review is in compliance with the FTC guidelines.
Thank you for viewing
Urban Tantra
– erotic book review page!