Crazy-Amazing Little Thing
Crazy Little Thing is all about why love and sex drives people insane. It covers the biological as well as psychological aspects of falling in love and having sex and the impacts it can have on you. As someone who has done really stupid things in the name of love and sex, I found this to be an amazing read.
Published:
Pros:
* Quick/easy read.
* Comedic.
* Very interesting and informative.
Cons:
* None.
Crazy Little Thing is a fantastic book that explains different reasons why sex and love makes people crazy. If you've ever done something really stupid because of love or went to great lengths for a sexual partner, this may explain some of the factors that drove you to such actions. I identified greatly with these themes and found a lot of comfort in the fact that some of my past "crazy" actions are due to certain biological or psychological factors.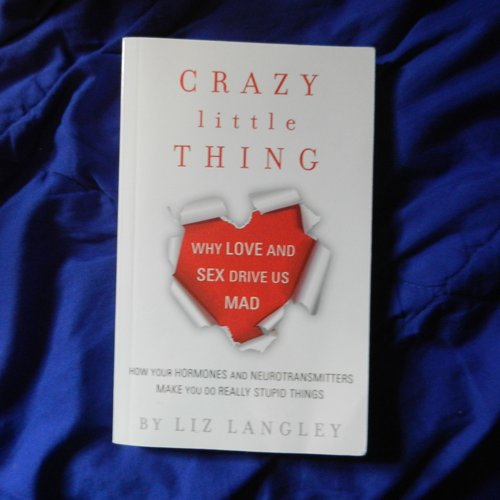 The first chapter goes through all the biological connections to love and sex: the hormones and neurotransmitters in your brain that cause reactions, attachments, or behaviors. While some may find this to be a dry way to begin this book, I found it really interesting as a psychology major. If the science aspect of love and sex isn't your interest, the rest of the book reads differently, looking at examples and real-life stories about crazy situations and those who go mad for love.
I think Liz Langley does a really nice job at writing this book. You can clearly tell she's interested in the subject matter and she often uses comedy to get through parts of it. During some parts of the book, the reading feels more like a casual conversation with a friend. Her interviews are also really clear and well described. I felt like I was experiencing her interviews first-hand.
As much as this book really put my own life into logical perspective, I would not really say this is a self-help book. Sure, it helps, but it doesn't read like that is the intention. It more so reads as informative, which allows you to pause and relate certain things back to your own life or the lives of people you know. You may not think love or sex drives you "crazy" but I'm sure you'll relate to something in this book while you're reading it. You may discover more about yourself by understanding how love and sex impacts your mind.
I highly suggest this read to anyone who is interested in psychology, sexual health, relationship counseling, or better perspectives in your personal relationships. If you've ever dated the wrong kind of person, fell for someone you really regret loving, or became oddly attached to a sexual partner, this will help you understand why your brain reacts to certain things and may explain why you stayed with a certain person in your life.
This book's a very enjoyable read and is appropriate for anyone who has ever wondered what impact love and sex has on the human brain. Think back to your sexual or love-interests, I'm sure there's something you can learn about yourself. This is the perfect place to begin!
Follow-up commentary
2 months after original review
I've lent this book out to a friend and she loved it, too! Very happy with this read, and it makes for great discussion.
This product was provided at a discounted price in exchange for an unbiased review. This review is in compliance with the FTC guidelines.

Thank you for viewing
Crazy Little Thing
– book review page!