For the reluctant 'sack of potatoes' vanilla woman.
Do you like to lay in bed and do nothing while your partner does what he wants? Has he told you he's tired of you sitting there doing nothing? Well, dear, this book it all you need! It'll teach you how to be one of those 'kinky' bad girls. You know, the ones with whips and stuff like that. Dangerous. I know you'll hate it, but just do it for him, k? Afterwards you can be the bad girl at Sunday brunch with the girls when you tell them that you're a dominatrix now.
Published:
Pros:
You can kill bugs with it, always good for beginners, will make you feel like an expert
Cons:
Useless information, complete lack of relevant information, dull
Janet Hardy is the founder of Greenery Press (which is one of my favorite publishers). She is an author and co-author of several book on BDSM related topics. Several of these are at the top of my 'must get my hands on' list, such as 'The New Topping Book', 'The New Bottoming Book', 'The Toybag Guide to Canes and Caning', and 'Kinky Crafts: 101 Do-It-Yourself S/M Toys'. She also collaborated on a few books that I know are flops, such as 'When Someone You Love is Kinky'. I was slightly curious about her seeing as she's written basically every book I need in my life as soon as I can find it. Her own books that she's authored are under the pen name Lady Green. I guess that makes it seem more legit.
The title says it all: 'The Sexually Dominant Woman: A Workbook for Nervous Beginners'. Sadly, the workbook is a mere 83 pages long with huge margins and slightly large print, so there's really not much here to read at all. I sat there and looked at how thin this book was and wondered how the hell it could have the all the information someone needs when setting foot into the world of BDSM for the first time. I mean, there's a lot you need to learn, and seeing that this is a book for absolute beginners there should be a comprehensive overview of BDSM. Something more like
'Screw the Roses, Send Me the Thorns'
that covers everything you need to know.
(I have a feeling this review is gonna be longer than the book itself.)
Chapter 1: Can you be a sexually dominant woman?
Here's a quiz. You can answer yes, no, or maybe. Do you enjoy acting, costume parties, or role playing? Are you sexually imaginative? Do you enjoy sex where one partner is active and the other stays passive? Are you drawn to risky activities like bungee jumping, white-water rafting, or mountain climbing? (What the fuck?) Are you a good communicator who can tell your partner what you want and listen to what they want? Are you 'together' enough to take responsibility for your partner's well-being during a negotiated time period? For every yes answer give yourself 10 points, every maybe gets you 5, and no answers get you 0. If you scored above 25 you can be a sexually dominant woman! (Hahaha! Seriously?!) Yeah, this is the entire chapter.]
Chapter 2: How did you get this book?
Did someone give it to you? He gave you the book because he wants you to take control of him. (Maybe he just wants you to stop laying there like a sack of potatoes in the bed.) Maybe you're submissive guy and you bought this book for your lady. (You do want her to finally do something, don't you?) Good job. Maybe you bought this book yourself. Don't worry. No one's gonna think you're a weirdo. (Really? That's where we're going with this?) Again, that's the whole damn chapter. Three tiny useless paragraphs.
Chapter 3: What is sexual domination?
Wow. Another page and a half here. Guess what, guys? Sadomasochism isn't something that sick freaks do. Everyone can do it! It means actually doing something instead of expecting your partner to do everything. And you know, mental stuff too. Everyone's supposed to like it. Honestly, though, this book isn't really an S/M book at all. It's the most vanilla form of "sexual dominance" you can get, really.
Chapter 4: Styles of sexual domination.
Okay, I'm still a clueless beginner and still have no idea what the term "sexual dominance" means. Hell, I don't even know why I bought/was given this book. Apparently sexual domination means playing with helplessness. That means like bondage and stuff right? Okay. And it's the same if I dress up as a nurse or cop woman? Right. Doing stuff to my man counts to? Like touching his junk or putting a blindfold on him? Okay, I think I get it now.
Chapter 5: Playing with helplessness.
Well, helpless means that you can do stuff from "pretend bondage" where you tell your guy to sit still. But there's other bondage out there that "takes years to learn and hours to apply". (I'd really like to know what that type of bondage is. Hell, intricate rope bondage doesn't take hours . . . ) Oh, so like, you shouldn't cut off someone's circulation or choke them or anything. Fuzzy handcuffs or the cuffs with the velcro on them. Yeah, those. Body restraints are weird and uncomfortable. Ball gags are much too crazy for you to try so skip those. You can tie someone up but that's too complicated, but here's some stuff about how to tie someone's wrists together if you want to try it anyway.
Chapter 6: Playing with roles.
I'm guessing I can dress up as a nurse or cop or something, right? Or I can be some kind of dominatrix? That's scary. Now you're telling me he can pretend to be a little boy or dress him up as a woman? That seems kind of weird, but okay.
Chapter 7: Playing with sensation.
Hmm. So it feels good to touch my man in different ways. His nipples are a good spot? And his back? How do I do it? Okay. Maybe pinch or scratch or tickle. I've got it. Maybe he'll like if I stick a finger up his butt too. I might try that
Chapter 8: Winding down.
I might feel good after this sort of stuff? Cool.
Chapter 9: How will you feel afterwards?
Did all that stuff freak me out? Did I hate it? Or do I want to do it again?
Chapter 10: Tips for emotional and physical safety.
Safe words are good. Don't be drunk or high. Make sure you talk about stuff first. Make sure you're prepared in case anything goes badly. Seems simple enough.
Chapter 11: A basic session
Set the scene. We should have some good music and candles and I should put on some lingerie. Maybe fishnets since I'm one of those dominatrix women or something. Now we need a cock ring, a fuzzy paddle, velcro handcuffs, and a blindfold. I should tell him to do some stuff and walk him around on a leash. Then I'll tie him up to the bed and slap him in the junk. Then we finish doing all of this stuff and have a snack.
Chapter 12: Notes for the submissive.
She's going to have no clue what you're talking about and think you're weird and you might feel kinda weird, too, but just tell her that everything is cool and she's not going to be some sick kinky person and everything will be okay.
Chapter 13: Tips on partner finding.
Go talk to some people about kinky stuff and whether or not they want to do the same things as you do or make some kinky friends or something.
Seriously, this is all this book covers. Basically it can be summed up as "Okay, someone wants you to do some kinky stuff, or maybe you think you do. You're not a freak or anything. Being sexually dominant means doing some stuff to your man instead of him always doing it to you. You can blindfold him or put some fuzzy handcuffs on him. Maybe a leash or a collar if you're really kinky. You can dress up as a nurse or cop or something like that and play pretend. Or you can touch him and do stuff to him. You might feel good or bad afterwards. Just make sure you talk to each other. Then you can go out and tell everyone how kinky you are."
This book is basically geared towards heterosexual housewives who don't even want to do anything like this but give in because their husband wants it. It's completely comical and something that anyone with one molecule of kinkiness in their body should pass up. I;m actually a little hesitant to read the rest of her books now.
Some things:
Who the hell did they get to illustrate this thing? It looks like one of those pamphlets you'd pick up at a doctor's office telling you about the importance of washing your hands.
Holy margins, Batman! Half of the damn page is blank!
Future 'sexually dominant' woman says "I like costume parties."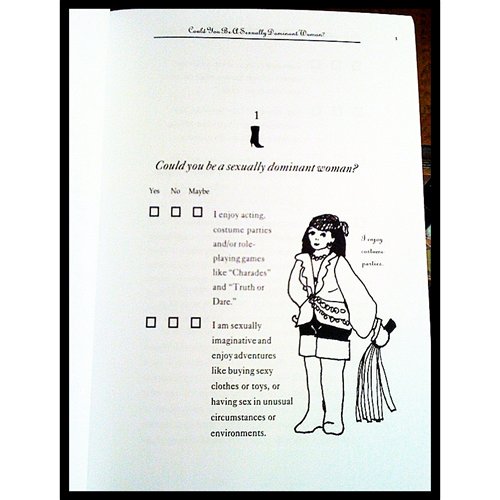 And a rather useless diagram: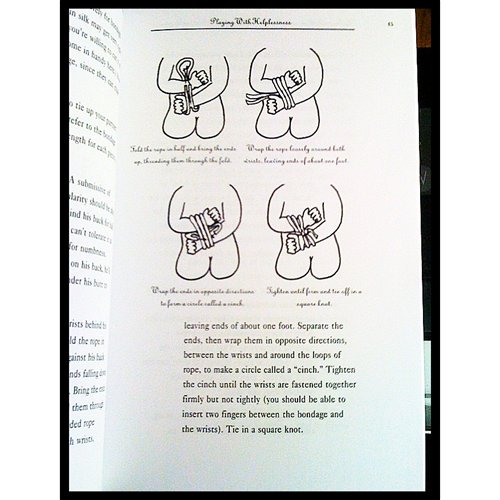 This content is the opinion of the submitting contributor and is not endorsed by EdenFantasys.com

Thank you for viewing
The Sexually Dominant Woman
– book review page!