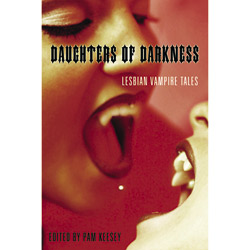 Daughters Of Darkness
Book
by Cleis Press
Girls Who Do More Than Bite
A collection of classic lesbian vampire tales, from an age when exquisitely sexy stories didn't necessarily involve explicitly detailed sex.
Published:
Pros:
An erotic book that you don't need to hide when mom starts leafing through your bookshelf.
Cons:
Probably a disappointment for anyone just searching for cheap thrills.
A wonderful collection that serves also a reminder of just how far mainstream erotica has drifted in the past two decades. First published in 1993, when you would have to search high and wide for the very word "lesbian" in the average bookstore, Daughters of Darkness is an anthology in the traditional sense of the word. The bulk of the ten tales within span over a decade of writing, ranging from magazine stories and novel excerpts dating back to 1981, while the heart of the book is J Sheridan LeFanu's classic "Carmilla," first published a century before that.

This is a literary collection, then, not a sexual one. It is your imagination, and your ability to read between the lines that stirs the emotions; qualities that many commentators argue are sadly lacking from the explicit squelch-by-squelch descriptions found in more modern storytelling. And it's true, there is a beauty to leaving the lovers just as the candles are lit, then rejoining them as the events of the night are consigned to sometimes shameful memory; passion spent can, in good literature, be just as arousing as passion inflamed, after all.

Daughters of Darkness lays further claim to being a literary cut above the expected via a fascinating introduction that traces the history of sapphic vampirism back to Biblical Lilith and Eve; a very thorough bibliography, and even a filmography that rounds up almost every worthwhile lesbian vampire movie of the previous sixty years... almost, because it omits one of the greatest of them all, the mid-1970s "Lemora - A Child's Tale of the Supernatural." But editor Pam Keesey does bestow bountiful praise upon "The Hunger," and her great taste in films is echoed by the sheer breadth and beauty of the stories she has selected here.

"Carmilla" is unimpeachable despite its vintage, and the somewhat old-fashioned nature of the writing. But Robbi Sommers' "Lilith" and Jewelle Gomez's "Louisiana 1850," tales set in a land that fans of Anne Rice will instantly recognize, are fitting successors to the old master, while Katherine V Forrest's "Oh Captain, My Captain," catapults into a sci-fi future without losing any of the ancient mysteries of the genre.

Astonishing, too, is Elaine Bergstrom's "Daughter of the Night," which investigates the 400 year old legends of Countess Elizabeth Bathory (arguably the true prototype for Bram Stoker's Dracula), but flips the common assumptions around, to transform its heroine into a figure of sympathy, if not downright pity.

Again, do not read this book if you are looking for any kind of explicit sexual adventuring - another Cleis Press publication, Girls Who Bite, does that job well enough. But Daughters of Darkness is just as charged and challenging, and ultimately may be even hotter as a consequence.
This product was provided at a discounted price in exchange for an unbiased review. This review is in compliance with the FTC guidelines.
Thank you for viewing
Daughters Of Darkness
– book review page!