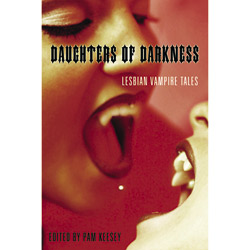 Daughters Of Darkness
Book
by Cleis Press
Lesbian Vampire Erotica Has Arrived
For the die hard vampire genre fan this is a great read! The stories are lush, erotic and about a section of vampirism that sometimes gets overlooked; the lesbian vampire. Some of the stories are classics and some are quite contemporary but all have something to offer the interested reader.
Published:
Pros
Lush, erotic stories written in a variety of styles by a variety of writers
Cons
Some styles of writing are dated and might not appeal to the average reader
I love vampire erotica it's just one of my many unique quirks. There's something about the power exchange inherent in a great vampire story that thrills me. I have read traditional Vampire stories that portray the vampire as a true monster as in Bram Stoker's Dracula all the way to Laurell K. Hamilton's extremely sexy and not at all the bad guy 'Jean-Claude'. Along the way I met a few dozen female vampires but none who were completely lesbian! Along comes Daughters Of Darkness and I prepared to be thrilled and titillated by yet another face of vampirism.


Editor Pam Keesey shares in her Introduction to the book that she is also a fan of vampire erotica and specifically lesbian vampire erotica which started after she saw a screening of the movie The Hunger. She embarked on a search for more about lesbian vampires expecting that it was a new fad. What she discovered was that lesbian vampire erotica is as old as storytelling and some of the oldest stories are just as erotic as anything currently being written. In some circles the belief is that the Countess Bathory was the basis of the Dracula story not Vlad Tepes though both legendary characters can be combined to form a terribly evil monster! Ms. Keesey traces her research for the reader in her introduction and sets up the stories in an attractive and interesting way.


In Dracula Retold by Zana, we meet a repressed housewife by the name of Lucy Harker who meets a female Dracula and all sorts of hardship befalls poor Jonathan! He finds out whether life as a ladybug is more to his liking.

In medieval Sibiu, Transylvania it is a crime to either be a vampire or a lesbian but the main character in I, Vampire by Jody Scott, is rather vague about what has really caused her family to go insane! Obviously they are not at all pleased that she has admitted she sucked the blood of a priest but she hints that her lesbian tendencies might also be an unforgivable crime. Either way the story is quite compelling and actually one of my favorites in this anthology.

Carmilla by J. Sheridan LeFanu is almost novelette length and is written in an old style that might be a tad boring to some readers. It was written in 1871 and attempts to retell the poem Christabel by Samuel Taylor Coleridge. Carmilla chronicles the story of Millarca Karnstein who calls herself Carmilla and seduces a very young and impressionable Laura. The story is timeless and well worth the read.

Elaine Bergstrom offers up a retelling of Countess Elizabeth Bathory's tale with a more appealing and needy heroine who just wants understanding and love from another of her 'kind' in Daughter Of The Night.

For a real departure from the norm of vampire lore we are offered Louisiana 1850 by Jewelle Gomez. In this story Gilda is black, female, a slave, a lesbian and a feminist! She embraces vampirism and escapes her slavers after losing her Mother, her only salvation in a world completely bent on her destruction. This is a very strong story and the imagery is disturbing at times.

In Oh Captain, My Captain by Katherine V. Forrest we are taken on a science fiction adventure where we meet Captain Drake the vampire commander of the Scorpio IV. She is totally vampire but also totally lesbian and in search of something more than just existence.


Daughters Of Darkness features 10 stories written by various authors most of whom I had never met before. In this anthology the editor Pam Keesey did not offer up her own work but rather collected the work for her reader's enjoyment that best exemplified the subject matter in her opinion. The author's she chose are: Zana, Jody Scott, J. Sheridan LeFanu, Elaine Bergstrom, Jewell Gomez, Robbi Sommers, Karen Marie Christa Minns, Pat Califa, Katherine V. Forrest and Anna Livia.

Though some of the works were long I found them very compelling and fun to read. This is not, however, a book best suited to reader's who prefer contemporary vampire stories heavy on mysticism and erotica.
Experience
Continued from above: The cover art of the book isn't terribly sexual but highly erotic and possibly not safe for work. It features two lovely female faces about to either kiss or attack each other. Both mouths feature prominent red lipstick and vampire fangs.

The end of the book features a filmography of all the films mentioned in the book as well as a complete bibliography.
Follow-up commentary
8 months after original review
I still like the book but we have seen that it really isn't a book that appeals to everyone. Even in my small circle of family/friends/lovers the book has gotten mixed reactions. Personally? I really like it and read some of the stories again and again. This really is targeted toward a specific segment of the reading populace.
This product was provided free of charge to the reviewer. This review is in compliance with the FTC guidelines.
Thank you for viewing
Daughters Of Darkness
– book review page!