I love him and his Kinky F*****y! (Spoiler Alert!)
Overall I think this is a great and perfect ending to a perfect trilogy. Well, at least in my opinion, so please don't eat me alive for liking this book. I'm a sucker for cheesy books as you can see, but what can you expect from a Twilight fein? It's a great book, especially if you don't have anything else to do. If you're anything like me, you won't be able to put it down once you get started. It's worth every penny I spent on all 3 books and I'm hoping they don't ruin the upcoming movie.
Published:
Pros:
More believable then Twilight
Tons of weird BDSM scenes
Great to pass the time
Cons:
The writing itself is bad
Too repetitive
Resembles Twilight Saga too much
I am not ashamed to say that I loved this book. In fact, I loved the whole trilogy. You're probably thinking I'm crazy, and all I did was follow a trend. Well, you are mistaken. Fifty Shades isn't for everyone, and neither was Twilight. However, these books were made for me. The story itself can be a bit cheesy but it's by far more realistic than Twilight ever could be. Of all 3 books, the second and this one were my favorite. Let me give you a brief description of the books so you can understand my review on the last book. I must warn you, if you haven't read them and are planning on reading, I suggest you don't read further because of major spoilers!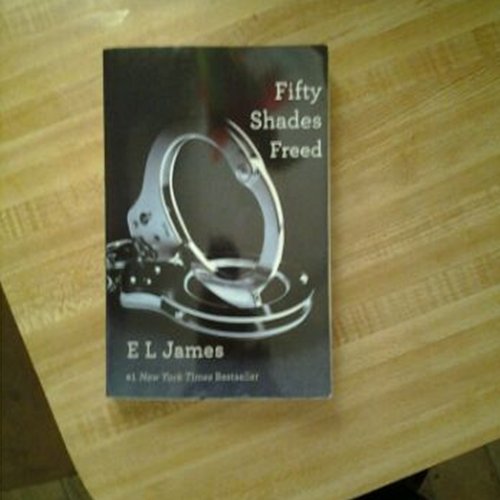 The first book tells you a sex crazed story of Anastasia Steele and Christian Grey. Anastasia is your typical average girl with mediocre looks and not much self-esteem, confidence, or dignity if you may. Christian Grey, in my opinion, is like a more sophisticated version of Tony Stark. Except he doesn't turn into a sexy superhero and he's much taller, with captivating gray eyes. So in the first book they start some weird BDSM FWB kind of relationship. Of course Ana falls in love with Christian, but he of course feels he is not deserving and cannot return the feelings.
The second book tells you a bit more about Christian Grey and why he is the way he is. It explains how he actually is in love with Ana and he can no longer fight his feelings for her. They get married while still having Kinky sex, and so on, and so on. This book is almost a replica of the Twilight saga minus all the vampire/wolf magical crap with like 12 chapters of BDSM sexual sessions. Now that I think about it, it's like cheesy porn with a passable story line. I'm sure I am doing the opposite of explaining how great the book is but I just want to be honest. Regardless, the books were cheesy enough for me to like and that makes it worth the money I spent.
So back to the story, the last book, Fifty Shades Freed talks about Christian and Ana's relationship after marriage. It is about how he's trying hard to control his "50 Shades" while Ana tries to make herself more kinky for Christian which only confuses the poor man even more. Obviously some big tragedy has to happen, which would be towards the end when Ana gets kidnapped and is almost beaten to death. Of course she doesn't die and neither does her baby. Yes, she's pregnant and of course Christian was not ready to have kids so that's just another big altercation they have with each other. In the end Christian stops taking Ana for granted and stops the pity party he has been having his whole life because he has to start a new one with Ana. He accepts the fact that he's going to have a child and promises to be the best dad in the world. If you continue reading after the story is over, you get an insight on what hopefully the next book will be about, which is their life after having kids.
Experience
I loved these books so much that I bought all 3 books in Spanish and got my sisters in Honduras hooked on them!
This content is the opinion of the submitting contributor and is not endorsed by EdenFantasys.com

Thank you for viewing
Fifty Shades Freed: Book Three
– erotic fiction review page!