I've been very Naughty..!
I really liked this movie. It's full of HOT and SEXY people, awesome sex, and amazing sound and camera shots. Stoya shares her first double penetration scene with us in "Bad Girls Episode 5", and boy is it awesome. This movie also offers up a little bit of everything; which is cool because if you like spanking, double penetration, or just some nice hot sex you will really like this movie.

*Pictures from the movie included. Not all of the cast is shown.*
Published:
Pros:
Sexy people, a hint of kink, and it has a very high quality
Cons:
I wish there was a little bit more kink, and that all of the scenes could have had "Bad Girls".
Summary
This movie includes 5 girls who have been very bad. ;) There is no story line, so there's not much to explain, really, but since there is no story the sex scenes start ALOT sooner. Only 2 of the five girls attempt double penetration, but they are all equally sexy.
On the DVD you will find the following options:
Play Movie
Chapter Selection (I noticed that you can only view them after watching the movie, or at least the scene.)
Special Features
Contact
Scene 1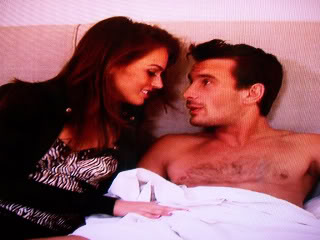 Tori Black & Manuel Ferrara:
This scene starts out with Manuel hears Tori tell her friend that she is coming in, so he pretends to play with himself while half asleep. Tori walks up and an catches him masturbating (they both act surprised and embarrassed); and loving what she sees. She walks over to him and they begin to make out, which of course leads to sex.
I don't really consider this scene with Tori to be a "bad girl" scene. There is no double penetration, threesome or anything kinky in it. It's just a normal boy/girl sex scene, with a hint of a story line, and a facial ending.
Scene 2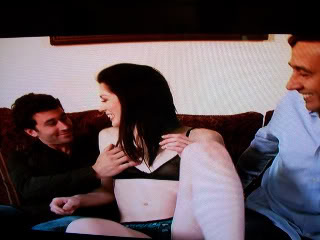 Stoya, Steve Holmes & James Dean:
This scene doesn't have a story line and starts out pretty fast. Stoya walks in, her face beaming with excitement (because she knows what is to come), and sits down on the couch between James and Steve. Both of the guys start to finger her, then she gives James a blow job while Steve eats her out. After Steve is finished Stoya kneels in between both of them and gives both of them an amazing blow job.
Both of the guys enjoy Stoya's sweet gifts. They penetrate both of her holes together and separately, when only one of them is inside of her the other is getting a blow job. This continues with the guys changing positions, tossing her around to get her in the right position for them. ;)
I loved this scene, it had all of the things that I like in a good sex scene. The guys were very vocal, there was spanking, slight choking, hair pulling, and super sexy people. Stoya did an amazing job with her first double penetration scene!! Stoya was definately a "bad girl".
Scene 3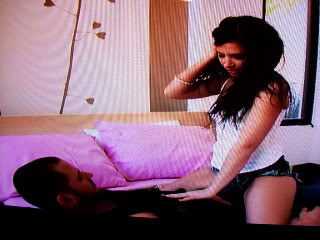 Rebeca Linares, Scott Nails & Tommy Gunn:
This scene starts out with Rebeca giving Scott a blow job, which lasts for a very long time. Scott then decides to go down on her and eat her out which leads to sex. Rebeca is not a "quiet" person, Scott has to tell her to quiet down because his roommate might hear her. They both look at each other and decide to invite him.
Rebeca goes over to Tommy's room and seduces him. He really enjoys the blow job that she gives him, and returns the favor by eating her out and then they have sex. Rebeca then invites both guys to the living room where they have a very hot threesome. She gives both of them a blow job, and they take turns having sex with her vaginally. After a while the guys take turns fucking her anally, and as a big finish the both give her a facial.
I found this scene to be very interesting. It's a very realistic way that an unplanned threeway can happen. The sex is great, but I wish that the blow jobs weren't so long.
Scene 4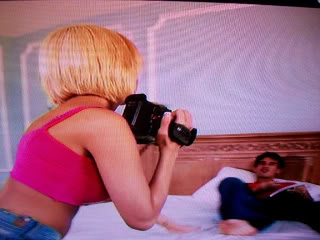 Jenny Hendrix & Manuel Ferrara:
There's not a lot that happens in this scene. Manuel helps Jenny try to make a homemade porno. He tells her how to hold the camera while he goes down on her, then she goes down on him. After a while they just start having sex, completely forgetting about the camera. And finally ending with Manuel giving Jenny a facial.
Eh I didn't think that there was anything real special about this scene. They could have done more or somehow made it a little bit more interesting. :(
Scene 5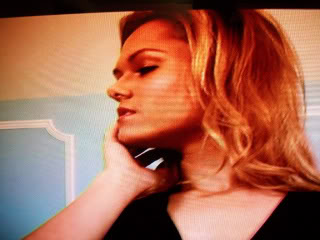 Angelina Armani, Mick Blue & Tommy Gunn:
Unlike all of the other scenes this one starts out with Angelina masturbating by herself, very sexy. Then Mick and Tommy come to join her on the bed, she starts to give them both head. They both take turns having sex with her while she gives the other a blow job. As a big finish to the scene and the DVD they both give her a facial.
While although there wasn't any anal in this scene the sex was still really HOT. I enjoyed this one.
Experience
Music/Sound and Camera Angles

The camera and sound work in "Bad Girls Episode 5" was awesome, some of the best I have seen. There are no awkward camera changes, or spots where you wish that you were looking from a different angle. Also the sound is crystal clear, no annoying music or weird background noise. Digital Playground knows how to get the shots that you want to see, and the sounds that you want to hear.

Cast

Tori Black
Manuel Ferrara
Stoya
James Dean
Rebeca Linares
Scott Nails
Tommy Gunn
Jenny Hendrix
Manuel Ferrara
Angelina Armani
Mick Blue
Tommy Gunn

Personal Comments

I REALLY enjoyed "Bad Girls: Episode 5". While it has it's down moments, there are a few scenes that make it all worth it. The sex seems real unlike some other movies where it's faked; and all of the actors and actresses did an amazing job. The sound was great you could understand what they were saying without having to turn up the volume. :) Digital Playground has created another great movie!!
Follow-up commentary
2 months after original review
I really like this DVD. It's full of great sex and hot people which makes it a great mood setter. And like all movies it does get a little old sometimes, so now when I need to "get in the mood" I will randomly pick a scene or two and watch then; instead of watching the whole movie each time. This helps to keep things fresh. :) I would recommend this movie for those who are into semi-rough sex, anal, and threesomes. You can watch this solo or invite your partner to watch it with you (this helps things to heat up really fast). Overall this is a high quality Adult DVD, with great sound and camera work. It's definitely one to add to your collection.

This product was provided free of charge to the reviewer. This review is in compliance with the FTC guidelines.

Thank you for viewing
Bad Girls Episode 5
review page!