Not Just for Cowgirls
This book is cute but it isn't spectacular. The writing is fun and informative, and with 100 different positions to try there is no shortage of information in this book. Of all of this information there were a few small things I took from the book, but overall it wasn't anything new and exciting. Despite this, I think it is a great book for someone who has never read a book like this, because Dr. Sadie Allison's books are some of the most easily accessible and entertaining I've read.
Published:
Pros:
+ Casual, fun, entertaining style
+ Illustrations
Cons:
- Nothing I haven't seen before
Ride 'Em Cowgirl
is written by Sadie Allison, the author of such books as
Tickle His Pickle
, and
ToyGasms
. She is a well-known sex educator with a doctorate from the Advanced Institute For Human Sexuality; she has also created a popular brand of lube. Her books are well known for their casual, accessible style. They are written in such a way that it seems like a conversation you might have with your friends, making it a very easy read.
This book in particular focuses on positions and techniques for partner sex. Each chapter begins with some background information about the topic itself, some basic overall techniques that one might use, and then ends with examples of positions you can try. The written portion is very informative but sometimes I do have trouble visualizing exactly what she wants to say. One interesting aspect is that she includes sections for "cowgirls only" and "cowboys only" making this a book perfect for heterosexual couples by addressing both genders.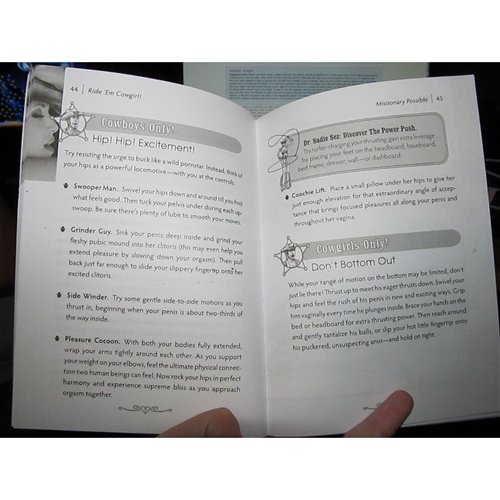 The positions are both described simply and pictured using simple sketches, which makes them very easy to understand. This matters quite a bit for me because I need visuals but I don't usually like seeing real couples in position guides.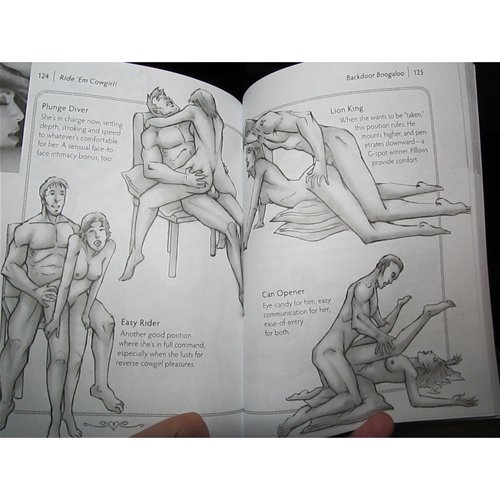 The chapters are as follows:
i: Foreplay: This chapter basically serves as an introduction of sorts explaining how the book will be written.
1. Your Passion Cocktail: Here the author talks about romance and the basics for great sex.
2. Supergasms: A discussion about the different types of orgasm (you mean there's more than one? oh yes there is).
3. The Art of Penetration: Exactly what it sounds like, a chapter just for the guys on how to create the most pleasure while penetrating your partner.
4. The Art of Being Penetrated: As you might imagine, this is basically the same as chapter three except written for the partner being penetrated.
5. Missionary Possible: This is where the positions begin, starting with what one might think to be the most simple: the many variations of missionary. (11 positions)
6. Doggystyle: I give you one guess what this is about. (13 positions)
7. Ride 'Em Cowgirl: The chapter that gives the book it's title talks about all the awesome ways for the female bodied partner to be on top. (12 positions)
8. Spooning: It isn't just for cuddling anymore, this chapter talks about the best ways to have sex while spooning. (6 Positions)
9. Clitilicious: A chapter full of positions designed just for your clit! Does it get much better? (7 Positions)
10. The G-Spot: I lied, it does get better, these positions will hit your g-spot just right. (10 positions)
11. Backdoor Boogaloo: Not only does this chapter include some great positions for anal, it also functions as a great beginners guide for those who have never experimented anally before. (10 positions)
12. The He-Spot: A discussion on anal sex for him and the best positions for p-spot play. (7 positions)
13. Voluptuous Lovin': Here is where you will find tips and positions designed for BBW. (4 Positions)
14. Pregnant Poses: A chapter full of safe and comfortable positions for lovin' the mom to be. (9 positions)
15. Outercourse, Good Messy Fun: Fun suggestions for getting it on without penetration.
16. Location! Location! Location!: Some of the best places for sex that are hiding right around you. (11 positions)
17. Viva La Difference: People come in all different sizes, and sometimes they don't quite match up, here are some tips for coping with that.
18. Sexy Play Things: All the best gadgets and gizmos to bring into your bedroom.
Appendix: Safety First, Protect Yourself: A very informative chapter on safe sex and STIs
Experience
I like to consider myself pretty educated in the sex world and I personally didn't find that I learned a whole lot. Despite this, it was still a very interesting and entertaining read. You will find that this book is written for a very specific audience consisting of heterosexual gender normative relationships. I don't think this is a specific negative though because it would be impossible to write a book that caters to everyone and have it be as thorough as this one. Don't expect any revolutionary knowledge in this one, but overall it's a fun read and would make a cute gift at a bachelorette party or similar event.
This content is the opinion of the submitting contributor and is not endorsed by EdenFantasys.com

Thank you for viewing
Ride 'Em Cowgirl: Sex Position Secrets for Better Bucking
– erotic book review page!