A Girl's Best Friend
If you are addicted to eyeshadow like I am, you must have this set! Everything in here is well worth the price, and even makes a great stuffer for gift baskets and stockings! This set should appease those from the supermarket shopper to the specialty store woman!
Published:
Pros:
-Great Quality
-Silky Feel
-Elegant Packaging/Bottles
Cons:
-May Have Spillage
====================
Rollerball Eyshadow Set
Color: Monet
by Bella Il Fiore
====================
How many women don't love eyeshadow? I have to say that I'm personally addicted to the stuff. Although I have quite the collection, I couldn't resist trying these. I've never tried a rollerball shadow, so it was worth the experience.
==========
PACKAGING
==========
This set of 4 rollerballs come in a tiny cardboard box with a clear plastic viewing front. The box is 2 1/2" x 2 1/2", which makes it perfect for gift baskets or stocking stuffers. The box is nicely done, something you would expect to find in a mid-quality beauty store.
Each eyeshadow is in a thick glass bottle with a gold colored metal cap. Each bottle is approximately 2 1/2" high and 1/2" wide. The bottles are really nice looking with gold printing on the glass and a useful paper sticker on the bottom with the color.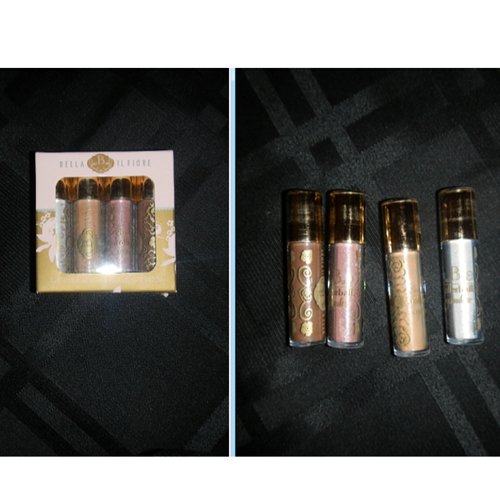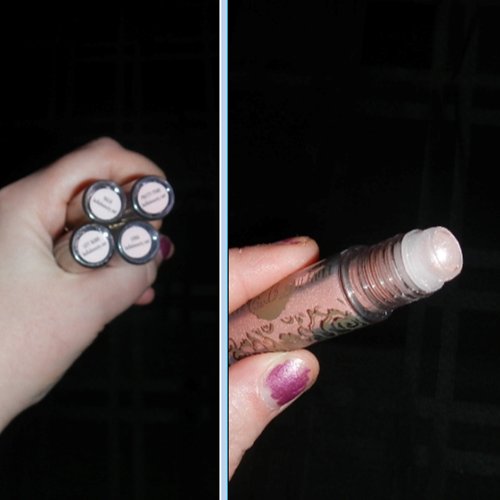 ==========
DETAILS
==========
The box states that this:
*Has a Net Weight of 0.06oz
*Is Paraben Free
*Is NOT tested on animals
*Made in Taiwan
Ingredients:
Mica, Titanium Dioxide, Iron Oxides, Red 40 Lake, Phenoxyethanol, Ethelhexyglycerin
I LOVE the simple ingredient list. If you've never looked before, check out some of the ingredients on cheaper eyeshadows and you'd be surprised how much more weird stuff is in it. The powder itself is very smooth and goes on like silk, making me feel even better about it. Cheap eyeshadow has a grit that isn't found with these. These blend very easily with your finger and might seem like it won't last long, but after an hour this stuff stays on better, as if it dries. If you use a primer, you will see much better results.
When you remove your caps, the ball should be white and free of powder to promise it hasn't been used. The ball itself is very tiny, about 1/4" in diameter. This helps you have much better control of where it's being applied.
The colors included are:
*Pretty Pink = A soft rose shimmer.
*Halo = A tan, almost bronze shimmer.
*Luna = An off-white shimmer.
*Left Bank = A deep mocha shimmer.
All colors will look different when applied depending on your skin tone. I have a very pale-pink complexion, so keep that in mind with the photo below.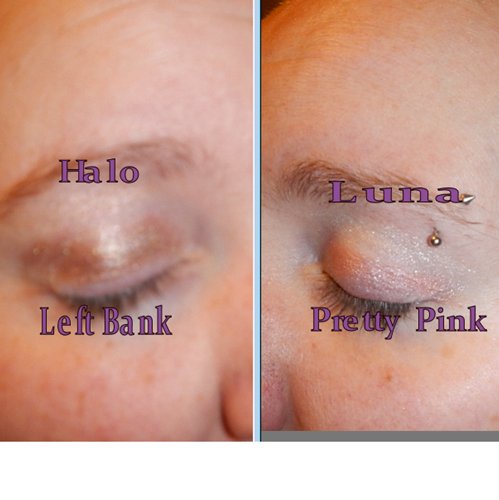 ==========
EXPERIENCE
==========
These are a great idea and a great powder, but you need to be careful when applying. To get things started, roll once or twice on your wrist. Be gentle and keep the bottle at a 45 degree angle. The problem is if you tip it all the way horizontal, you could get spillage. I figured this out the first time I went to apply to my eyes and my cheek got covered in powder. After you roll once or twice, you may have to get it flowing again by reapplying to your wrist (or kleenex) again. NEVER shake it or hold it all the way upside down or you may make a big mess. Although this can be a problem, nothing works perfectly, right?
Although this might seem expensive for eyeshadow if you normally by the stuff sold in supermarkets, it's actually a lot cheaper than others you would find at specialty stores. Not only that, but these actually have a great shelf life if you're not spilling powder everywhere like I did. I spent almost the same on this set then I did Eden's other eyeshadows and this set is MUCH nicer! If you used all 4 colors everyday, you should get at least months worth of color.
Thanks for reading and have a sexy day!
Follow-up commentary
2 months after original review
This is still going on strong where quantity is concerned. It doesn't look like it's emptied much at all. My friends have also asked about it and now want their own, but the product has been out of stock for too long. I LOVE using these to mix and match my look! I am getting a bit better at not getting shadow all over my face, but it is a slow progress. Overall, I'm happy with this purchase.
This content is the opinion of the submitting contributor and is not endorsed by EdenFantasys.com

Thank you for viewing
Monet rollerball eyeshadow set
– eye shadow review page!