A Little Messy for the Candy Lover!
These are a fun surprise for a silly gag gift, girl-party gift or just a night to shock your lover. They are great if you've got a sweet tooth. They fit well on one size fit most, could be worn on a man or a woman, and have a ton of little sweet candies on them. If you are looking for a "sweet" gift or a "sweet time" I recommend these!
Published:
Pros:
Fun Gift
Perfect Surprise for a Sweet Tooth
CANDY!
Cons:
Messy
Sticky
If you are looking for a fun gift for a bachlorette party, look no further. If your lover likes sweet treats, look no further. These Candy G-String panties from Spencer and Fleetwood make an excellent gift or a fun surprise!
Use:
I would say the best use for these is somewhere that you don't mind getting a little messy. The candy coating is colorful, the bits and pieces chip off leaving little remnants all over and there is not a way to keep things slobber-free. To say the least, unless you are carefully eating the candy one by one, which cannot nearly be as fun, these panties are messy! So, you can use them in the bedroom, in the kitchen, wherever you don't mind a little mess. I would not suggest using them in the shower though, can you imagine? Leaky coloring all over your bum and legs!
These would be great to wear alone, topless. You could also pair them with some other edible items, there are a lot to choose from out there! I've heard of edible sauces and pasties, never tried them, but maybe you could make a big delicious treat of yourself! For me, I would not wear them with any nice lingerie because they get messy and I wouldn't want anything nice ruined!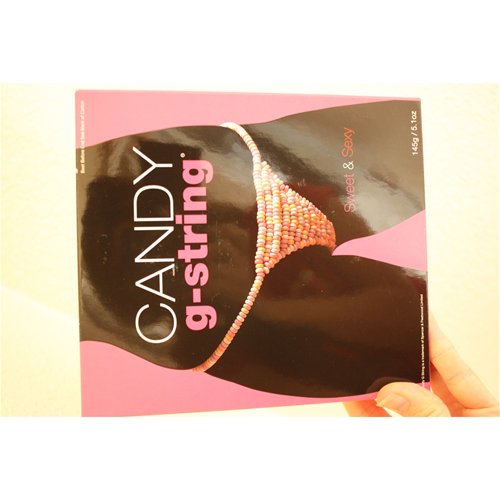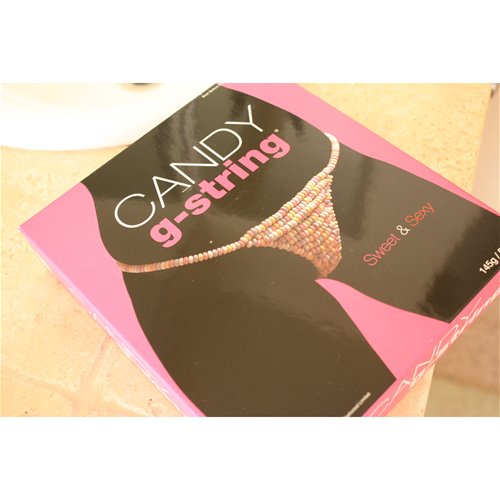 Design/Size/Shape:
Size: One size fits most
Volume: 5.1 oz.
These panties are a one size fits most. Usually that means they fit size 4-14. I am a size 7, right in the center of the chart, and they fit me alright, if not a little loose. I think the sizing is probably more like a 5-12, unless you want the candies to be really loose on the string.
The panties fit loosely on my hips and looked kind of funny on. The spacing in the front panel was a little too much, I would have liked them to be a bit thicker. The sides were loose enough that they didn't tug or indent into my skin. They sat nicely and stayed put. Because the panel is so open in a way, I suggest getting waxed or shaving before wearing these. a brazilian would be best, but a bikini trim would work too.
Packaging:
Made in Paris
The packaging is a medium sized pink box. There is an image on the front that looks like a silhouette of a model wearing the candy panties. There is an ingredient list, nutrition facts and information in a few different languages. There is also a best before date. My date was in 2 years! The packaging is very appealing and fun. It is perfect for giving as a fun and sexy gift. I usually see at least one of something like this at a bachlorette party!
Ingredients: Sugar, Corn Syrup, Citric Acid, Magnesium Stearate, Artificial Colors, Artificial Flavors.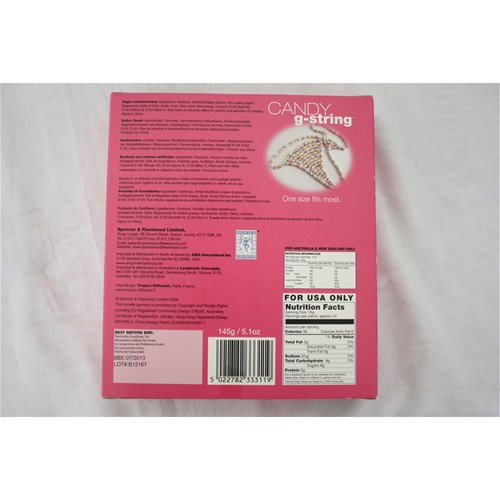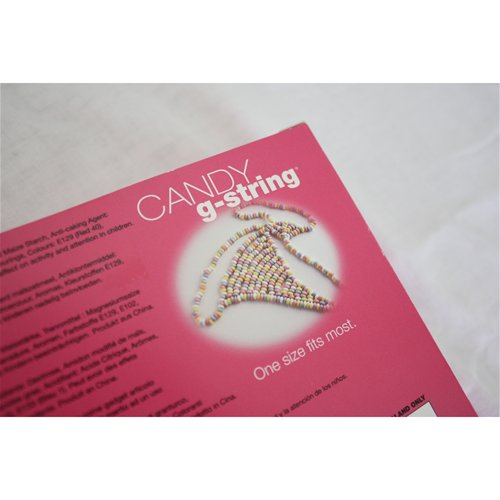 Experience:
After my hubby got some licks and tastes in of the candy, he snapped one off for me. I am actually the candy lover in the relationship, not him. The candy is a little sweet and tart. They taste very similar to the candy necklaces. I cannot compare the two completely, since I haven't had a candy necklace in a very long time, but from what I remember, they are very similar.
We played a little more while I was wearing these, although my husband probably only ate 5 pieces total. He was more interested in me than the candy, which I guess is the better way to be. Afterward he said he liked the candy though.
Overall, they were fun for a night. They were messy and a little awkward on, but I am glad I got them. Since they get a little sticky, I would say they are best for a one time use only.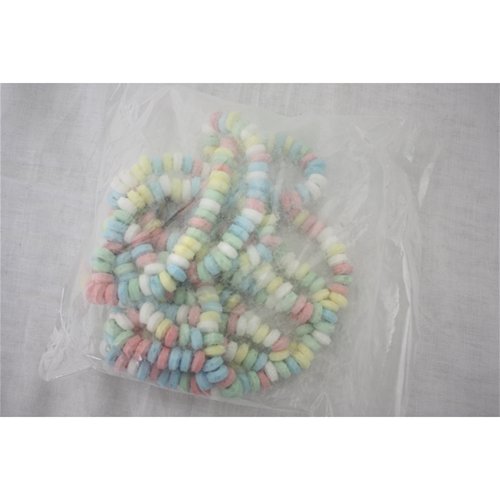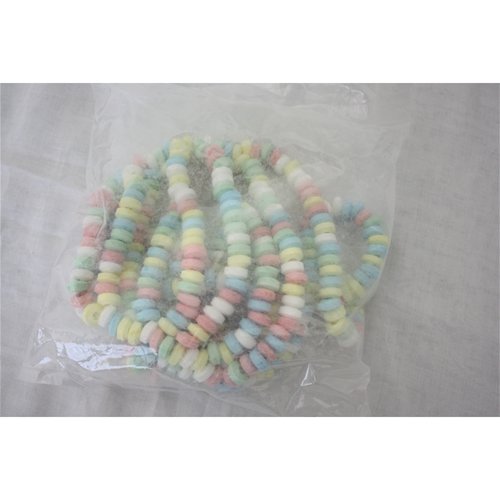 This content is the opinion of the submitting contributor and is not endorsed by EdenFantasys.com
Thank you for viewing
Candy g-string
review page!