A Lovely, Yummy Oil, But Absorbs Too Quickly!
Both my partner and I LOVE this product, but we don't love the fact that we have to reapply the oil every three minutes. Despite the fact that reapplication is inevitable, it still holds a place in our heart because it tastes good, smells nice, and leaves our skin feeling so good; unlike any other oil we have ever used.
Published:
Pros:
Price
Taste
Scent
Leaves skin feeling wonderful
Not overpowering
No after-taste
Cons:
You'll need to reapply the product a few times because the oil absorbs into the skin quickly
My partner and I really enjoy trying new edible products, so when we had seen the Making Love Massage Oil, we decided to give it a try. We figured that for $8.99, it would either taste good, or it wouldn't- and if it did not taste good, we could still use it for massages without tasting it.
The oil comes in an 8oz bottle with a white snap closure lid for easy-usage. The bottle is clear with a wrap around label. The front of the label has a black and white photo of a female and male, the name of the product, and the flavour. On the back of the bottle, the label states the ingredients, company information, and claims that the product "never becomes sticky or tacky", and has "long lasting lubricity".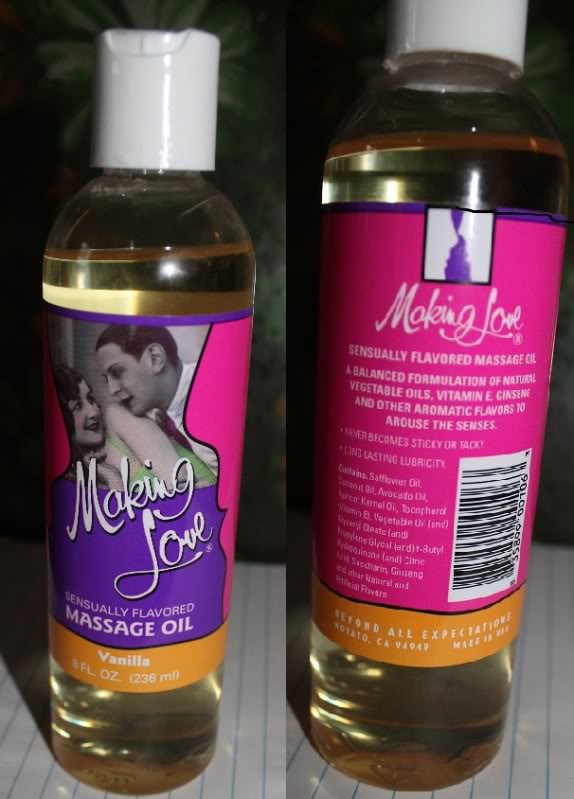 When I opened the bottle, I was surprised that there was not a strong scent to the oil when sniffing it through the opened lid. Most of the edible products we have can be smelled before even opening the bottle/package/tube. Even when the Making Love Massage Oil is drizzled onto the skin, the smell is quite faint. This is a positive for those who may be sensitive to strong scents. The scent is mild, and can only be smelled when you put your noise a few inches away from the skin where the oil has been applied.
When applying the oil, be careful as it is really thin. The oil is just a bit thicker than water. It is very runny. The label's claim that it does not become sticky or tacky is absolutely true. Once it has absorbed into the skin, you do not feel any left over residue from the product. That being said, it only takes about 3 minutes to be completely absorbed into the skin when in use. So as for the second claim of long lasting lubricity, this is untrue (unless you consider three minutes long-lasting). You will need to reapply this oil at least once each time you use it. One nice thing though, is that the oil leaves your skin feeling conditioned and soft once it has been absorbed. Also, my skin is quite sensitive, and it did not irritate my skin at all (and we've used it a few times now).
The flavour of the oil is vanilla. When I had first tasted it, I knew the taste was familiar. Later I tasted it again on the back of my hand and it reminds me of a French vanilla cappuccino (except it's not hot). My partner said it tastes like vanilla ice cream (I made him taste it without him knowing what flavour it was to see what he thought). The taste of the oil is subtle. There is no weird chemical-like taste to it (if you have tried a few edible products, you'll know what I mean), and it does not have a bad after-taste. Most of the products we have used are very strong in flavour, so this was new for us. I actually really enjoyed the mild flavour. It was just enough to taste the vanilla, but didn't upset my sensitive stomach from over-sweetening, etc. Both my partner and I really like the taste.
The ingredients in the oil are as follows:
Safflower Oil, Coconut Oil, Avocado Oil, Apricot Kernel Oil, Tocopherol (Vitamin E), Vegetable Oil (and) Glyceryl Oleate (and) Propylene Glycol (and) t-Butyl Hydroquinone (and) Citric Acid, Saccharin, Ginseng and other Natural and Artificial Flavors.
As I had mentioned previously, the bottle is 8oz. The product page specifications say that it is 6oz. This is an error. The oil should last you quite some time because of the quantity, even with reapplication each time you use it.
We would not recommend this product for massaging unless you do not mind constantly reapplying the oil, or only plan on giving your partner a 3 minute massage. We would however recommend this product as a skin softener, or an oral-sex aid (to apply to your partner's area before giving oral sex). These are the two things we will be using this product for. If you do use it for oral sex, please use the product on external areas only.
Cleaning the areas you had applied the oil is not really necessary because it absorbs completely into the skin and does not leave your skin feeling icky. If you do want to wipe your skin down after using the product, soap and water will do the trick.
Experience
..continued

Both my partner and I agree that this product deserves a 5 out of 5, despite the fact that it really is not the best choice for a massaging oil. We decided this because it CAN be used for massaging even though reapplication will be needed, it leaves your skin feeling amazing (we've never used a product that has left our skin feeling so lovely), the price is fabulous, the quantity provided is excellent, it tastes good, and it does not irritate my skin.
Follow-up commentary
3 months after original review
I use the Making Love flavoured massage oil quite frequently for oral sex. It's actually my "go-to" product. I love the fact that the taste is so subtle. I still have about 3/4 of a bottle left, but I definitely plan on buying another bottle once this one runs out.
This content is the opinion of the submitting contributor and is not endorsed by EdenFantasys.com

Thank you for viewing
Making love massage oil
review page!