Best of Both Worlds; Tease and Bite
The Sex and Mischief Nipple Clamps are fantastic. Great for the beginner, these adjustable clamps don't have much weight and the touch of the feathers adds a great sensation. Even for the experienced, while these aren't going to make you cringe, they look sexy as hell on! For the price, you need to get them, whether they're your first pair of clamps or your tenth, you won't regret it.
Published:
Pros:
Beautiful, Good for beginners, Sexy, Opens wide, Taking rubber off makes them fun for experienced
Cons:
Not much bite, Feathers won't hold up
The Sex and Mischief Nipple Clamps by Sportsheets are a set of alligator style clamps with a tuft of silky black feathers attached at the base. They are absolutely gorgeous, and add an element of soft tease to nipple clamping, which has typically been seen as rough and kinky. These give you the bite of a clamp, with a soft brush of feathers along the bottom of your breast. Or better yet, the rub of feathers across your partner's chest as you bend over him to kiss him.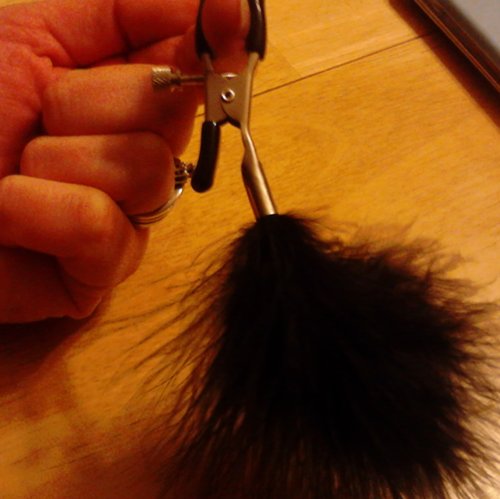 Made of metal, rubber, and feathers, these clamps are beautiful, but delicate. The feathers are fragile, and if you play rough, they won't last long. But at the price, hell, buy another pair once these ones start to molt.
A typical alligator clamp, these babies work by squeezing together the ends, allowing the top to open up via a spring. There is an adjuster screw on the side, which is used to brace the "pinchers" apart, releasing some of the pressure on your nipple. If you know you are not going to be able to handle these clamps full on, then you will want to screw the adjuster in as far as you think you will need. You'll want the clamps to open past your nipple, and still have room to "clamp" to the nipple, with enough pressure that they aren't going to fall right off. Once you position the clamps over your nipple, slowly let go of the pressure. You may need to adjust the screw to find the right fit, and sometimes this can be awkward; you may need to ask for help until you get the hang of it.
In this picture, you can see the adjuster, which is very easy to use.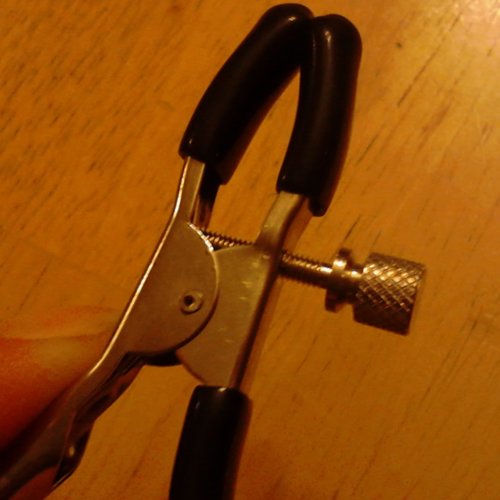 Now these clamps are going to be great for the beginner. Alligator clamps, in general, offer a range of pressure not always seen in other types of clamps, especially when you consider that they are pretty good at staying where you put them. Another great aspect for the beginner is the fact that there's no chain, therefore no weight hanging off the clamps, and no added pull on the nipple. The rubber tips are thick, and offer protection from the metal. The clamps open large enough to accommodate the majority of nipple sizes, so you won't be intimidated trying to squeeze your nipple into this tiny little clamp.
Here you can see that the adjuster can open them to almost 3/4", thicker than your standard pen.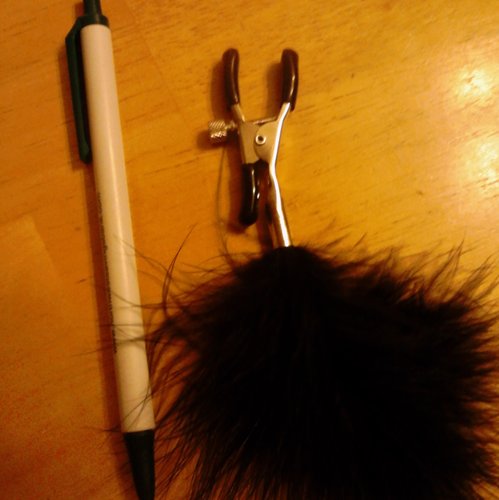 Now that being said, if you're not a beginner, and you know what you like when it comes to clamps and your go-to pair are clovers, these probably aren't going to do much for you. Except make you feel totally sexy!
Or... if you want an extra heavy bite, you can remove the rubber from the tips of the clamps. Now, the edge does not have teeth like many clamps, but has a thin, straight, blunt edge, that is a whole other experience, and will give even the advanced the bite they are looking for.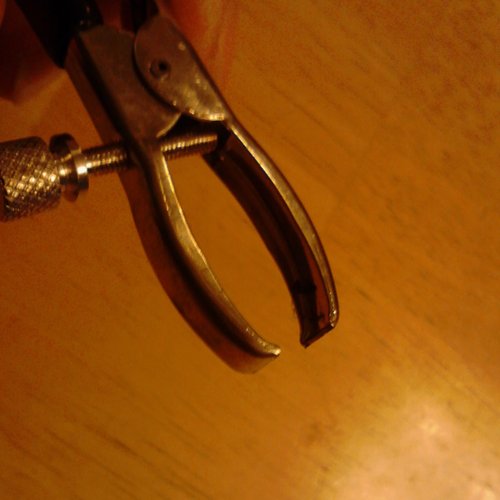 If you ARE a beginner, you need to remember that the pain is strongest when the clamps are removed, so don't leave them on for an extreme amount of time the first few wears. Perhaps check every ten minutes or so, taking the clamps off and letting the blood flow back into your nipples. If the pain is not too bad, put them back on, if it is, take a break.
As far as maintenance, these clamps are easy to care for. Try really hard not to get these wet. The feathers won't hold up, and will end up looking like a drowned canary. Store them flat, but don't put anything over top of them, or they'll loose their fluffiness.
Experience
Now, I'm a big fan of nipple play, and after breastfeeding three children, my nipples can handle quite a bit of force and pressure. These did very little for me, as far as nipple play (torture?) was concerned. But they did look fantastic, and made me feel sexy and elegant. I loved the feel of the feathers against my breasts, and how if I moved just right, I could get them to brush across my skin.
Follow-up commentary
4 months after original review
These have held up surprisingly well. The feathers are still fluffy and don't look worn or weathered. I don't use them all that often, as I like a little more weight to my clamps, but I still like to wear them. They make me feel extra feminine and I love the feel of the feathers against my skin.
This content is the opinion of the submitting contributor and is not endorsed by EdenFantasys.com

Thank you for viewing
Sex and Mischief nipple clamps
– sex toy review page!