Oh, Great Starter
These are great for us beginners, they are fully adjustable and they only hurt if you want them to. I felt incredibly sexy wearing them and My husband said the same thing. We had a positive reaction from him
Published:
Pros:
Inexpensive
Great for Beginners
Look Sexy
Cons:
Feathers do shed
Only come in Black
Sex and Mischief Feathered Nipple Clamps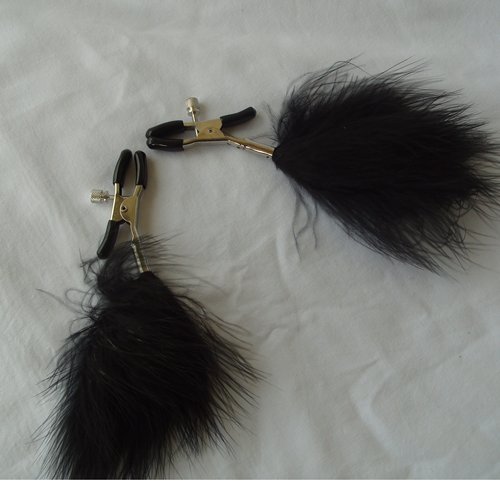 These are great!! I am a person that 6 months ago would had never even considered this type of accessory. I am glad that I have expanded my horizons. These look and make me feel very sexy. My husband's reaction was close to that with the thigh highs. You got what? What do you want those for?
"Hey let me see that, Yeah, those are cool, wow they look great, come here!"
I loved the reaction.
You need to know that my husband is legally blind so for him to "see" them I had to get these lovely boobies with the clamps applied up into his face. He liked it!!
These are great for the beginners, Hey I am one and these don't hurt unless… you want them too. Since the feathers are present I would say that these are more for the feminine persuasion. They can be used on males also and I would say that they can be used on other parts of the male and female body as well. We will leave that up to your imagination.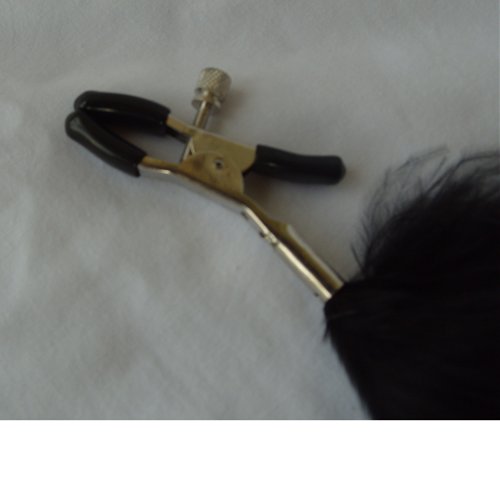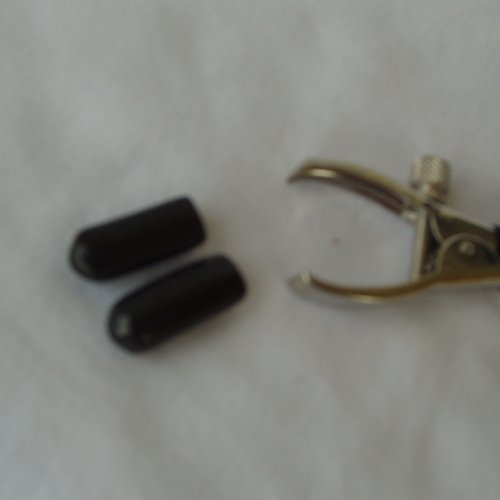 Each of the clamps are attached to a collection of black feathers. When you initially open the package a few stray feathers do go flying. They only come in black They are approximately 6 inches long including the feathers. The clamp apparatus is 3 inches long as well as the feathers hanging down are approximately 3 inches. The clamps are made from nickel free metal. They have rubber covers on the clamp tips as well as one side of the squeeze opening part.
The clamp area is a half an inch across when closed and opens to a maximum open area of 5/8 th of an inch. The rubber tips can be left in place or removed for more bite. The clamps are adjustable with a side screw. Lefty loosey and righty tighty. If you screw them to the right they open the clamp up and decrease the pressure. If you loosen the side screw you can get the maximum pressure.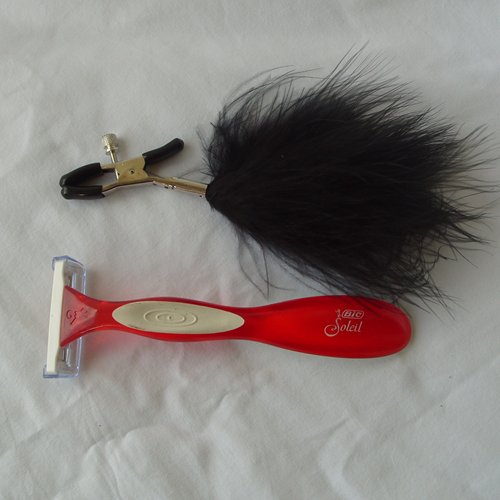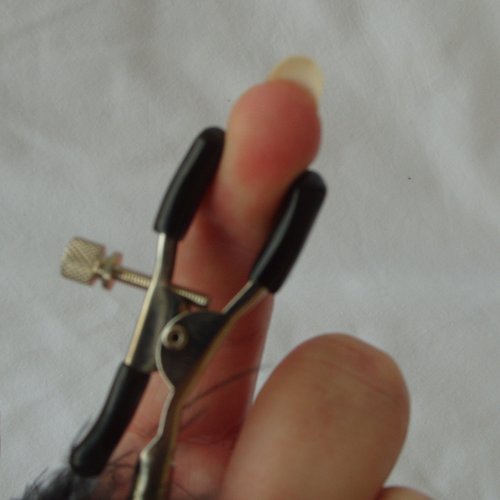 Word to the wise, Don't have them on your nipples and go playing with the side screw, you may end up with some pressure that you didn't intend to have and dang….Ouch!!
There is a simple spring and hinge in the clamp area that allow for the opening and closing. This is an inexpensive set and the clamps are not heavy duty. I would call these quite fragile due to the feathers and they won't stand up to heavy play. I am no where near heavy play and these suite me great at this time.
You need to be very careful to not get the feathers wet with lube or secretions since they will ruin. To clean you can remove the rubber tips and wipe them off or just wipe down the metal. They are firmly attached into one side of the bottom of the clamps. They can be pulled out easily. The feathers of course don't add any weight to the clamps.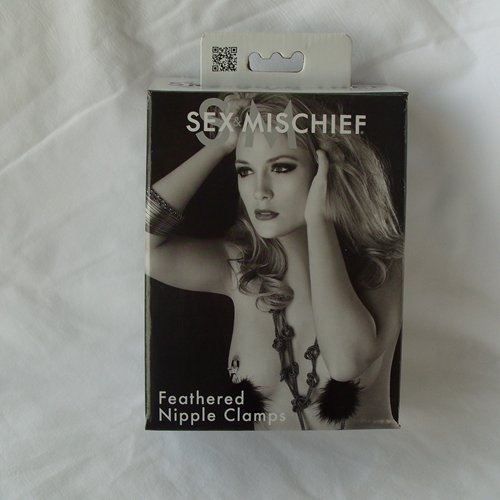 They come packaged in a box that is quite large for the contents of the clamps. The pictures and the erotic type of story start is on the back. It looks quite interesting and the story gets you thinking. The clamps come inside of a sealed clear plastic sleeve. Per the package the clamps are made of Nickel free metal, rooster feathers, and rubber.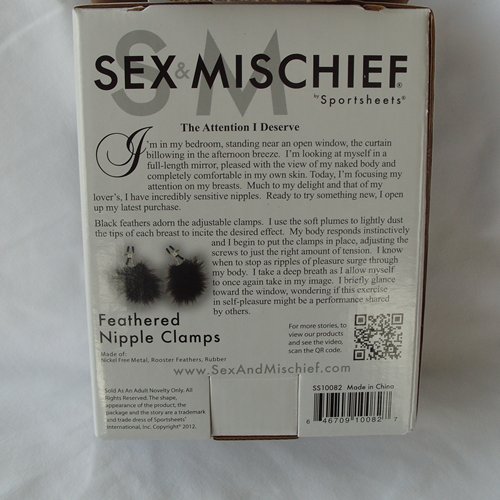 Experience
This is one item I never thought that I would purchase and I am so glad that I read the reviews and picked them up. Maybe it's time to step out of the comfort zone and try something new.
Follow-up commentary
3 months after original review
These are the greatest. They introduced me to clamps! I feel very sexy when wearing these. They don't bite too much unless you want them too. They hang nicely and they kind of flutter in the breeze when you wear them with play.
This content is the opinion of the submitting contributor and is not endorsed by EdenFantasys.com

Thank you for viewing
Sex and Mischief nipple clamps
review page!