Bianco Breeze for Lighter Hues: For the Blonde on the Go!
Overall, an excellent product for the blond on-the-go. Extend the time between shampoos and colorings, use in a hurry, or in a pinch. A light powder after use leaves your hair lighter and less weighed down by excess oils. the light floral scent leaves a fresh feeling not to be missed.
Published:
Pros:
Scent, allows to extend time between shampoos and coloring.
Cons:
Expensive. Too much can leave scalp white.
Use
This product is intended for light haired individuals who are seeking an alternate to frequent traditional hair shampooing. As a person with fine, light hair, I find that my hair begins to feel a little greasy if I don't wash everyday with shampoo. My hair dresser says I should try to cut down to preserve my hair's natural healthy oils. She says the more I wash it, the more I will need to wash it in general to keep it from getting that greasy feel. Enter Bianco Breeze for lighter hues; A light cornstarch based powder that can absorb some of those pesky oils, freshen up, and allow me to stretch the time between traditional shampoos. I also enjoy this product in a pinch when I want to wash my hair but don't have time and need a fast solution.
This product is also amazing for hiding some of your roots when you are in need of a color touch up. When applied correctly, it can help blend the darker hair. It's not a perfect solution, but works well enough to allow me to stretch the time between colorings a month or so longer than normal.
Formula and Packaging
This product is corn starch based and does not contain any talcs. The ingredients are as follows: Zea Mays (Corn) startch, Silica, Tocopheryl Acetate (Vitamin E), Ale Barbedensis Leaf Juice, Organic Chamomille Recutita (Matricaria) Flower Extract, Organic Calendula Officinalis Flower Extract, Helianthus Annuus (Sunflower) Seed Oil, Caprylyl Glycol, Parfum, Phenoxyethanol, Sorbic Acid, Tocobiol.
I found that I had no itching or burning side effects whatsoever and I tend to have sensitive skin. As a precaution, I would test a small area of skin before applying the powder to your scalp.
The product comes in an adorable pink tin that has sort of a vintage feeling to it. The tin is labeled with a light pink sticker with dark writing. The ingredients are listed.
Experience
I found this product to work well as a tool to extend the time between shampoos. Obviously, it will not do as good of a job as a traditional soap and water shampoo, but it is better than using talc powder. I took some photos of my hair before and after to demonstrate how it can work. Keep in mind the lighting is hard to get right.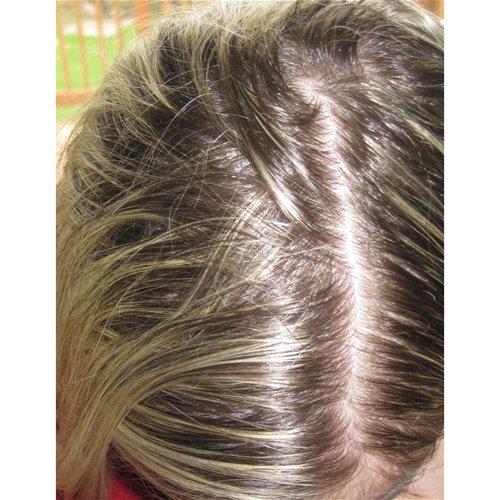 Before dry shampoo- note slight grease.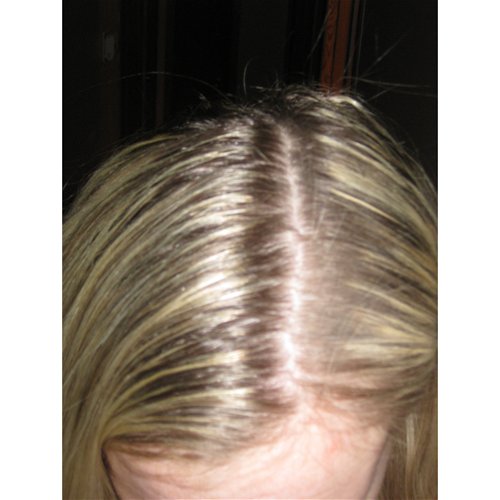 Dry Shampoo applied to left side of roots.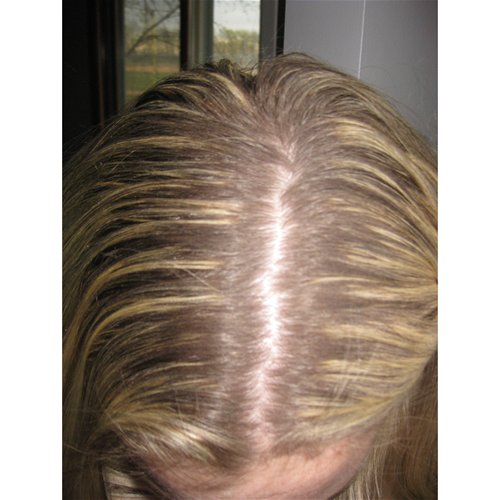 Dry Shampoo applied to roots only.
The product has a light floral scent that is present but not overpowering. I find that using a small make-up brush or a one inch wide brush is key in application of the powder. If you get it in the part of your hair it can look whiter and more powdery than desirable. I find that a brush is key in pinpoint application. The product also lasts a really long time. I have had it for 2 months now and apply it at least once a week and have over half the tin left.
I have also found application is most efficiently done using a comb to part your hair, applying powder to roots, placing new part, repeat. When you feel enough powder is in place to absorb excess oils, flip your hair upside down and shake out excess powder from scalp.
Follow-up commentary
2 months after original review
I am still working my way through this bottle. I don't have too many complaints besides accidentally applying the powder to the part in my hair and having it look powdery. I have continued to use this product to cut down on soap and water shampoos and also to blend dark roots when I am in need of a color touch up. Still loving it!
This product was provided free of charge to the reviewer. This review is in compliance with the FTC guidelines.

Thank you for viewing
Bianco breeze for lighter hues
– soap review page!