Boobie Baubles
Spartacus has designed some cute blingy nipple clamps. They are adjustable clamps providing mild to moderate pressure. As such they are good for light play or those wanted to experiment with nipple play. The baubles dangling from the end add some fun decoration. All in all these are great for light breast play.
Published:
Pros:
Good beginner nipple clamps
Adjustable
Nice Bling
Cons:
Not for heavy pain seekers
Before this purchase, I had not ever used nipple clamps before. They seemed a bit extreme for my taste. I enjoy mild pain, but had previously thought nipple clamps would be too much for me. I became interested after reading another review that pointed out they were good for decoration or an into to heavier play. Decorating my tits sounded like a good idea, so I decided to give these a try.
Lavish Nipple Clamps are very cute. According to the box they are designed for gentle to moderate pressure. The tweezer portion is classic black with decorative baubles dangling down beneath it. A trio of beads are stacked first. A rhinestone ring is between two black glass beads. At the very bottom is a larger black diamond shaped trinket. As a whole I like the design. The gems are small inexpensive baubles similar to what you find on costume jewelry. It suits my desire for some decorative breast bling without a lot of pain. I think they would be nice for those who want this type of body jewelry and those who are experimenting with nipple pain.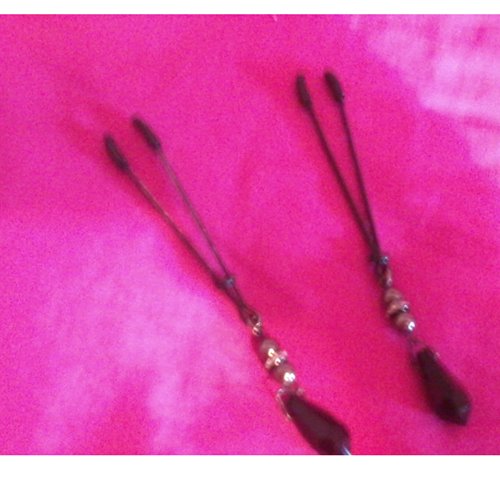 Spartacus sells these in red, purple, black, pink, and blue, but they are currently only available in black on Eden Fantasys.
This is a tweezer style nipple clamp. Each clamp is separate. They are not joined by a chain as some clamps are. They feature removable rubber tips. The rubber is a nice buffer from more intense pain and also helps to keep the clamps on. To use, just put them on and tighten using the spacer ring. The farther up the tweezer, the more intense the pinching.
These are comfortable for me at any level up to about 1/2 way. At that point they start to pinch harder. A little more up and I am squirming and not in a good way. Because I don't enjoy pain, I keep them at this level. Someone who wants more pressure could tighten them all the way up. The picture at the top has the spacer ring all the way at the bottom. Notice how far apart the tweezers are. There is no pinch at all when worn at this level. Below is a picture showing the spacer ring at two different settings. The one on the left has the ring half way up. Notice the very tip of the tweezers are touching, but there is still a gap for most of the tip. This setting has a mild pinch for me, but is still comfy. The pic on the right has the ring all the way to the top. Notice there is no gap at all in the tips. This level gives the most pressure. The box describes it as moderate pressure. That pressure is too much for me, but others might like it.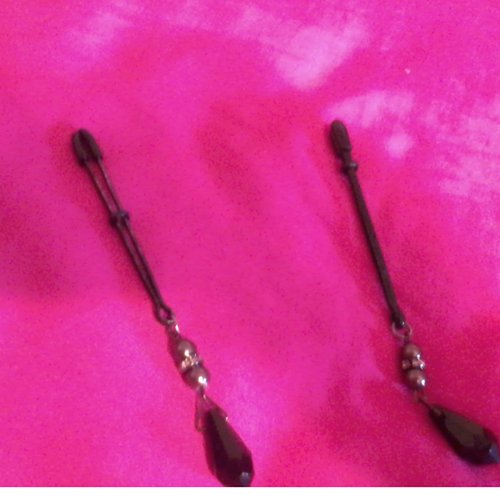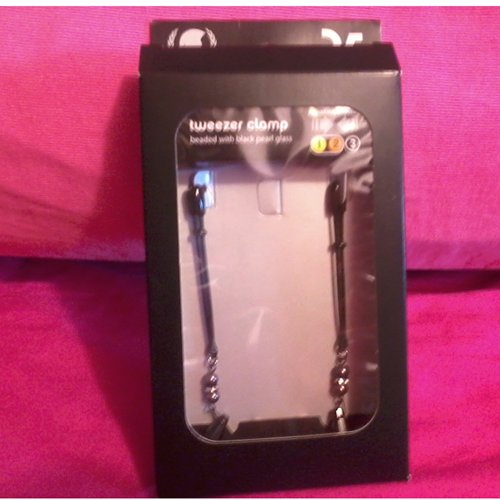 Experience
I really like these nipple clamps. I think of them more as body jewelry than an instrument of torture though. My husband appreciates it when I include jewelry. For him it's just as much fun as lingerie. These have been a nice addition for our dress up play.

They also heighten my breast sensations even at the light pressure setting.
This product was provided at a discounted price in exchange for an unbiased review. This review is in compliance with the FTC guidelines.

Thank you for viewing
Lavish nipple clamps
review page!