Deep Cleaning, But Not a Spritz and Go Toy Cleaner
Most people buy a toy cleaner to save time, or for when they are so exhausted from their sexual work out that they cannot make it to the bathroom to clean the toys properly in soap and water, but will later. This product is not for these uses. It requires you to rinse the toy properly after cleaning, due to the high concentration of the antibacterial Triclosan. While a great deep cleaner, this toy wash will not save steps or time. Great for deep cleaning toys and killing germs.
Published:
Pros:
Gets toys really clean, nice foam product, good instructions included
Cons:
Toys MUST be rinsed and cleaned after use with product. Requires access to running water
Evolved Smart Cleaner Foaming Toy Sanitizer
is a
strong
germ killing product, made for sanitizing toys. This is not a "Spritz and Go" product, not meant for casual cleaning, or meant to be used in lieu of soap and water or rinsing.
It works
well
as a deep cleaner, but it is not a "convenience product" or for on the spot cleaning.
Here are the active ingredients of this product:
Triclosan
a very effective bactericide which has residual action. This chemical does kill germs, and quite well. It also may remain on the product being cleaned, and some people may develop rashes if exposed to large amounts of it over periods of time. The solution; rinse or wash it off after using it to clean with.
disodium cocoamphodiacetate
Is a surfactant that has moisturizing and conditioning properties. It also provides good foaming and works as a detergent. Detergents use surfactants to break the bond between dirt or bacteria and the water used to clean the product with, so that the offending stuff can be washed away.
sodium trideceth sulfides
is an other surfactant with conditioning properties. It is found in mild cleanser like baby shampoo. It is a humectant, a substance which attracts fluids, it works to emulsify liquids, moisturizes and works as an other anti-bacterial.
The other ingredients are used to balance the formula and buffer it.
The bottle says the product "sanitizes, disinfects, Anti-bacterial, odorless, Safe for all materials, non greasy, alcohol free, non-irritating, and gentle." This product is also made in the USA, which is a plus for me.
The instructions for Evolved Advanced Smart Cleaning Foaming Toy Sanitizer say that this particular product
should be
rinsed from the product as part of the cleaning process.
Myself and others have been saying a long time that toy cleaners should not be routinely used as "spritz and go" products, but rather as something to kill germs in deep cleaning or to hold the toy over until you can get to soap and water to clean it properly. The instructions on Evolved Foaming Toy Wash seem to echo this sentiment.
The directions say: "Remove batteries from toy. Pump desired amount of Smart Cleaner only a clean damp cloth. Gently scrub the toy's surface…." Then it gives common sense directions on how to clean a toy.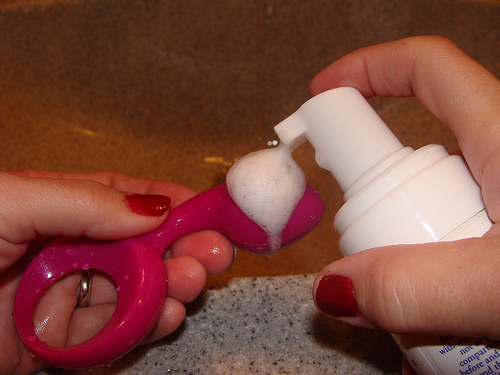 I have used this cleaner directly on the toy, then scrubbed with a cloth, and rinsed carefully. After doing this, I always clean my toys with soap and water as well, to make sure there is no "residual action" of the Triclosan on the toy.
In contrast to
Cal Exotic's Toy Wash
, where the Triclosan is the 7th ingredient, Evolved has put Triclosan first, which not only increases the cleaning power, but virtually requires that the toy be rinsed and or cleaned after using the cleaner. Some people, including myself, get eczema from prolonged exposure to high Triclosan products. This product has not yet triggered any eczema when I have used it, but it does leave my hands quite dry after use. This limits my use of the product and I do not use the product daily on my toys.
This cleaner is really meant for deep cleaning and germ killing.
The product does foam nicely. It comes in a plastic air free can, and the product dispenses well when the top is pressed. There isn't much foam once cleaning begins, but it gets the toy clean, although rinsing is required.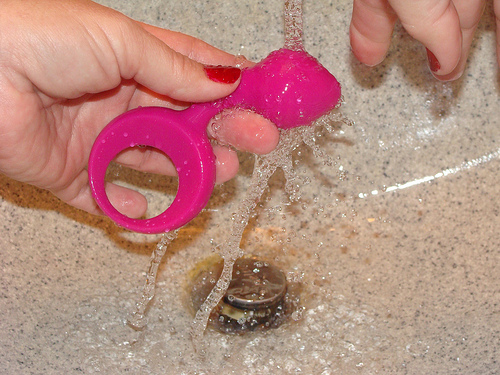 Although the bottle says it is "odorless" it does have a slight medicinal aroma, which is always the case with product containing Triclosan. It is not strong enough to be bothersome and is washed away when the product is cleaned in soap and water.
I trust that this product does get my toys deep cleaned, but as
it has to be rinsed after using
, it is not as convenient for my main use for spray cleaners; cleaning the handles of wand vibrators and plug in toys. I use my Cal Exotics toy cleaner (mentioned above) easily from my bed when cleaning my wand and plug in toys. As I only use it to clean the handles, there is no rinsing needed every time with the Cal Exotics. With the Evolved Foaming Cleaner, the instructions require rinsing, as well as a "damp cloth" to be used, removing this cleaner from the "Convenient" label for me!
Experience
Using this in bed, after an exhausting tryst, when one is unable to make the walk to the sink in the bathroom would be impossible. This product requires me to take the toys into the bathroom. Wand vibrators and my beloved Wahl also have to be unplugged and brought in to the bathroom, where running water is available.
Although most toy cleaners containing chemicals should require you to wash in soap and water before the next use, I think most people buy a toy cleaner for a quick rinse, not a time consuming cleaning ritual.
That being said, it
is
a good product for when you really want to deep clean your toys, when you first get your toys and have just removed them from the packaging, or when you are cleaning anal toys (but I would clean all with soap and water afterward anyway.)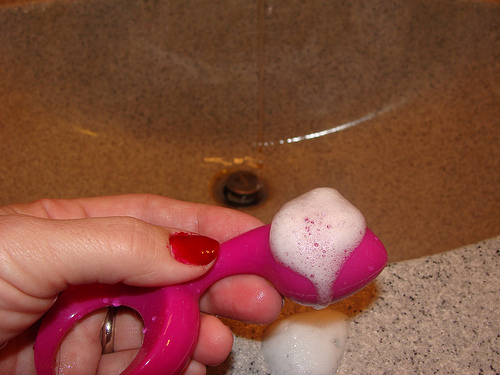 It is not meant for sleepy spraying, a half hearted wipe and then passing out, assuming your toy is now clean. The residual Triclosan could possibly be irritating to many, and even the container advises against using without rinsing afterward. I would not skip the rinsing step in any way.
The bottle is recyclable, being a 2 HDPE plastic, the entire bottle and nozzle are plastic. I will probably recycle this bottle when I am finished with the product. With 8 ounces of product and an expiration date 3 years from now, and the limited use of this product, I do expect it to last me a long time.
For deep cleaning, I'd give this 5 stars, for convenience, I'd give it a 2 or 3. I'd like to give the product a 3.5, but that isn't possible.
So, for really deep cleaning, getting into crevices and battery threads, this foam really shines. It
will
get your toys extremely clean. But, for quick going over, in bed, or in a vehicle, or just because you are too lazy to get to the sink (we've all been there) this is not the product.
I'll save my Evolved Foaming Toy Cleaner for my regular deep cleaning sessions and stick with their competitor Cal Exotics for sleepy, sex besotted bedside spritzing.
Follow-up commentary
5 months after original review
I am continuing to use this for deep cleaning, anal toys and after I've had a yeast infection or UTI to make sure my non-boilable toys are absolutely clean.

I sometimes even wash the bathroom sink with it, after cleaning toys, as it kills germs as well as cleans.

This foam is versatile and as long as you have access to running water, as it has to be rinsed off, and I always wash it in soap and hot water after anyway, it is a good addition to also having a spray cleaner for quick clean ups.

This foaming cleaner does take longer to use than most spray on toy cleaners, but as it deep cleans, it is worth the extra time for the cleanliness and peace of mind.

I have come to like it even more as I've used it more.
This product was provided free of charge to the reviewer. This review is in compliance with the FTC guidelines.

Thank you for viewing
Advanced smart cleaner foaming toy sanitizer
– toy cleanser review page!