Hydrate My Skin with Kama Sutra.
If you are looking for a nice relaxing massage, this massage candle is the one for you! It provides a soothing massage that isn't overly oily and it smells amazing! Kama Sutra has outdone themself with this one!
Published:
Pros:
-Smells great
-Hydrates your skin
-Great for massages
-Fragrance lingers on skin
Cons:
-Scent doesn't last as long when candle is buring
-Scent only fills immediate area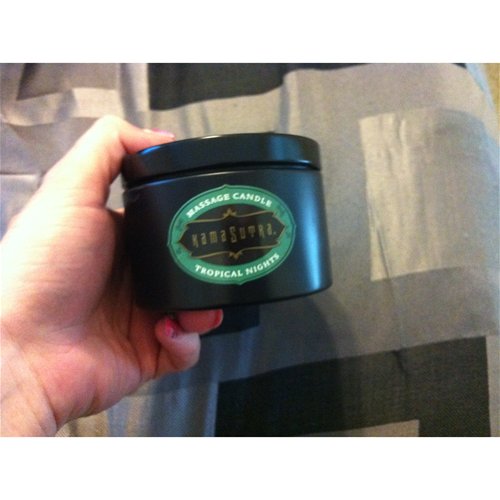 Kama Sutra has really outdone themself producing massage candles that are just amazing!!! These 6.5oz massage candles come in 4 scents: Tropical Nights, Island Passion, Deep Ocean, and Mediterranean Almond. I only have Tropical Nights as of this very moment, but plan to order the others very soon!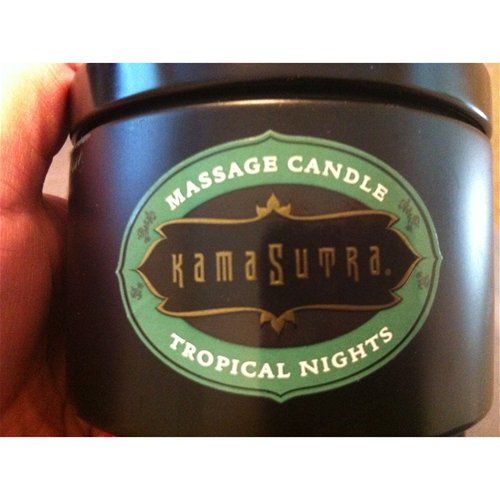 Since this was my first massage candle, I didn't really know what to expect or what I was looking for in the product. Little did I know that I was in for a surprise of a lifetime when i opened this aromatic candle. I ordered this particular scent because when I think "tropical", I often think of water and sandy beaches, coconuts and sweet fruits. (I was secretly hoping it would smell like the hawaiian tropic sun oils.) I was disappointed when I opened it and it was more of a tropical forest type of scent. It reminds me of outdoors and honeysuckles. It still has a great smell, just not exactly what I had imagined it to be.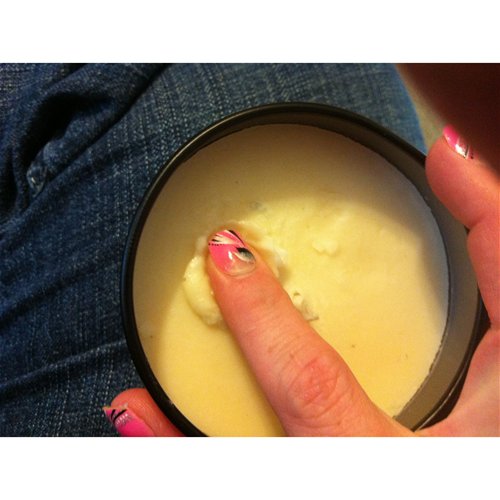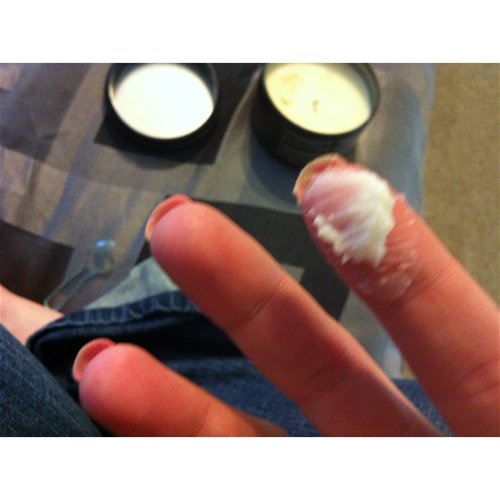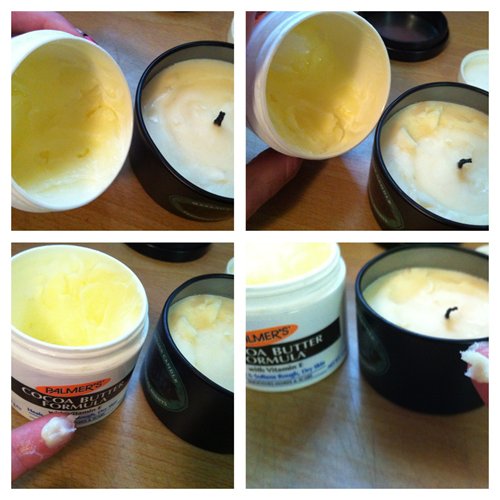 I was surprised to see how soft the candle was. You can actually push in on it, reminding me of the consistency of Cocoa Butter. That's pretty neat and allows you to use your finger or the included spoon to scoop a little out and massage directly into your skin without needing to actually light it and melt it down. It's a great moisturizer and the smell will linger on your skin for a while, which is an added bonus.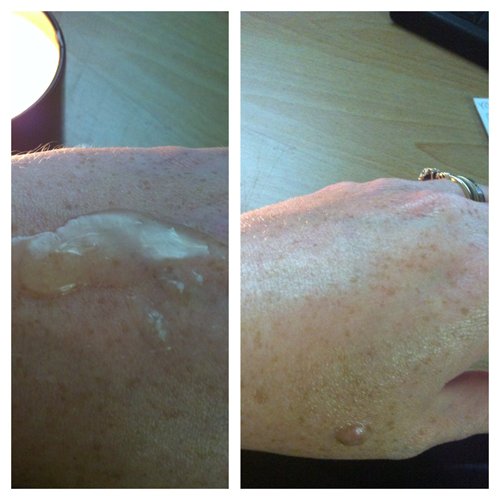 It glides very smoothly across your skin, regardless of it being fully melted down or not. It will glisten on your skin at first but quickly evaporates into your skin leaving you feeling super soft and smelling great.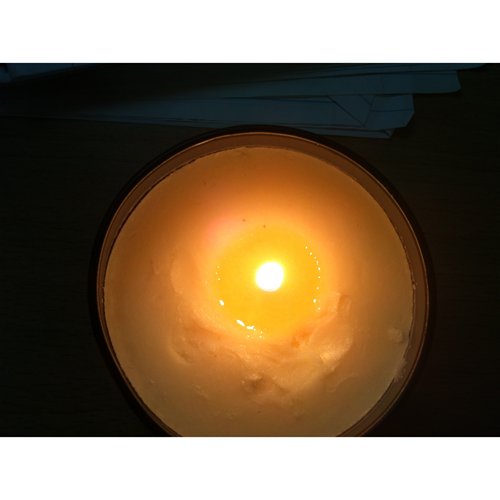 It melts nicely and leaves the immediate area smelling great. It has a light scent that will fill the air, but I wish the smell was a little stronger. It does not linger in the air as long as I would have liked.
When applied it isn't greasy and doesn't make you feel icky afterwards. You don't need much oil for the massage as a little goes a long way.
One of my concerns was how hot the oil would be once applied to your skin. I was very surprised when I poured some directly from the candle tin to my skin. It was the perfect warm temperature, which added an amazing feel to the massage.
This candle is for external use only so I don't suggest trying to eat it or use it as a lube. If you aren't into massage candles, You could still purchase this and use it as a regular candle. The aroma is sure to set the mood and relax you. It won't fill the entire house, but it will fill one room.
Packaging:
The candles come in a nice tin that you could possibly reuse if you wanted to. The lid is easily removed without any force at all, though it won't slide off if you turn it upside down with the lid on. I have read that there are problems with the lids, but luckily I did not have that problem. The tin isn't wrapped during shipping which has the possibility to cause damage.
I could leave this out on my nightstand without worrying about little eyes. The front simply states Kama Sutra massage candle tropical nights and the back contains directions for use in four different languages. The bottom of the tin gives you basic product warnings as well as the ingredients.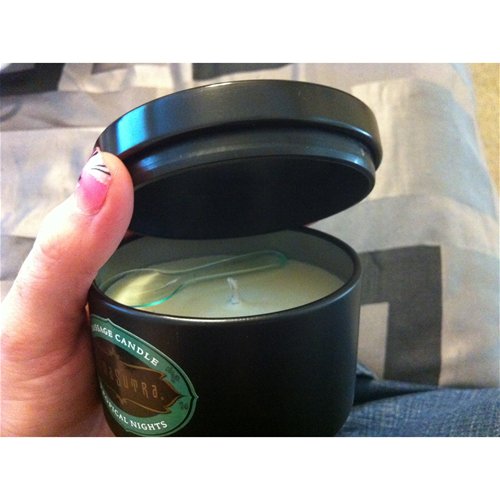 The candle comes with a small spoon that allows you to scoop the oil out. I wouldn't recommend putting the spoon near the open flame though as it is made of plastic. You can store it inside the candle tin when it isn't in use, which is how it comes when it arrives at your doorstep. The spoon is small enough that if I left it sitting around my three year old daughter would probably think it went to her play dishes and I would never see it again!
Ingredients:
Coconut oil, soybean oil, apricot oil, fractionated coconut oil, aloe vera oil, vitamin E oil, shea butter, jojoba seed oil, and fragrance.
Some people may be allergic to some of the ingredients, so make sure to check the ingredients list before purchase and use. While I did not find this candle to be bothersome at all,I also do not have any allergies or sensitivities. I would spot test this product first in a place that can be covered, just to make sure you do not react to the ingredients.
Experience
I had no idea how much I would LOVE this product! I had never tried massage candles before so I really didn't know what to expect but to my delight this is one I will continue to reorder. I love how great it smells and how soft it makes my skin feel. It's a definite plus in the bedroom. My hubby is not a fan of candles at all, but he enjoyed this one. He said it wasn't too feminine, but didn't smell like his cologne either. It was a nice neutral scent that worked for both of us. I did find that it works better for shorter massages since it begins to form after placing it on your skin, but it easily rubs in even when it isn't fully melted down. You can also reapply oil to make the massage last longer as well.
Follow-up commentary
19 days after original review
I love this candle very much. I have purchased two other scents and I love them just as much. It's currently my favorite among all massage candles in my collection.
This content is the opinion of the submitting contributor and is not endorsed by EdenFantasys.com

Thank you for viewing
Kama Sutra massage candle
– body massage candle review page!