I smell like an Egyptian princess!!! (Neroli & Sandalwood) But...
But... it is too rich for my face. I suffer from oily skin with dry patches and do suffer from adult acne. This cream worked better as a hand or a foot lotion for me, not as a facial moisturiser. The almond oil or the carrot oil I just seemed to react to and as a result, I get cystic acne (the large and painful pimples).
Published:
Pros:
organic and all natural, chemical free, amber bottle
Cons:
too rich for my naturally oily skin
BOOM BOOM BOOM!!! Nitty gritty first!!!
Size: 2floz in an amber glass bottle. Amber bottles can filter out blue and UV light. The bottles are made from glass and not plastic because it is safer. There are no harmful chemicals from the plastic to leach into the skin care item. It is also more "green friendly" as it is easier to recycle.
Ingredients: almond oil, distilled water, organic aloe vera gel, shea butter, beeswax, carrot oil, and pure essential oils of neroli and sandalwood. If you would like a break down of the various ingredients and why they are good for your skin
take a clicky here
. There are also pictures there too!!! Let's just say, all these ingredients are swell for the skin, to even tone, to reduce the signs of aging. The scent of this stuff is very earthy and does actually make me think of ancient Egypt.
How to use: It is the third step in your regular face washing routine. First, you should wash, then tone, then apply a pea sized amount onto your clean skin. But don't forget to shake the bottle before you pump to mix everything up!
Dispensing: The bottle comes with a plastic pumping lid, which with one squirt is the perfect amount to cover your entire face, neck and upper chest.
Health Benefits: These ingredients are not just skin benefits benefits. They are also earthy benefits. Everything in the bottle is natural... well... I am going to be lazy and
copy and paste
: "Sensuous Beauty's truly natural face, body and pleasure products are fresh, handmade and free of synthetics and chemicals. Our expertly combined ingredients are food and plant-based, the way nature intended.
We don't use fragrance oils, artificial thickeners or parabens. Instead, we use carefully sourced pure essential oils, high quality cold/expeller-pressed non-gmo carrier oils, wildcrafted or organic herbs and grains and naturally occurring emulsifiers like local, wild-crafted beeswax, and natural preservatives like Vitamin E and citrus seed extract.
We choose our ingredients and essential oils both for their properties, and because we like the way they smell, taste and feel!"
Warnings: Remember to shake the bottle before use. The bottle can become slippery so make sure you hold on tight!
Experience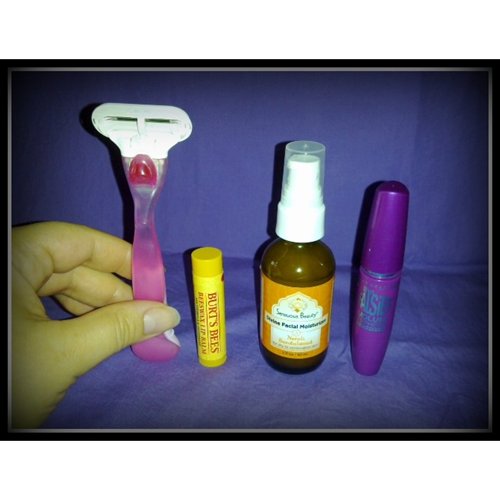 For my naturally oily skin with largerish pores, I found this skin moisturiser to be a little too rich for me. I think it was the almond oil and carrot oil that caused a reaction for my skin. As with any and all 100% natural skin care, it takes around a month for your skin to get accustomed to it after using store bought products with chemicals. During this month, your skin might break out. After this month, I continued to use it for a little while and discovered that I developed something what looked and felt like cystic acne. You know those big, painful pimples that never quite form?
Those are the ones I got. I continued to use this lotion for a second month, in hopes that it would work.
It didn't. (note: After about six weeks, I still had about 3/4 of a bottle left so it is very long lasting)
I ended up emptying the bottle out and using it as a hand and a foot lotion; replacing this lotion with a nightly application of
Love Balm
. After cleaning out the bottle and sterilizing it, I made my own moisturiser with 60ish% olive oil and 40ish% castor oil, 8 drops of lavender oil, and five drops of Tea Tree Oil. I use this five times a week (morning and night), and two days a week I use cold pressed virgin coconut oil as my moisturiser.
And the difference has been amazing!!!
I am only giving this product:
3/5 for the product itself; it's nice to have organic and natural products
5/5 for the bottle and the pump (it is AMAZING!!!)
I really wish I had bought the facial moisturiser with the lavender as that I think would have been better suited for my skin. Lavender Essential Oil is a natural antiseptic and can help lots with acne problems.
This product was provided at a discounted price in exchange for an unbiased review. This review is in compliance with the FTC guidelines.

Thank you for viewing
Facial moisturizer
review page!