The lube that quite literally changed my life
NOTE: I bought both the Lavender Bergamot and the Ylang Ylang.
Because of this lube, I made the change to go much more natural in my own body products. And after going green? I am never going to go back. I use it from head to toe and as a lube. My hair is thicker and much more softer and shiny, my skin feels more softer and looks more young, my colour tone is much more even. My vagina has no complaints even after months of use.
Published:
Pros:
100% natural organic ingredients, no chemicals, anti-bacterial/fungal/microbial, multiple uses
Cons:
Ummm... OH! I am not keen on the ylang ylang scent it's a little too sweet
Let me begin by saying... I think I have a picky vagina. No mater what kind of water based lube I've tried, after a while, I seem to react to all of them. I was tired of getting infections of all types. I was tired of having rashes/reactions that were so itchy that I ended up scratching till I bled. I was tired of having lube dry out. I was tired of not being able to have any kind of anal play because my lube dry out (and then all the after effects of dry anal play... can I get an ouch please?). I was tired of the constant "wet" feeling that would stay with me through the day. I was tired of the gunk residue.
And let me say... I have tried all sorts of lubes;
System Jo
,
Lelo Personal Moisturizer
,
Probe
and
Sliquid Organic
, even Fun Factory's Body Fluid.
They all started off the same way. They were amazing for the first few weeks to a month, then my body adapted to them. And then problems exploded. One day I realised I had oodles of points, and decided to take the plunge and buy some products more on the organic side.
And I am thrilled I did!!! And let me just say... I am never going back.
Love Balm is a lube I've been using for the past four months with absolutely no side effects other than a clean and healthy body from the inside out. Cold pressed organic coconut oil has been labeled as safe by the FDA. And with
regular lubes (like KY and Astroglide)
, they can affect fertility. If you're trying to conceive, think twice about using any old lube. Studies show that lubricants like KY, Astroglide and FemGlide affect both sperm quality and motility, meaning they slow 'em down and can damage their DNA.
If you would like to know some of the (and I mean just some of the... there are literally hundreds of benefits) benefits of using coconut oil take a
gander here
and
here
.
Ok. Ok. Ok. Nitty gritty:
Ingredients:
Lavender Bergamot: Lavender & Bergamot contains: organic coconut oil, vitamin E oil and an antibacterial/antifungal blend of pure essential organic oils of lavender, bergamot and myrrh.
Ylang Ylang contains: coconut oil, vitamin E oil and organic pure essential oil of ylang ylang (ylang ylang smells like a very sweet jasmine, it is too sweet for my tastes).
Size/conatiner: Love Balm comes to you in a three ounce glass jar (reminds me of a body butter jar)
Various Usage: massage oil, hair repair, facial moisturiser, dry skin (from minor to extreme), use as a body butter, use as an anti-aging skin care cream, sex lube (think about it. Your vagina absorbs everything you put into it into you blood stream. Do you want glycerin or parabens or possibly DNA altering chemicals running through your body?), nail repair (think good-bye dry cuticles!), say good-bye to eczema, ringworm, and all sorts of other kinds of skin infections.
Lube/Personal Massage: DO NOT USE WITH LATEX CONDOMS or DIAPHRAGMS. If you are going to play with a partner and you do not want to get pregnant, use birth control, or a non- latex based condom. If you are like me and prefer a clean shave, apply after you shave to prevent the itchy red bumps. Use to help soften your labia. Coconut based Love Balm helps to prevent UTI's, yeast infections and helps to kill all the bad bacterial that can grow. Virgin Coconut Oil can be used with silicone toys (I've used it with Jopen, Lelo, Fun Factory toys) with no harmful side effects to the silicone. I would not recommend using this with lower quality silicone toys (I do not have any to test this theory out on- so use at your own risk).
Massage Oil: below 76 degrees, the Love Balm is a solid. Scoop out some and let it sit for a moment on your partner's back. It's sensual to feel it melt into a puddle, or rub between your fingers and it will melt. I've used it during a professional massage and a tablespoon was more than enough for a back and arm massage. I find the taste delicious and I do enjoy giving my partner a chest massage then sucking his nipples.
One jar can last a while depending on what you use it for. If you are using it strictly as a lube, one jar can last a VERY long time over four months. If you are using it for other purposes (like a massage, hair repair or body lotion), you are looking at maybe around two months or so.
Experience
Cleaning: When you are cleaning this lube off your toys, it does take some elbow grease to get them clean. We are talking very hot hot hot water and your soap and a wash cloth. When you apply it to your body, it is absorbed quite quickly leaving your body feeling smooth. If you find your coconut oil leaves you feeling greasy, you have applied too much. Another thought is your skin might be too dry to absorb the oil properly, so you might need to wipe with a tissue paper. When your skin is healthy, it sinks right in and leaves your skin glowing. I apply liberally at night to my hands, then put on a pair of cotton socks and go to bed. In the morning, my hands are so soft!!!
As I mentioned, below 76degrees, the Love Balm is a solid. I let mine melt, then I poured it into a stainless steel bowl, and whipped it like whipping cream as it cooled. Then once it was a solid again, it was smooth, fluffy and creamy just like a body butter. This made it easier to apply.
Love Balm, makes a wonderful gift in the jar it comes in. I printed off an info sheet of various benefits of coconut oil, and gave it to a friend for her birthday. We've become partners in crime when it comes to hunting down and making our own products.
This lube quite seriously changed my life. I am now using completely natural and organic products on my body that I make myself. I make my own soaps, my own body butters, my own scrubs, my own skin lotions and facial moisturisers. And since I've made the change? My skin has improved so much!!!
Because Love Balm has been discontinued here at EF, when I am am all out of it, I plan on making my own. It is pretty easy.
1/4 cup melted virgin organic- cold pressed coconut oil (Nutiva is the brand I use in the kitchen)
2 capsules of Vitimin E squeezed (toss out the empty capsule)
5 drops (between five to ten drops) Lavender Essential Oil (can use other Essential Oils depending on what you want it for; problem skin Tea Tree Oil/ Cedar Oil/ Lavender Oil, hair; Rosemary Oil, Lavender Oil, Peppermint Oil for hair growth... the list goes on and on!!!)
5 drops Bergamot Essential Oil (I do not plan on using Bergamot in mine)
Mix together and spoon into the cleaned and sterilized Love Balm jar.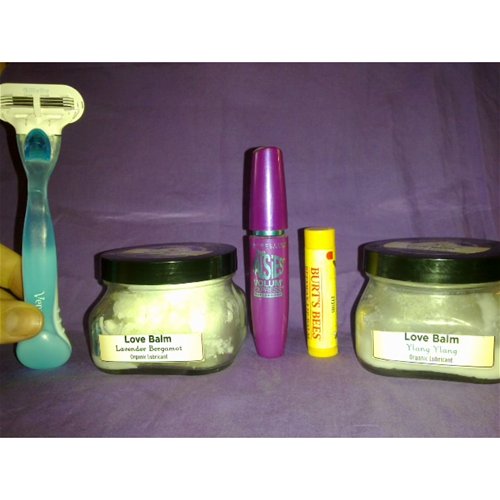 Some people have spoken that the price is too steep, however; for what I got out of it? It was worth every point I spent. If EF still carried them, I would be a regular buyer. But... EF is not. So I am curious as to how my own homemade Love Balm will work!
This product was provided at a discounted price in exchange for an unbiased review. This review is in compliance with the FTC guidelines.

Thank you for viewing
Love balm
– cream review page!