It's perfume for my snatch! Scratch n' sniff?
Just because I had a terrible reaction to the parabens and glycerine or even possibly the flavouring chemicals in this stuff, does not mean that it won't work wonders for you. It is a long lasting, silky feeling lube that smells like candy. But if you notice anything different about your vagina, look at your lube first.
Published:
Pros:
Long lasting, jolly rancher candy flavours, great for various types of sex
Cons:
Both glycerine and parabens are in this lube (infection alert!)
As always, let us get the "boring" (not boring boring just dull part compared to the experience section) out of the way first...
Size:
This lube comes in two different sizes:
night table size at 5.25fl.oz or 150mL
(large) or
purse or plane size at 1oz
(small).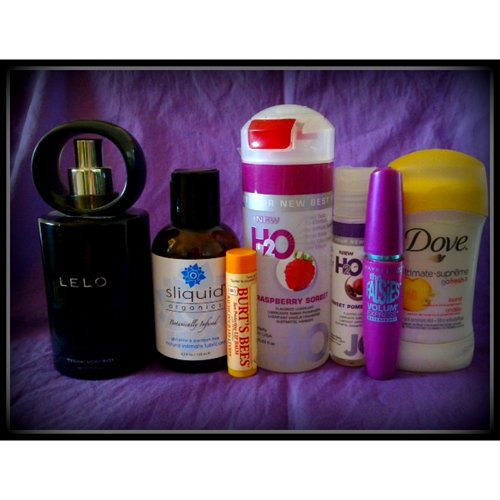 You can see the two in this picture along with how it compares to some other things as well.
Lid:
Large: press the red button and the lid flips up.
Not secure for travel
be sure to tape lid down while travelling or buy the smaller one with a more secure lid.
Small: regular flip top lid. Safe for taking in your carry on luggage, or store it in your make-up bag.
Ingredients(copied):
Propyl Paraben, methyl Paraben, Sodium Carboxy Methyl Cellulose, Glycerin, Purified Water, Flavouring
Taste/Flavour/Scents:
This lube comes in a plethora of flavours. I have had the chocolate, cherry, raspberry, tangerine and pomegranate. They do not taste like the fruits that they are named after nor does it taste like chocolate. It tastes like candied versions of what they should. So that means, much too sweet and more like a "jolly rancher" than the fruit. The scents of each of the lube are horribly long lasting. I washed some toys where the pomme lube was used, and WHAMO! It took almost two days to get the scent out of my bathroom.
Not to mention when I visit a local bathroom here in town after using these lubes... the comments were amazing, "Wow forigners pee in funny smells", it takes a long time to get rid of the scent of the lubes. And in the summer time it is not pretty. But more on that later. No one I have used this with has noticed a gross aftertaste so that is a good thing to note!
Use:
These are water based lubes so that means they are compatible with any toy material, and safe to use with condoms. You can use this lube vaginally, anally, or for a titty fuck. For me personally, the reason I keep a tube of this stuff around the house even with all my issues I have with it? Oral. Makes oral so much nicer and much more fun for who ever is performing. Also makes hand jobs go a little smoother.
How does it feel:
Quite literally like silk. I found it to be perfectly silky, made my vagina, ass and breasts feel luxuriously soft and silk. It is one of the nicer silkiest lubes I've ever used. And kept me feeling silky until... well I'll explain that in a bit.
Texture:
The lube itself pours just like a kitchen oil, and all the containers are squeeze containers, and they do not pour very well. So be careful of a gooey lid as this stuff gets everywhere.
How much do you need:
This is one of those places where I can honestly say, a dab or two will do you if you are using this vaginally and should last you for about twenty to thirtyish minutes. If your partner or solo play time lasts longer, rather then reapply, add more initially. Anal play, you can never have too much lube. And breast play??? We just pour till we feel like stopping.
Clean up:
Clean up is easy. Jump in the shower or a wipe to clean you off, and to clean your toys, be sure to use soap and LOTS of hot water. The scents of these I've noticed can hang around on silicone toys for a little while, so be careful. And for some reason ladies, when you use this and pee later on, you will be smelling your lube. And this is no matter how well your clean your vagina. Or even if you douche. That smell is every where. This lube in any flavouring, does not stain your clothes or bedding. It might look that way the next morning, as when it dries you will see the dried lube stain, but toss it through the wash on a regular cleaning cycle... voila! Like you've never had sex on those sheets before! (Your secret is safe with me though)
And I finished with the nitty gritty first??? Hummm... Oh! Right! One more picture for you...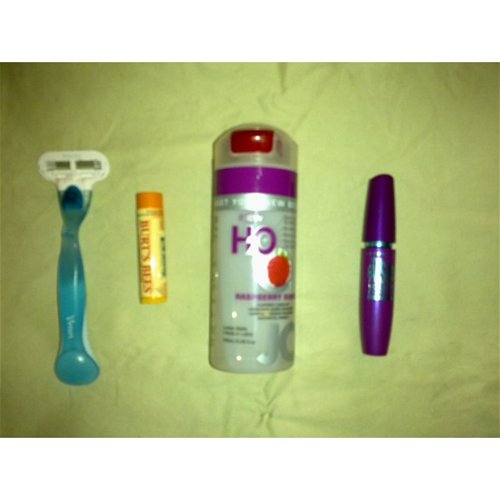 That is the large bottle, and as you can see, it is not very good to put this in your carry-on luggage. You'll want to tape the lid, and then put it in a ziploc bag into your checked luggage.
Experience
Be warned. Be afraid. You and my vagina are going to get nice and cozy.

This was my first lube I bought at a brick shop and I bought a bunch. Then before I got to use them, EF had a sale on, two for the price of one. So I literally stocked up, then traveled home to China impressed with myself that I had a few years supply of lube.

When I used it the first few times I was shocked how I ever lived without lube before. I loved it!

Only after a few uses did I realise that my snatch was... no longer nice smelling. For days the sweet scent would waft up from my nether region, and if I was in a public bathroom (and most of them are indeed quite public as in no walls) many of the women thinking I couldn't understand would express that foreign women's pee smells nice too! Then I started to notice other issues. Discharge that was not a normal colour, itchiness that just wouldn't go away, and mix this with the extreme heat of the summer meaning sweating and no air conditioning... you got that right. Think bad, and think even worse than that. Then go a little bit worse than that too.

It took a while to figure out that it was the lube (glycerin and/or the parabens or even a reaction to the flavourings in this stuff) that was causing me lots of grief. So once my body was almost back to normal, I went to the hospital for a check up to make sure that I had everything under control and that I was healing.

That is when I started giving away pretty much all my System Jo H20 Flavoured Lube.

It is a great product to have if you want some flavourings for oral on a man, but having him drizzle it on you, you need to be very careful if you have any sort of issues with chemicals near your vagina. And I do honestly suggest everyone should have some flavoured lube in their toy boxes for oral.
Follow-up commentary
3 months after original review
I have long since tossed out all my System Jo lube and all the lube that do not contain natural ingredients. After doing some research, I discovered that what ever you put into your vagina, can be absorbed into your body and circulate through your blood stream (just like how you absorb things through your mouth).
All my lube has been replaced by
Love Balm
natural and organic coconut based lube.
This content is the opinion of the submitting contributor and is not endorsed by EdenFantasys.com

Thank you for viewing
JO H2O flavored lubricant
review page!