I taste better than hot chocolate!
This product is only worth the money if you:
-are a fan of chocolate
-enjoy things that smell fantastic
-wear powder that doesn't cause you to feel sticky or weighed down by product
-love it when your partner can't stop kissing you
-appreciate things that taste delicious

If you meet 1 or more of the above requirements, this is a product for you!
Published:
Pros:
Smells and tastes delightful!
Not sticky
Easy to clean off of you
Cons:
None that I've discovered!
Chocolate Passion Body Powder
. Need I say more?
Chocoholics Devine Desserts
certainly knew what they were doing when they created this sinfully delicious powder.
So, what is in this stuff that makes it so heavenly? The
ingredients list
: powdered sugar, cocoa powder and natural vanilla. That's it! Just those 3 simple ingredients, all combined to create any chocolate lover's dream!
You will receive 6oz of chocolate powder inside of a tall tin with a lid that just pops on and off. It is incredibly simple to use! It also comes with a feather wand, which looks like one of those pens with the fuzzy tops on it. Initially, the powder is contained inside of a plastic bag housed in the tin. This is so that the powder does not spill everywhere during shipping plus it stays fresh! I would suggest opening the plastic bag with scissors, just so the powder doesn't spill or fly everywhere. Slowly pour the powder into the tin, so as not to make a mess (yes, this stuff is
very
messy while pouring into the tin if you try to pour too quickly!). I tipped the tin over at an angle to make pouring a bit easier.
Just look at that tin!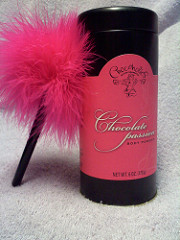 And here is the powder in the bag, which you will find in your tin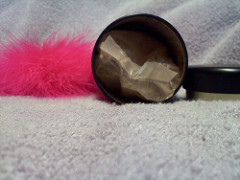 This powder smells and tastes great! The scent reminds me of the hot chocolate powder from Starbucks, and the taste is just like quality Hershey's Chocolate hot cocoa! If only I could pour it in some hot milk and add marshmallows!
I'll admit I was worried about stickiness, but was surprised to find that it was not sticky at any point! It dusts onto your body well and stays on you for quite a while, unless you rub it off with clothing. I also loved the fact that I smelled like I, myself, was a cup of hot cocoa!
Another concern I had was the fact that I am pale -
like a vampire
pale. I was worried about the possibility of this powder being too dark on my light skin and showing up! I was thrilled that this was not the case at all! Once dusted on and spread a bit, you couldn't even see the dust on my skin at all! In large and excessive amounts, you may be able to, but with just enough to smell and taste you should be fine!
This product is great for several things. You can lightly coat yourself with a dusting of the powder and have your partner lick or kiss it off of you or return the favor and do the same to them. You can also wear this as a body powder during the day to prevent sweating or chaffing, or to just smell really yummy! Also, you could do what this crazy reviewer did and obsessively dust your hand and lick it off until your partner takes it away from you.
Either way and no matter how you choose to use this powder, you are sure to love it! This product is so easy to clean up as well. I just took a damp wash cloth and wiped away the excess product from my skin and was left with no sticky feeling or any chocolate scent on the skin afterwards. If it gets on clothing you can simply brush it off, or shake it off. To store the powder, of course you have the tin for the chocolate powder itself. I simply keep my feather in a zip-lock bag to keep it dust free and clean, and place them both in a box. You can either store them in a box or out on the dresser! The tin is actually quite discreet! The back does say, "The sensual qualities of chocolate come to life in this intoxicating dust. Chocoholics Chocolate Passion Body Powder makes you look, feel, smell and taste good enough to eat. Why put anything else at all on your body?" The front has the name of the product and the company logo. With these innocent statements, anyone would just assume that you'd purchased this as a novelty, and that it is just an everyday normal body powder that happens to be flavored and scented like chocolate! Also, with a cute black and pink tin, who
wouldn't
want to leave it sitting out to be seen?
You will of course want to avoid getting the powder wet. Store in a dry, preferably cool place.
Size comparison of the tin compared to a regular can of soda: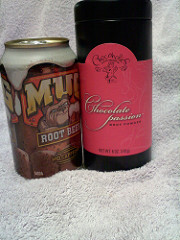 Here is how much the bag fills the tin! Pretty good, 'eh?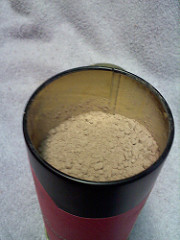 Bag outside of the tin: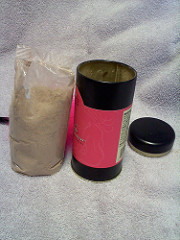 And of
course
, nutrition info and ingredients list on the back!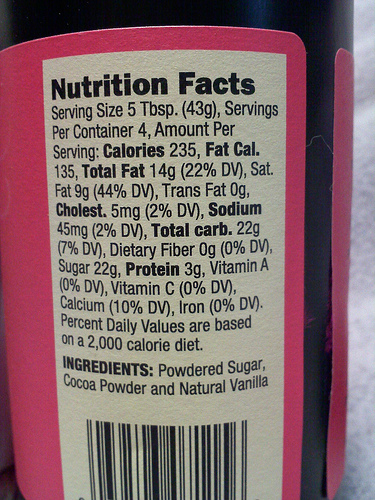 Experience
After pouring the chocolate powder into my tin, I instantly dipped the feather "pen" into it. The wand, or pen as I like to call it because of the way it looks, is easy to hold and the feathers collected a decent amount of the powder with ease. I lightly dusted a bit onto my hand and took a tiny taste. It was delicious! I then took a few more dips into the tin and spread the powder on my neck and clavicle. The chocolate smell was intoxicating! I had my partner smell me; he already knew that I'd gotten the powder so no surprises there as he watched me open my box! He joked that it smelled like someone just dunked me in some hot chocolate mix. I'll take that as a compliment!

He licked my neck which really tickled, and I had to get him away before he latched on and left some hickeys in an attempt to snatch up all of the chocolate taste! This could be done later, of course!

We both love the way the chocolate dust tastes. I will enjoy wearing this on cold days and being reminded of hot chocolate to keep me warm! I will also love to put this behind my knees and elbows, as well as under my breasts to prevent chaffing in the summer time! This powder takes so little to get a taste and scent that I know it will last a long time!
Follow-up commentary
3 months after original review
I still love this body powder! Every time I use it, I smell like hot cocoa for hours! I actually did make some hot cocoa with this, I just added it to a powder mix and some milk and it tasted fantastic! It turned an average tasting powdered mix into something great! It still hasn't clumped up or changed in consistency. Even better, the flavor and smell have not changed or faded one bit!
This product was provided at a discounted price in exchange for an unbiased review. This review is in compliance with the FTC guidelines.

Thank you for viewing
Chocolate passion body powder
review page!