Is this a toy cover or a condom?
After receiving and using these toy covers I wouldn't recommend them to anyone. They are non-lubricated and super small. Please don't waste your money. A condom would be much larger, more of a protective barrier, and lubricated.
Published:
Pros:
Easy to use
Protects Toys
No latex odor
Cons:
Non-Lubricated
Made of Natural Rubber Latex
The Toy Cover by California Exotics that I came across on Eden seemed like a terrific idea. That is, until I received my package in the mail and saw what they were really like. They looked like they were EXTRA small. These toy covers came in a tiny card board box with flowers printed on the box. The box informs you that they're non-lubricated sleeves for small and slim toys. They come 3 to a pack.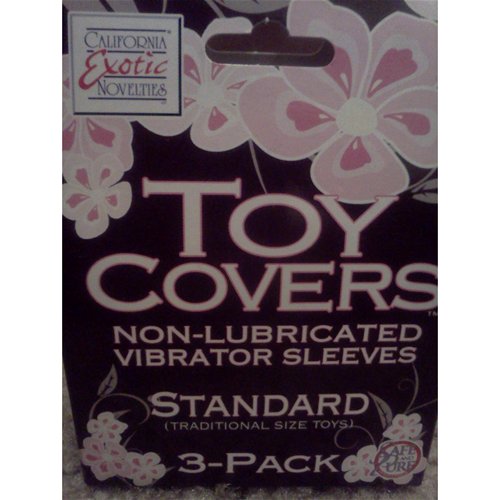 Some instructions that were on the small, cardboard box were as follows:
-Open the foil carefully so that you don't tear the sleeve.
-Place the sleeve on the pleasuring device and unroll it, being careful not to snag it
-Use each sleeve once, and use a new sleeve when swapping between the vagina or anus or if sharing with a partner.
-Dispose of the sleeve carefully and don't flush it down the toilet.
-Don't use oil based lubes.
-This should not be used as a condom for sexual intercourse.
These toy covers are made to be used to cover and protect vibrators, dildos, and butt plugs during vaginal or anal use. They are non-lubricated. No oil based lubrication should be used with these sleeves, only water based. These non-lubricated sleeves are made up of natural rubber latex. I strongly advise anyone with any type of latex allergy or sensitivity to not purchase these. Despite them being made from natural rubber latex, there was no strong latex odor. It really wasn't even noticeable, which was a good thing.
The shape of these sleeves are just like condoms. In fact, after I opened the box, took them out, and looked at them I had to look again because I thought for sure that I had ordered the wrong product.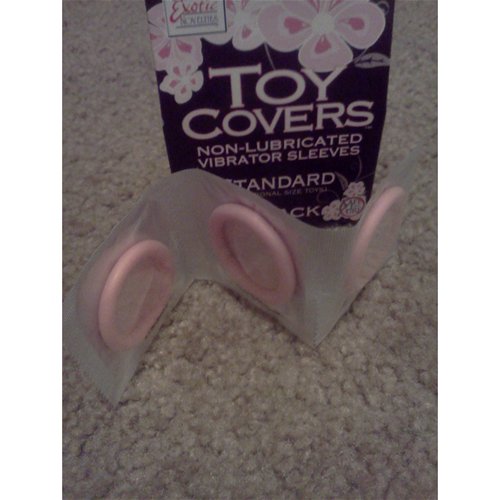 These sleeves (which only came 3 to a pack) only worked on 2 of my dildos and my wand. The dildos were not standard size dildos, they were small. My other toys I didn't even attempt to try them on, because I knew that I would have to force them onto the toys, and that's something that I did not want to do.
The performance of these covers worked well. It served its intended purpose of protecting the toy from lubrication and bodily fluids, and these covers also rolled off of the toys easily. Due to the smallness and the sizing of these covers I know that I definitely will not be purchasing them again. Many of my toys aren't even able to fit into these sleeves. Another big issue that I had with these sleeves was that they were non lubricated, which means that lubrication will definitely be needed. This can be an inconvenience for some. I just feel that condoms would be a much better choice then wasting money and time on these small sleeves. Condoms can be brought lubricated, unlike these covers, and condoms will also fit over many vibrators, dildos, and other toys, unlike these covers. Stick with the condoms.
This product was provided at a discounted price in exchange for an unbiased review. This review is in compliance with the FTC guidelines.

Thank you for viewing
Toy covers
review page!