Kleens Cum Off Your Bum
Cum-Kleen, though convenient and travel friendly, is a product you'll want to skip. The scent is truly horrible and lingers for far too long on your skin. The wipes make your skin feel damp for too long, and are uncomfortable as a result. Just because they're convenient doesn't mean they're worth it.
Published:
Pros:
- Travel Friendly
- Convenient
- Thick
Cons:
- Expensive
- Horrible Smell
- Takes Too Long To Absorb
- Not Discreet
What They Are and How They're Used
Cum-Kleen from GS Wipes is a wipe designed to clean away the mess caused by your sexual experiences. Whether you've just finished up with a lengthy solo session, or you and your lover have been at it all night long, this handy wipe is there to help. No matter what gender you are, this can be useful to you and works well for cleaning up lubricant and any bodily fluids.
These wipes are packaged individually and are convenient to use on the go. They slip easily into your purse and can be left in your glove compartment for some fun on the road. There no concern about the package resealing properly since there's only one per packet, and one is enough to get the job done.
The ingredients list for these wipes is quite short, but doesn't exactly spell out what they are. If you have sensitive skin, you'll want to use extra caution since they're so vague. If you're unsure if any of these ingredients might cause an issue for you, consider trying out another product.
Ingredients
Water, Vitamin-E, Aloe Vera, Bodysafe Preservatives, and Fragrance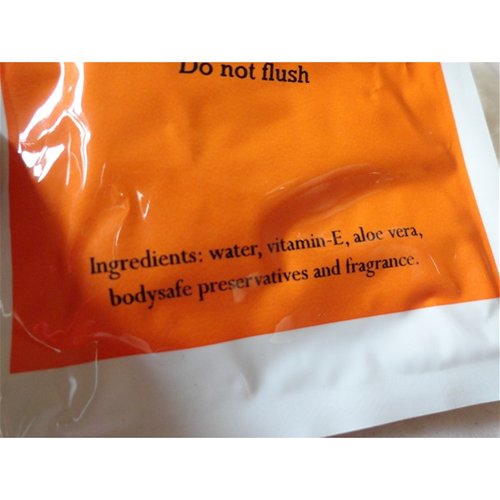 Feel / Scent
Each wipe is folded up neatly and tucked inside the packet. The wipe has a good amount of moisture to it, not so much that you could wring it out, but enough to get the job done. The wipe itself looks a lot like the Eden wipes, but doesn't feel or smell the same. These are scented and are available in two different scents; Vanilla, and Mango.
The Mango has a dull tropical scent to it, but kind of has a freshness to it. It reminds me of a very generic cleaner that some motels might use. It's not the most attractive smell and isn't at all natural, but for some people it's better than after sex smells when you haven't had the chance to shower.
The wipe feels soft against the skin but leaves a pretty damp feeling in its place. It takes a little while for the moisture to absorb, and the scent lingers for a while after you've cleaned up, but it's better than nothing until you're able to take a shower.
Size / Packaging
Nothing about this package is discreet in the slightest. The front of the package has the name of the wipe on the top and has an image of an ejaculating animated penis in the center of it. The words, 'Get it off after getting off' are written over part of the image and in the center of the packet. The bottom boldly states that it's a
personal wipe
and gives the scent below that.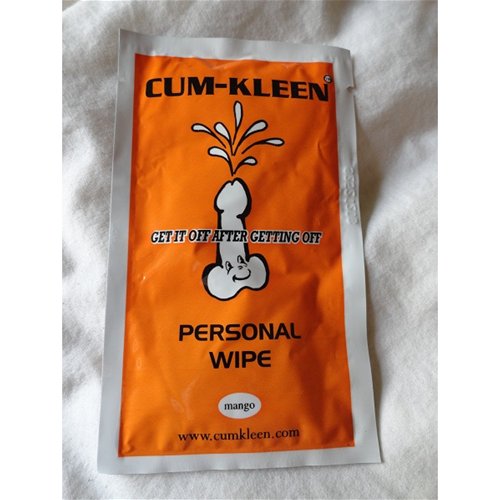 The back of the package gives you a basic rundown of what this product can be used for and states that it's for external use and should not be flushed after use. You can dispose of this wipe and packaging in the trash when you're finished. The ingredients list is also shown at the bottom.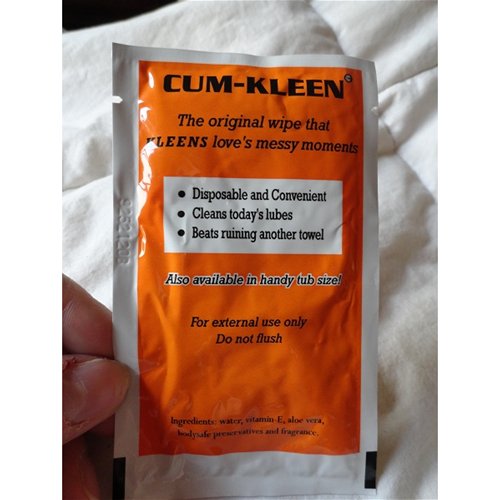 The top of the package has an area on either side where you can easily tear the top open. There's no way to reseal this package, so once you've opened your wipe there's no way of keeping it moist.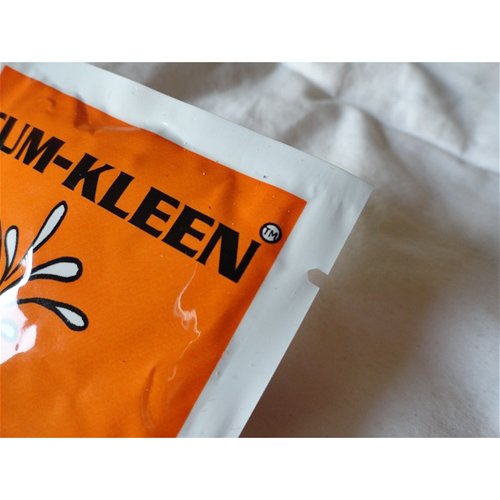 The package itself is 5" tall and 3" wide and is very thin, seeing as it only contains one wipe. The wipe itself is totally square and is 8" by 8". The wipe stretches easily in one direction, but is much more resistant in the opposite. These wipes are much thicker than the Eden Wipes and more closely resemble a good quality baby wipe as far as thickness.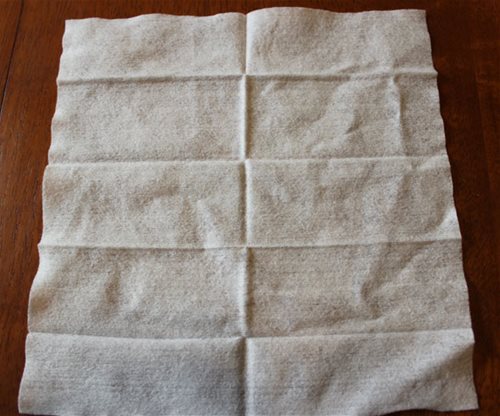 Experience
These wipes are truly nothing to write home about and the scent doesn't appeal to me at all. They do work as described and clean up any lubricant type and bodily secretion and the thickness is nice, but I wish the scent was better. The scent is quite strong at first and lingers on your skin until you're able to wash it off. I don't know about you, but I don't like having my skin smell like I bathed in generic motel cleaner, especially after I've been pleasured.

Though having individual packets are convenient since they're travel friendly, they are expensive considering you only receive on in a packet. You'd be much smarter to use baby wipes or purchase the Eden Wipes that are available here and are also travel friendly.

These wipes left my skin feeling clean, but not at first. The lingering moisture is annoying since part of the reason you clean up, apart from removing excess lube/bodily fluids, is to remove the moisture associated with your playtime. It took too long for the moisture to absorb into my skin and left me feeling more 'icky' than if I hadn't cleaned at all.

Convenience isn't everything, and not every scented product is worth purchasing. Skip this one and using another type.
This content is the opinion of the submitting contributor and is not endorsed by EdenFantasys.com

Thank you for viewing
Cum-kleen
– wipes review page!