Make Yours a Smooth Machine!
This is a wonderful after shave powder for wherever you shave! Soft with a lovely fragrance, you won't be disappointed!
Published:
Pros:
-Soft & Silky
-Prevents Razor Burn
-No Harsh Chemicals
-Overall LOVELY Experience!
Cons:
-No Ribbon Poof Handles
-Container Hard to Tighten
I have never used any powder other than the old fashion baby powder. I have very sensitive skin that made me nervous about trying anything else. I am SO glad I tried this! Not only did I NOT break out or get painful pores, but it also left my skin feeling extra soft and smelling extra nice! I believe this will be even more special with the whole set and plan on getting them all!
This should be safe to use on any part of the body you shave. I personally tested it under the arms, my happy trail, my legs and my entire crotch area. After bathing and towel drying, I applied to each area that was shaved in a generous amount. This IS messy, so make sure to use over a toweled area, a floor easily cleaned, or even in the shower itself. This powder will soak up moisture as well so there is no need to run around the house naked until you are completely dry. Unless of course, that's just your natural routine.
Every area I used the powder on had the same effect: AWESOMENESS! The skin was extra smooth, it prevented razor burn bumps, it smelled extra fresh and the skin felt better overall. Showering takes oil out of your skin and dries you up, especially with my well water and this powder took all the negativeness away!
Now, after you apply the powder, you will need to rub the applied areas to prevent loose powder from getting all over your clothes. The first time I used this I didn't follow this step and ended up with white streaks all over my knee high black socks! The areas will still have a white glow to them, but if you're naturally pale like me, it's an extra erotic look. If you have darker skin, pat a towel over your skin after most of the powder was rubbed in.
Lastly, this powder works wonders, but it's not a complete miracle. For people with extra sensitive skin like me, reapply later in the day and once a day for 3 days (IMHO). My hair grows very slowly and I only need to shave once a week, so this works for me. People with thicker skin may get away with just the one application after shaving.
The powder itself is a very lightweight substance that feels like a feather running over your skin when applied. Its fragrance is also a very light acent that smells similar to baby powder, but with an undertone of a clean feminine scent. It goes on a muted white and after rubbing in ,still has a slight sheer to it that will wear off in an hour (at least in my experience). It's smooth and pampering without a big expense. The powder puff has a cottony, feathered application side, and a rougher white holding side. My ONLY complaint with this item is that I wish the puff was easier to hold. Perhaps a ribbon sewn on?
Now the technical stuff!
THE CONTAINER:
This item came without extra packaging. It is in a somewhat nice plastic can with simple labels (see pics). The top screws off and on and in my experience, it's a bit difficult to get the top back on securely. You will need to find the groove and twist softly before tightening.
This is a 0.46 oz net wt. (13g) item in a 2.25" round vessel, 1.25" High.
One label states:
-Fluffy Puff Applicator Included
-For all skin types, including sensitive skin.
-Appropriate for use on legs, underarms, intimate area & body.
-The ingredients (listed below).
-Warnings: For external use only. Do not use on broken skin. Avoid contact with eyes. Do not inhale. Keep out of reach of children.
-Their trademarks, address, and website.
The other label states:
-A luxurious, delicate powder designed for a woman's intimate skin care regimen.
-Sheer formula infused with aloe vera to freshen & protect skin.
-Keeps skin feeling comfortable & desirable.
-Absorbs moisture & relieves chafing.
-Protects skin after shaving or waxing procedures.
-Compliments simply sensual luxe intimate shave creme & botanical after shave & wax protection mist.
-Bar code & Other product info INCLUDING Made in the USA, Paraben Free Formula, and No Animal Testing!
INGREDIENTS:
Mica, Boron Nitride, Zinc Stearate, Silica, Aloe Barbadensis, Leaf Juice Powder, Zinc Oxide (CI 77947), Fragrance (Parfum)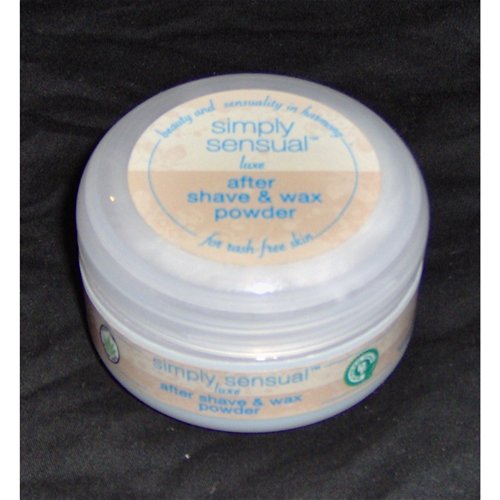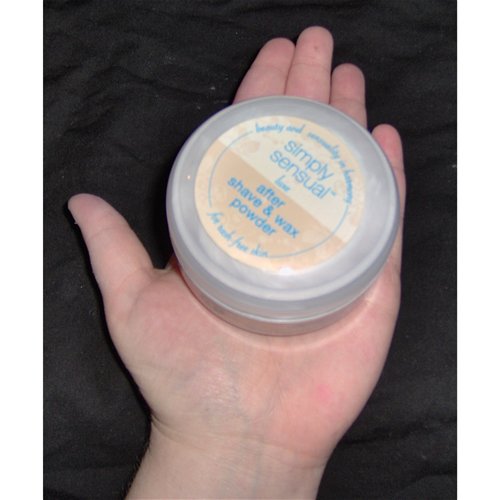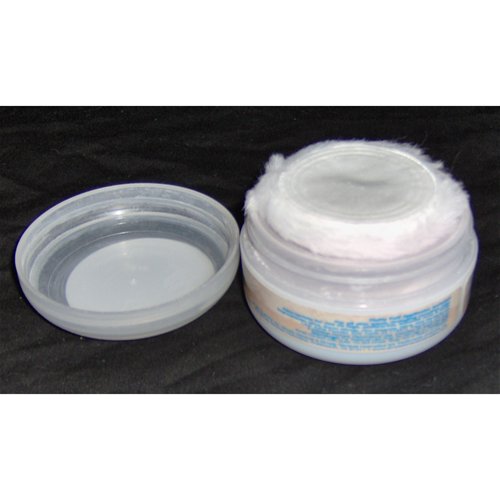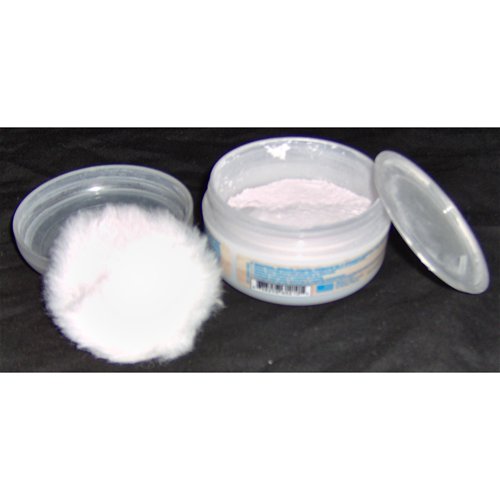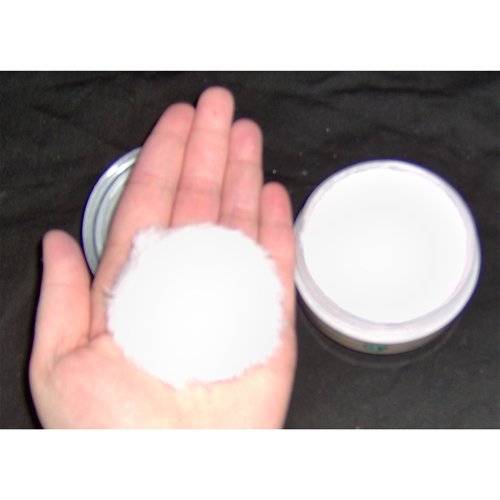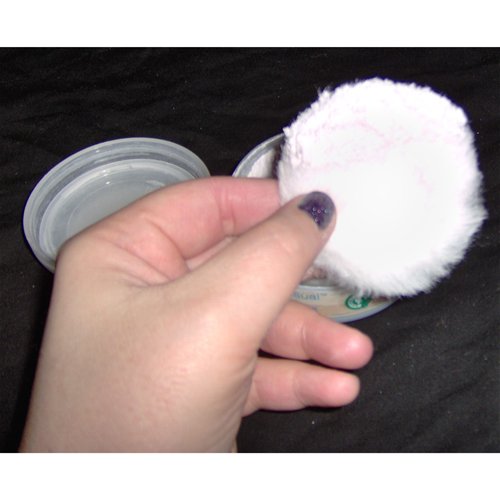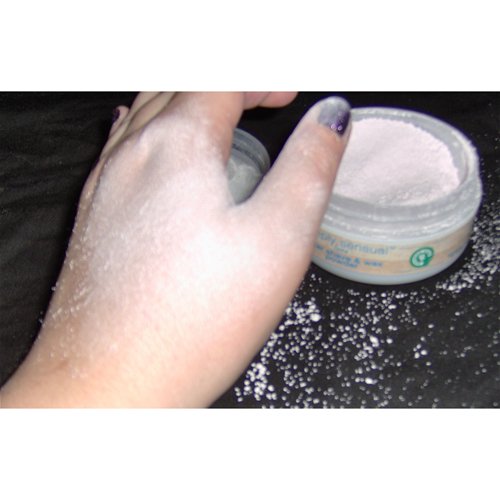 Follow-up commentary
2 months after original review
Although this hasn't lasted as long as I hoped, it was good for about a dozen times applying under the arms and the crotch areas. I'm still excited to try the rest of the product line, and since this review, have tried the body butter which was wonderful. I'm still thinking this is a great product for the price, even if it's not something that will last for months.
This product was provided free of charge to the reviewer. This review is in compliance with the FTC guidelines.

Thank you for viewing
Simply sensual luxe after shave and wax powder
– aftershave review page!