Works like a charm but by jove it reaks!!!!
I love how this product contains mica rather than talcum powder making it a safer alternative. I really love how well this product works. I really love that I can feel fresh and dry after walking in the sun light for while. I love how this product helps to prevent all the bad stuff that happens to a "woman's vaginal region" when there is too much moisture from sweating. But by Jove!!! That scent is just repulsive!!!
Published:
Pros:
Works like a charm to help prevent chafe burns, and prevent moisture.
Cons:
THAT SCENT!!! (yes I am yelling)
Nitty gritty first:
Ingredients: Mica, Boron Nitride, Zinc Stearate, Silica, Aloe Barbadensis Leaf Juice Powder, Zinc Oxide (CI 77947), Gragrance (Parfum)
Size: 13g or .46oz
Packaging: somewhat see through contain with the Simpy Sensual" writing on the container.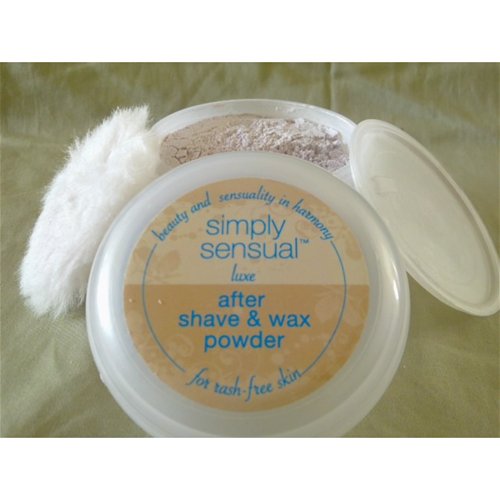 Comes with: a protective inner lid (that doesn't stay in and can cause problems if you are not careful) and a poof. Just so you know? The poof is not the best quality, it's small and fits nicely into the container. Be sure to tighten the lid quite well, or else you might end up with powder all over the place.
"Special Features": Made in USA, paraben free, not tested on animals, made with aloe vera
Scent: Lavender (although it smells like a powdery candied scented lavender)
Colour/texture: Loose powder in a lilac purple colour.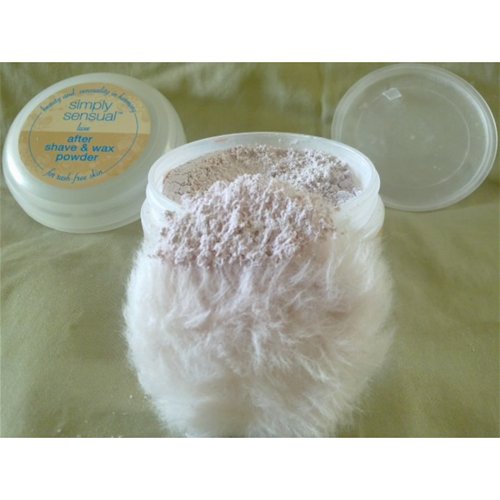 Now... the fun part.
Why did I buy it? Simply because I'd rather use a mica based product than use an under arm deodorant because the majority of the ingredients of name brand products contain toxic chemicals and are made up of heavy metals like aluminum (which has been linked to brain disorders like Alzheimers and is a possible risk factor for breast cancer).
I had been using baby powder for a long time as a sweat absorber to help prevent chafing (and to just feel a little fresher in the summer) until I realised that baby powder (because of the talcum powder) causes so much more harm than good. Especially since I used it on my arm pits, between my legs to prevent and also on my groin area.
See? What do you call that area? If I were to say "a woman's vaginal area", to me that sounds like one might put this inside them. If I were to say "labia" most refer to their inner lips as their labia so again that doesn't work. "Crotch" just seems vulgar and "groin" to me is very masculine. And pussy just seems... not proper in this kind of review!
Screw it. Going with groin and crotch.
I stopped using any powder with Talcum powder because the women in my family have been known to get ovarian cancer and the habit of using Talcum powder around ones genital region increases by approximately 30% when used. Around here, all the ingredients are in Chinese, and when I had asked for someone to send me something, they just sent deodorant.
And when I bought and enjoyed the
Simply Sensual Body Scrub
, I went looking for more Simply Sensual products and came across the mica powder and I knew I had to buy some.
The powder itself is fantastic!!! I love how my skin feels re-freshed and silky after I have applied. Using the poof that came with the powder, I find application is a little tricky as my thumb nail seems to catch frequently on my skin making the application uneven. I plan on dumping the Simply Sensual Luxe Aftershave & Wax Powder into my larger powder container and use a larger poof. I shave my crotch daily, and I've not noticed that this product helps in reducing any issues caused by shaving. I've only ever noticed issues caused by shaving if I skip one day, or dealing with the regrowth. But I can tell you, that once I am out of the shower, air dried, then I apply the powder, my skin feels a little more silky.
If I do not use the powder, I find after about forty minutes of movement (it is summer time here in Inner Mongolia, it is a desert region, very low humidity, but very high temperatures and very hot sun), I feel like I want to straddle an air conditioner and dry up a little. When I use the powder I get about an hour or a little more of movement before I begin to crave a fan or an air conditioner. If I am out playing tourist, I'll toss the container into my purse and use it when I go to the loo to freshen up a bit. And because air conditioners are not common in the majority of China, it really does feel nice to be dry as it helps to prevent all sorts of issues (ie: jock itch, which in women can lead to all sorts of problems).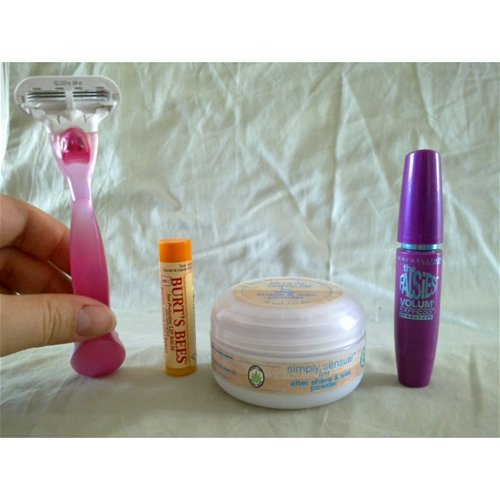 Experience
I ran out of space!!!

Left to Right: Venus razor with original head, tube of Burt's Bees Lip Balm, Simply Sensual Powder, Maybelline's Falsies Mascara.

I gave a friend of mine who was in town a chance to borrow some and he loved the way it felt. He lives down south in the monsoon climate where the air is like liquid water and your clothes and your body never actually dry till November.Great for your skin, but bad for the skin that doesn't get enough air. He hates the smell of this product, but he has said that this powder is the life saver of life savers as this is the first year he has not developed jock itch. And I am under orders to buy a tub for him when I place my next order but try to get an unscented tub.

Some other body parts that this can be used effectively: foot powder, wash and dry your feet, allow to air dry, then pat on some powder, then your socks then shoes. But, please remember to use a separate poof than one for your other body parts.

I do not use it to help prevent razor burn or the red bumps from shaving as I said, I don't really get those because I shave daily. But as a body refreshener, to help dry your skin a little in your intimate regions... it works really quite well.

I hate the scent. It smells like powdery candied lavender and because it is such a fake lavender scent... it just makes it worse. I plan on continuing to use this powder as long as my nose and my head allow me too.

Now as a safety note: please if you are going to be using this powder, please make sure you use it near an open window and be VERY careful you do not breathe any in as there are quite a few health associated risks when it comes to breathing in mica. Be especially careful when applying to your underarms.

I am giving this product a three star rating. The product itself I would gladly give a five star rating to, but that scent is just repulsive!!!! I find the scent lasts a long time on my skin. Every time I raise my arm I can smell it. And it just gets on my nerves. Now, I only use it when I know I am going to be by myself and sweating.
Follow-up commentary
21 days after original review
I could not take the scent anymore. It now makes me think that if cotton candy has a scent, this would be it. Sickeningly sweet.

I just cannot wear it, and friends who usually comment how wonderful I smell, have made turned up nose comments on how sweet I smell. Needless to say? This stuff has been dumped, and the plastic sent to recycling.
This content is the opinion of the submitting contributor and is not endorsed by EdenFantasys.com

Thank you for viewing
Simply sensual luxe after shave and wax powder
– aftershave review page!