Why you surprised me! You are Simply Lovely!
I've really wonky skin during Spring time; it's temperamental and environmental factors are just not kind to me. I suffer from extremely oily skin to extremely dry skin on various parts of my body. Using this body scrub it seems to help "work it out" leaving my skin feeling clean, soft and with an almost inner glow to it that I usually never see till summer.
Published:
Pros:
Fantastic scent! leaves my skin clean and soft feeling hours later
Cons:
it doesn't come in a bigger size
Ok, because I have too... let's get the technical details taken care of main product page but it is needed in a review:
Ingredients: Sucrose, Isopropyl Palmitate, Helianthus Annuus (Sunflower) Seed Oil Beeswax, Hydrogenated Vegetable Oil, Silica, Fragrance (Parfum), Aloe Barbadensis (Aloe Vera) Leaf Extract, Anthemis Nobillis (Chamomile) Flower Extract, Ascorbyl Palmitate (Vitamin C), Benzospermum Parkii (Shea Butter), Caprylyl Glycol, Carthamus Tinctorious (Safflower) Seed Oil, Cucumis Sativus (Cucumber) Fruit Extract, Ethylhexyl Methoxycinnamite, Gossypium Herbaceum (cotton) Seed Oil, Laureth-4, Limnanthes Alba (Meadowfoam) Seed Oil, Macadamia Terrifolia Seed Oil, Panax Ginseng Root Extract, Prunus Armeniaca (Apricot) Kernel Oil, Simmondsia Chinensis (Jojoba) Seed Oil, Steareth-20, Tocopherol (Vitamin E), Water, Phenoxyethanol, Red 17, Violet 2
Fragrance: Ginger/Pomegranate. The scent is more pomegranate than ginger, but if I cut off a slice of ginger, sniff it, I can then smell the under notes of ginger. The pomegranate is a little on the "sweet pomegranate candy side" but not sickening sweet like most kids candy; more like a pomegranate tea scent (we actually figured it out 1L hot pomegranate tea, 1/4tsp freshly crushed ginger, 1/2tsp clover honey will get you an almost exact match for what it smells like- if you are interested that is and if not? Make it anyways!!! Take a high ball glass, fill with ice, pour a half glass full of the hot tea, add a splash or two of vodka (I preferred gin the other foreigners preferred vodka), then fill with soda, garnish with raspberries and a mint sprig and you've got a yummy summer beverage!). To get an idea of how close the scent is to real pomegranate; we took fresh pomegranate, crushed the seeds, and then put our noses as close as we dared too. Real pomegranate has a tart undertone that is missing in this scrub, and the scrub has a little bit of a sweeter side to the real deal.
As a side note to the fragrance lovers out there: this is a summer scent. Fresh, light, morning to early afternoon, brings to mind bright and cheery scents. I have also found that mosquitoes and other annoying buzzing insects do not seem to attack me like they do when I use other soaps and scrubs.
Volume: 7 fl.oz.
Weight: 0.75 lb
Colour: soft pink
Texture/Thickness: for a body scrub very thick.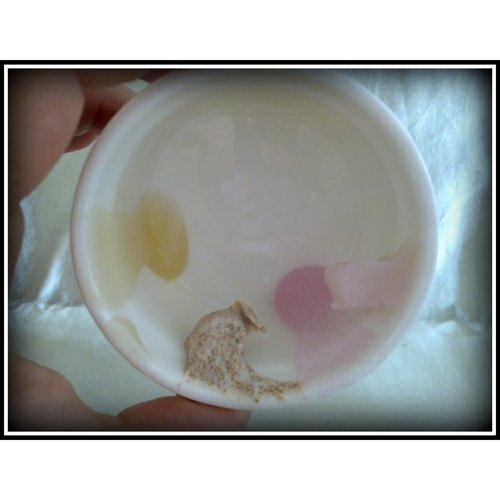 If we look at the picture, I took some of the body sugar body scrubs I have and compared them. From left to right, Freeman's Pomegranate Sugar Body Scrub, St Ives Apricot Face Scrub (I use it on my body not face which is why I included it), Qtica Grapefruit Surprise Sugar Scrub, and Simply Sensual. I took approx a finger full and wiped it on the rim of the dish. I waited one minute, then snapped the picture. Simply Sensual is quite thick!!! About the same thickness as St Ives.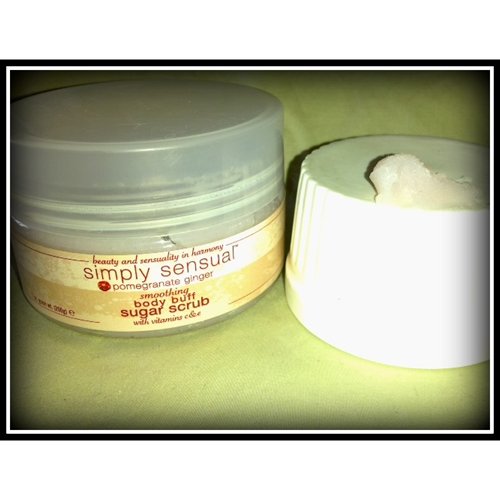 Showing off the sugar grains. I don't know if you can see the grains clearly, but that is what the package looks like close up!!! Many people spoke of a spoon and a inner lid that came with the scrub, but I did not get one. When my package arrived, the scrub was open inside the package (lid totally off), resting upside down over the Spirit-Leaf box. The scrub did not move. There was a little oil over some of the plastic covering of the toys, but that is nothing to complain about. The box smelt lovely of a soft pomegranate scent. So I cannot really comment about this inner lid and spoon as they never arrived in China! But the big lid was hiding under my new PureWand. At least I got one lid!!!
Container: a tub that fits into your hand with a screw cap, nothing special. Let's look at some pictures...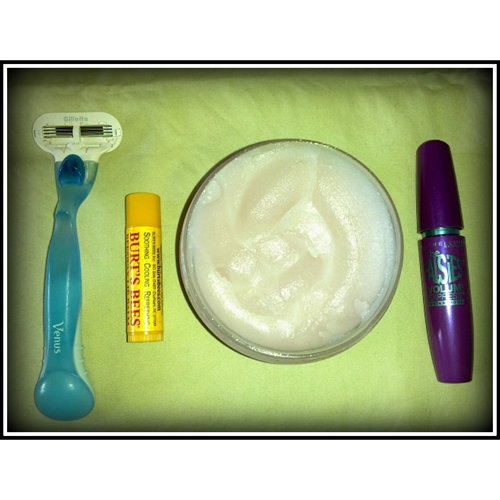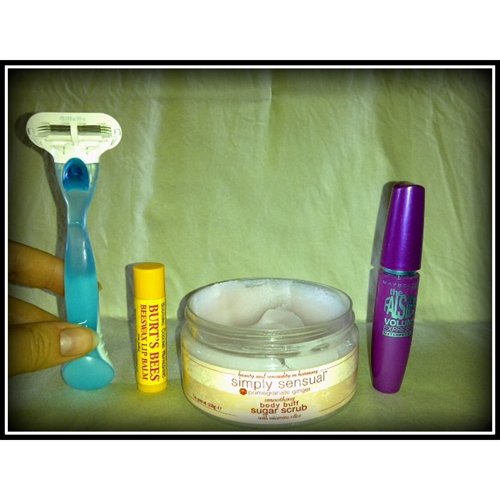 Just to get an idea of how big the container is standing alongside a Venus Razor original head, tube of Burt's Bee's Lip Balm, Simply Sensual and Maybelline's Falsies Mascara.
Use: EXTERNAL use only. I did not bother to taste this (not even for a review would I taste basically soap!) but I have spent many hours with the tub beneath my nose just inhaling. To use; turn on some tunes, jump in the shower get very wet. Turn off water, grab some scrub on your hands massage into your whole body while dancing to the music. Massage into skin until the sugar dissolves, rinse and pat dry.
Just to compare what my two favourite scrubs look like in use.
Experience
Let's talk about the horribleness that is my skin. My skin is hugely affected by what I eat and the seasons. This time of year my skin is changing from winter to summer, so it is drier, tougher, and all the bad stuff that I've been eating over the past two weeks have been showing up in pimples on my skin. Mixed in with all the sand and dust storms we've been having (almost daily)... my skin takes a beating this time of year. I cannot wear lotions or my regular
Lelo oil
(I use oil as a moisturiser) as the temperature is too hot, and I sweat causing a really gross residue to form on my skin which leaves my skin itchy, causes more breakouts, heat rashes, excessive amount of sweating... it's really gross. So I need to make sure that what I use in the shower contains some oils and/or is heavily moisturizing as I cannot apply anything to my skin afterwards. Until summer when my skin plays nice again.
Usually I just used the Qtica which I get sent to me from my spa back in Canada, but I think that might be bumped out by the Simply Sensual. I prefer how thick it is over the more liquidy Qtica. I prefer the smooth and clean feeling I get when I use Simply Sensual. I tried to get a picture of my arm six hours after my shower yesterday, but no matter how hard I tried, I just could capture the differences on film. Let me walk you through what my skin looked like six hours later:
Right arm: used Dove regular 1/4 moisture on a loofa. Around my elbow, knees and shins a little dry.
Left arm: (near elbow Qtica) a little on the dry and itchy side, skin a little flakey. Skin did not feel... as nice as it could. Feels nicer after six hours than it does after twelve hours though! And feels better than when I use the other scrubs or body washes. Scent does not last longer than thirtyish minutes.
Left arm: (near wrist Simply Sensual) Skin feels soft, sensual, still feels "clean", no oily residue, no white dry itchy skin (even twelve hours after my shower). Skin looks a little more "fresh" or revitalized. When I just use the Simply Sensual, my personal assistant hours later wants to know what my perfume is as she claims that it smells "fresh and clean". (I have been teaching her about scents can you tell?)
My personal opinion: I have been hesitant to buy any of the body products from EF simply because of my picky skin and I have stuff that works so why change it? But... I am going to be looking into some of the other products by Simply Sensual with the hope that they perform just as well as this body scrub. I am considering buying some of the line for my personal assistant because of how much I enjoy it, and she enjoys the scent.
I would like to see if Simply Sensual has a "home fragrance oil" in this scent as I find the scent to be energising and rejuvenating and would love to be able to have the scent throughout my home!!!
Follow-up commentary
2 months after original review
I still like this body scrub... so much so that I bought a second tub of it.

But last week I made a decision to go "natural" and use no more store bought products. If my natural kick works well and my skin looks good, I shall be changing this from a body scrub to a foot scrub.

I would still strongly recommend the Simply Sensual Body Scrub to anyone looking for a spa quality body scrub.
This content is the opinion of the submitting contributor and is not endorsed by EdenFantasys.com

Thank you for viewing
Simply sensual body scrub
review page!