Mosquitoes really like icing scented things you know
Always wanted to try out a candle massage oil? This one is probably where most would start as long as you can forgive the scent. It's almost a sickening sweet scent, but the actual product is really nice to use for massages and leaves your skin looking radiant and feeling soft. Perfect for places like dry and cracked elbows and heels, works much better than body butter on these uber dry spots!
Published:
Pros:
You pay for what you get,
Cons:
Almost sickeningly sweet scent, mosquitoes love it, burns unevenly
Ok... I have oodles to tell you, no. I have oodles I must tell you. But work first gossip after the work is done. So let's get the nitty gritty over with shall we?
What is it?
It is a candle. You can burn it to make a room look pretty, or you can burn it till you get lots of the oil, blow the candle out then use the oil as a massage oil.
Scent/taste/colour:
It is advertised as a French Vanilla and Shea Butter scented candle. Can we just say ummm no? It smells more like you know cream icing? Like Betty Crocker? The scent does not really fill a room like a Yankee candle (nothing really works as well as Yankee products but I compare all room and candles products to Yankee products) you have to get in real close to the candle to smell it. However; when you massage your partner the scent is much more noticeable through out the room and area. We found it to be just a few notes down from sickeningly sweet but still decent enough to use. I feel that in the winter time this scent would be better enjoyed. I would also say this is much more a younger girlie scent and not really a sexy, unisex or womanly scent. It is We came to the conclusion that this is not tasteless, but the taste we did discover was not something you would want to eat with a spoon but not anything repulsive. So kisses and licks were still well played out. It is a real creamy buttery colour and not the yellow butter of store bought butter. But the kind you get fresh from the farm where they churn it by hand.
Ingredients: Glycine soja (soy) wax, butyrospermum parkii (shea butter), prunus armeniaca (apricot) kernel oil, perfume (benzyl benzoate, vanillin)
Size: 125g/4.4oz I have burned this candle for about three and a bit hours in total and I've only noticed less than about .5cm gone from the tin and we used a lot of that in our massage. I feel comfortable saying, this candle has well over thirty hours of burn time (note: it does not say this anywhere on the packaging) if you tend to the candle.
Performance/Texture:
I burned the candle for about an hour, and the first thing I noticed was that the burn was not even.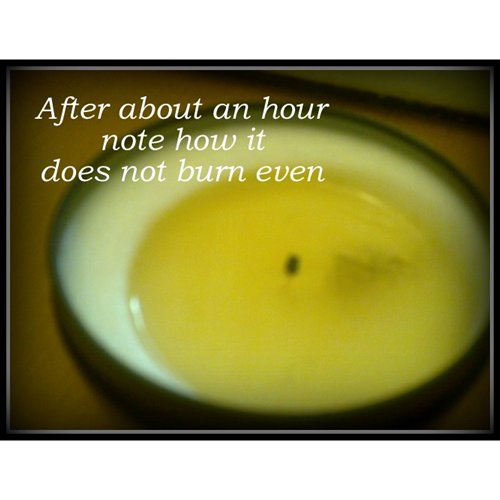 It does not burn even. So to extend the life of your candle, when you have burned the candle for about an hour, use a butterknife or a spoon and scrape the sides down then let cool and relight.
I am just over six foot one, and dipping just the pad of my index finger into the melted wax was enough to do my whole forearm. I found that it spread easily over a man's back (he has no hair, body hair might require you to use more)and needed less than a quarter teaspoon (I didn't actually measure it I am guessing here) and I was able to massage his whole back, neck, shoulders for about twentyish minutes before I started to notice I needed to reapply. We used the oil with some glass wands as massagers to do some TCM deep tissue massages.
I would not use this as a lube, oil has been known to wreck havoc with your natural flora, and oil and latex condoms are just a no-no.
We were very careful not to get any wax onto the sheets, and I am sorry, but I will not be pouring any wax on my sheets to see how it washes off either. I love reviewing but that is a bit much!!!
Neither of us noted any oily residue as our skin just soaked it right up. I've more oily skin and he has sensitive skin to chemicals and most soaps and lotions and not to mention dry skin. He had no problems with this candle. Neither of us noticed any acne or pimples where we used this. I would strongly suggest keeping the oil away from your face as it could cause problems. I cannot wait to see how it works with my skin in the winter time.
Packaging:
A picture is worth a million words, so here is everything you get in the cute little cardboard box: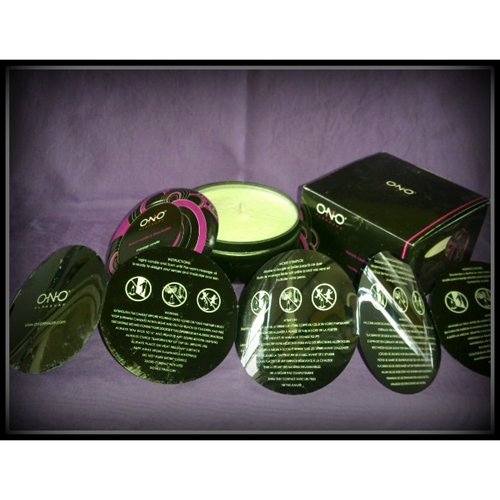 Experience
Discreet/Travel:
Yes and no. I would say sure keep this out and most people would think, "oh neat massage candle" and put it down. It can be used as a heavy lotion, so it can be discreet. As for travel... you can travel with it, but here in Inner Mongolia there is no air conditioning in home, and the temps get upwards of 30C. I did notice that the wax got softer rather than its firm hard state in the cooler mornings. When I tilted the tin, the candle did move but it took a little while to do so. So if you are going to travel with it, please be aware that you will need to keep it on the cooler side of the thermometre.

I originally bought this for use in the winter time. My plan was to light it as soon as I woke then after my shower use it as a heavy duty body lotion especially for dry and cracked heels and elbows and cuticles. Now, because I am not keen on the scent, I will not be using this as a lotion, but I will try the Lelo Flickering Touch Massage Candle as those from the reviews seem to be more to my scent liking.

Now.

There are not that many mosquitoes in my home, maybe one or two. We used this the other night and WHAMO!!! with in a few minutes of finishing as we were laying there grinning like idiots and complimenting each other on jobs well done, our hands start a flying and smacking ourselves in the face, breasts, ass cheeks, knees it was like doing a smacking aerobics class.

We jumped into the shower, trying to get all the oil and scent off of us as it was like a wall of mosquitoes in the bedroom, and as I said in past reviews, I live on the edge of the desert, and I hardly see mosquitoes. When we returned and turned on the light... there looked to be hundreds.

Needless to say, we packed a bag and went to stay at a hotel.

When I got home, they were gone.

Comparing this scent to the massage oil by Ono, the candle is much sweeter and the massage oil is more of a deeper vanilla scent.

Because of the scent and how the mosquitoes like it, I am going to be giving this a- I really want to give it a one star because I swelled up to almost double my size. But I'll be giving it a two star rating.
This content is the opinion of the submitting contributor and is not endorsed by EdenFantasys.com

Thank you for viewing
ONO massage candle
– body massage candle review page!