No wonder women are from Venus, it smells great here!
If you're not a bath person, and are looking for a product that will help you enjoy them more, do not hesitate in tossing Venus Aromatic Body Salts in your cart. If you are already a bath person, and you find yourself soaking in the tubby-tub fairly often, do not hesitate in tossing Venus Aromatic Body Salts in your cart. Seriously. If you have the capability of bathing, grab this product. Use it. Love it. You can thank me later.
Published:
Pros:
Great smell.
Glycerin & Paraben free.
Moisturizing.
Price-to-product ratio.
Cons:
None.
I am not much for baths. Being 6' tall and a size 16, I find that most tubs are fairly uncomfortable for me, because I can never stretch out all the way since I am so tall. This product, however, could easily turn me into a bath girl.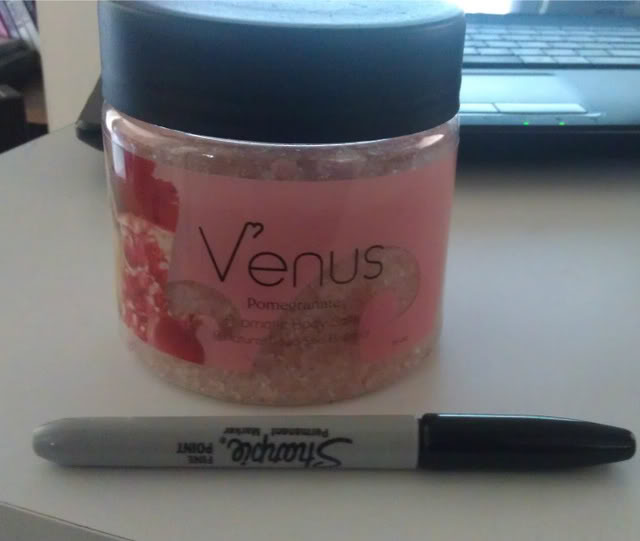 I was pleasantly surprised at the size of this container, simply because most beauty products that I purchase always leave me disappointed in the price-to-product ratio. This, however, surpassed my expectations. 16 ounces seems a lot more than that when it's in a light, crystal form. The packaging is also very aesthetically pleasing. It's a clear plastic jar, so you can see the crystals inside (which, in the pomegranate, are a pretty pale pink), and the Venus logo and pink background of waves make. The lid is about an inch thick and solid plastic black, in a screw-on top that is nice and sturdy. Upon unscrewing it and tearing off the protective seal, I immediately wanted to go jump in the tub.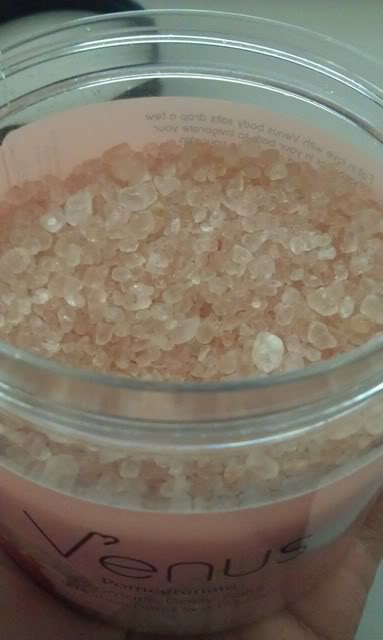 Physically, the crystals actually remind me of rock candy. They're a variety of sizes, mostly ranging on the small side (which is good, as they'll dissolve faster), and are a variety of different shades of pink with a few solid off-white chunks (that I imagine are salt, perhaps not as dissolved). They're hard to the touch, and if you were to roll one between your fingers, you'd be left with an odd residue; not sticky, not slimy, but that feeling you get on your skin when you swim in the ocean, and then dry off in the sun. It's not a bad feeling, but it's a residue nevertheless. That being said, when you actually use these properly and let them dissolve, and not just rub them around on your fingers, you don't experience any residue at all. When I take a bath in these, I don't rinse off after the bath, and I haven't ever had any problems with these leaving my skin feeling anything but soft and moisturized.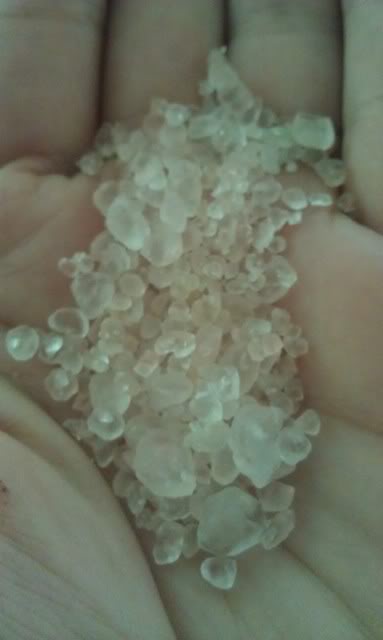 I have only one word for how this product smells: AMAZING. I am anything but disappointed in this aroma. It's beautiful, it's sensual, it's light, and pleasing, and genuinely makes me think of "clean" every time I smell it. It's not as strong once it's mixed in with a tub full of water, but it still smells exactly the same, just a bit toned down. After your bath, the scent lingers on your skin for a good while, as well. As these are a bath product, I haven't tasted them. I'll just assume they're salty and chemically.
The use of this product is fairly simple: Get your water to the temperature you want it, plug up your tub, and then add a few teaspoons to the bath water and let the tub fill up all the way. By the time the tub is full, these will be dissolved. If there's a few crystals lingering, swirl the water around a bit with your hands or feet. Then get in, and let all your stress and worries melt away as you enjoy the invigorating combination of natural sea salts, and luscious pomegranate.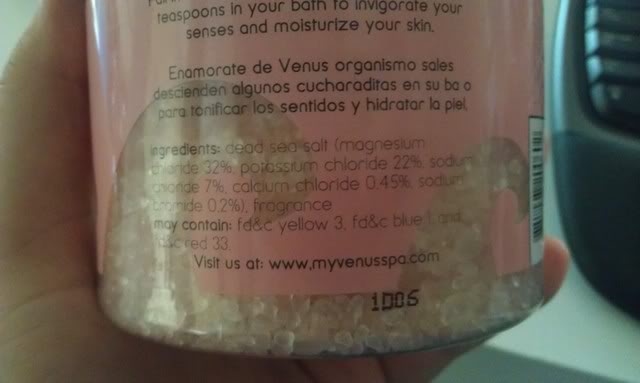 Ingredients:
Dead Sea Salt (Magnesium chloride 32%), Potassium Chloride (22%), Sodium Chloride (7%), Calcium Chloride (0.45%), Sodium Bromide (0.2%), Fragrance.
May contain:
fd&c yellow 3, fd&c blue 1, fd&c red 3
This product was provided at a discounted price in exchange for an unbiased review. This review is in compliance with the FTC guidelines.

Thank you for viewing
Venus aromatic bath salts
review page!