Prime but Pricey
Overall these are great salts that are worth the money if you can afford it. They create a lovely and soothing bathing experience, as long as you get a scent you like. Unfortunately it's hard to really take in the great quality without using at least an eighth of the container per bath, so if you need to save money you should think about mixing these with a milk bath or bubble bath.
Published:
Pros:
- Great Quality
- Soothing & Healing
Cons:
- Pricey
- Overpowering Scent
--------------------------
Venus Aromatic Bath Salts
by Venus
Fragrance: Milk
--------------------------
These are actually good quality salts, but the scent I got wasn't very friendly. However, the stars I give this one is not going to include my disappointment on the scent. I'm hoping some of the other scents are more tolerable.
Packaging
Size: 16oz
Dimensions: 4" High by 3 1/2" Diameter
The container of salts is a sturdy plastic jar with a resealable screw on lid. The lid tightens well, making this travel friendly. The container is thick enough that the smell does not leak through which is also a big plus. There is a decorated and clear label around the container that is nice enough, but no show quality. Underneath the lid is a paper seal that you can remove completely, or tear mostly off if you'd like to keep an extra layer of protection to help prevent spills.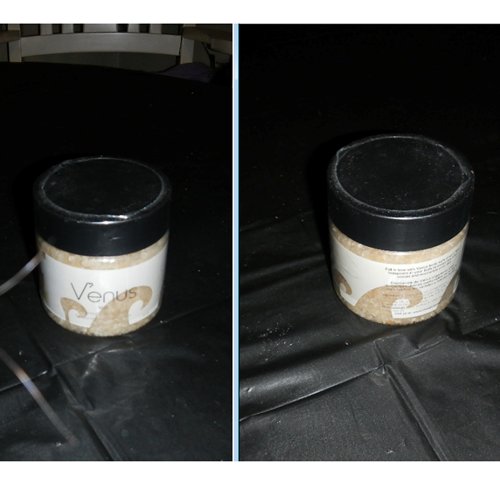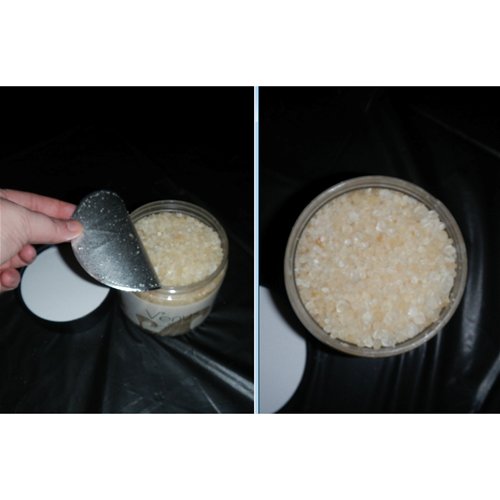 The label states: Aromatic Body Salts. A Natural Dead Sea Product. For external use only. Keep out of reach of children. *There is also a recycling triangle 1 on the bottom.*
Using
The label states: Fall in love with Venus body salts. Drop a few teaspoons in your bath to invigorate your senses and moisturize your skin.
If you follow the directions, this should take about a half dollar sized amount. I find that you need a fuller palm amount to really feel the effect of this. If you use the smaller amount you should be able to get a bath at a $1 each. If you use enough to really enjoy the effect, you're looking at about $2 per bath. To me, that's extremely expensive. However, if you have the cash, it IS well worth it.
The salts range from about 1/8" to 1/4" in diameter. These are coarse salts but dissolve almost instantly in hot water. The aroma disperses quickly as well and really fragrances the room. If you like the scent, you will really have a great aromatherapy session. If you don't like the scent, as I did, it may be overpowering for you to enjoy the bath.
Ingredients
(as stated on label):
Dead sea salt (magnesium chloride) 32%, potassium chloride 22%, sodium chloride 7%, calcium chloride 0.45%, sodium bromide 0.2%, fragrance. MAY CONTAIN: fd&c yellow 3, fd&c blue 1, and fd&c red 33.
As you can see, the ingredients are pretty friendly. Although it doesn't say all-natural fragrance, since it's at the bottom of the list it should mean that it's a very small amount. The salt is actually good for you as well. It can help draw out impurities, help reduce the appearance of scars and stretch marks, reduce swelling, moisturize/exfoliate, and sooth aches.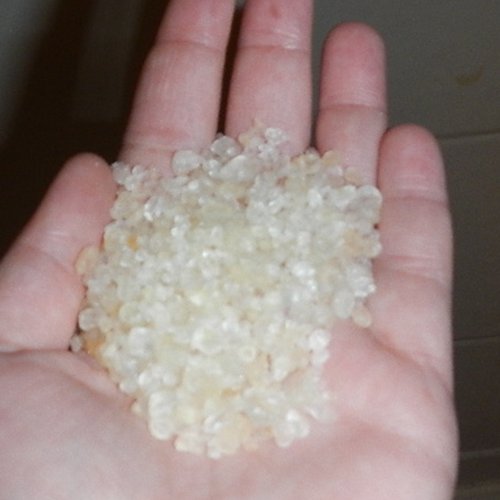 Experience
This wasn't the greatest salt bath I've ever had, but it was pretty nice. I have sensitive skin that gets blotchy, itchy, and hives especially when I try new products. This product didn't cause me any irritation! I could actually feel the day's normal itchiness soothe away within a few minutes. My skin also felt softer, redness was reduced, and my arthritis calm. Now keep in mind I used a palm sized amount, and it was worth it.

...At least until the container was empty and I realized how expensive it cost me for twenty minutes of pleasure. It took me only seven baths before I ran out. Without including shipping, this equaled about $2.60 per bath. I suppose it depends on what your idea of expensive is, but I simply can't afford that per bath. I COULD use half the amount I was using, but then I wouldn't get as great of results.

The Milk fragrance was very unappealing. It doesn't actually smell like milk, unless you mix your milk in lemon juice and maple syrup. The scent was very sickly sweet and extremely far off of what you would expect it to have been. I'm not going to take off a star for this because I was able to ignore the smell well enough to enjoy the bath anyways, and the salts ARE nice anyways. If I can afford it, I will be trying a different scent in the future to compare.

Overall, my bathing experience was a good one although pricey. When considering other bath salts I've tried, especially from here, it's definitely one of the best. If you're going to spend the money on these, I would suggest you keep them for yourself and not share...

Thanks for reading, and happy bathing!
Follow-up commentary
2 months after original review
I haven't had a chance to buy these in a different scent, but I did enjoy these salts. I enjoyed them more when I mixed a different scented bubble bath to cover up how bad the Milk scent was. These are a great salt bath IF you can afford to spend the extra money to have them.
This content is the opinion of the submitting contributor and is not endorsed by EdenFantasys.com

Thank you for viewing
Venus aromatic bath salts
review page!