Pixie Penis Pumps!
The Fashionistas Nipple Suckers looked promising, but ended up being a waste of money. The glass feels extremely fragile and if your nipples are larger than the diameter of the glass opening then these are not going to work for you. Those with smaller nipples are likely to face problems getting the rubber rings over them. These weren't worth it for us but the low price makes them worth trying for most people with an interest in this kind of play.
Published:
Pros:
Cute design, different, inexpensive
Cons:
Fragile, don't work for everyone, not good if your nipples are too large or too small
I wanted to like these, really I did. But the fragile glass and size are a bad combination for me.
The Fashionistas Nipple Suckers come in a small, easy to hide 'kit' that consists of:
2 nipple suckers - 1/2" diameter glass with black rubber bulbs
2 sets of four rubber rings. Each set is graduated, going from slightly over 1/2" diameter to 1/4" diameter
Made of both rubber, which is a not-too-impressive 3 on
Eden's Safety Scale
, and tempered glass (a far healthier 10 on the
scale
), the Nipple Suckers are also phthalate-free. They look nice too, with the rubber bulbs having an almost Victorian-looking Fashionistas logo printed onto the bulbs. I wasn't too worried about the rubber material since it's just the bulbs and rings that are made of that, although I'd have loved to have seen the rings made of silicone instead. That's a small gripe though, and probably isn't important considering these didn't work for me anyway. Both materials make for easy cleaning and can be washed in warm soapy water should you feel the need.
I've got fairly large, quite sensitive nipples (tmi?) and like having them tweaked, sucked and played with during foreplay and intercourse (definitely tmi?) and a few months ago hubby bought me the
Bull-nose Nipple Clamps
which I love. Since the chain can sometimes get in the way, we thought the Nipple Suckers would be a good alternative. Besides, they're often out of stock, which I take to mean they're popular. And if they're popular, it's probably for a good reason.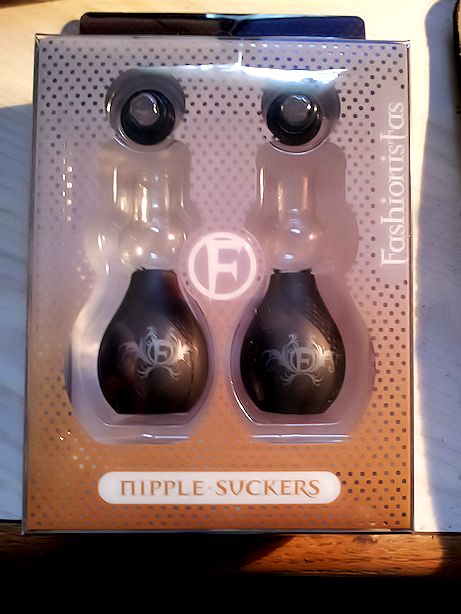 When these finally came back in stock, we jumped on them, and a few short days later they arrived. The packaging was ok, being a plastic box (with sharp corners!). Nothing special but not tacky, although definitely not discreet. Not only can you see through the packaging so that the suckers and rings are on display, but it also says "Nipple Suckers" below this 'window'. I'd say the box is probably right for the toy's price point (and is good for storage too). The first thing I noticed after taking them out of the box was how light they are and that fragile glass. I've read reviews saying that the glass only
seems
to be fragile, but frankly I'm not willing to risk it. If you've done any acting, or just know about these things (I'm the latter - well, hubby is), it feels more like sugar glass. That's a big part of my problem.
Experience
It took me a little while before I could really settle and get into trying these, as I was constantly thinking that these might break at any moment. Once I was over my fear that EF really wouldn't sell something that would slice your nipples off at first use, I put one over one of my nipples and squeezed the bulb. My hubby looked at me hopefully. "Well?" he asked. "Well nothing" I replied. I tried again. Still nothing. I suggested that he try since he's got far smaller nipples than I have. I put one of the suckers over his nipple, squeezed the bulb and immediately got a result. It looked like a pixie's penis pump. I pulled it off him with a 'pop' and tried his other one. Again, same thing. So I tried my other one. And... nothing again. So there's the 'design flaw'. This is another one of those items where one size definitely doesn't fit all.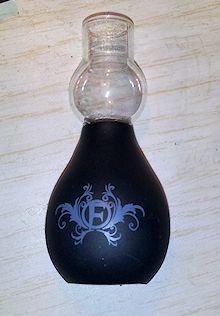 Next we tried it on hubby after slipping a ring on the end of the sucker. We chose the smallest one out of guesswork first since there are no instructions of any sort included. That ring snapped as we tried to slip it over the glass. So we tried a bigger ring, and while that didn't snap, it didn't make it onto his nipples. Each time we tried to roll the ring over the base of hubby's nipple, the glass sucker would come away and his nipple would go back to its regular size. This happened every single time we tried. His nipples were too small for the rings to slip over them, mine were too big for the suction to work.
We've tried these on three separate occasions since buying them and had the same results each time. We've now written them off and they just sit there collecting dust.
This content is the opinion of the submitting contributor and is not endorsed by EdenFantasys.com

Thank you for viewing
Fashionistas nipple suckers
– nipple pump review page!