Redefines luxury and quality with every whiff.
If you think $30 is too expensive for a simple candle, think again. Jimmyjane has packaged high class seduction into a compact ceramic holder. You'll fall in love with the scents and silky oils. Do yourself a favor and buy a case of these because they go away. You will not be disappointed.
Published:
Pros:
Amazing scent combinations, high quality ingredients, gorgeous ceramic holder, burns cleanly.
Cons:
I only have one candle. Damn it.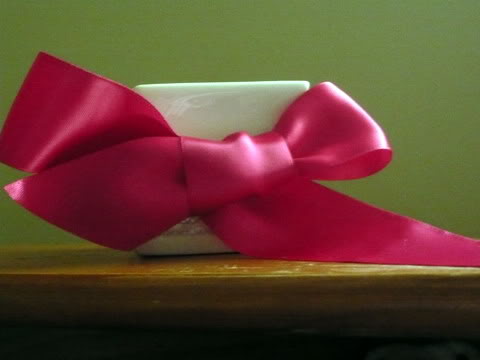 Jimmyjane has beefed up their famous Afterglow massage candles by pairing two scents together to create inviting aphrodisiacs. Whether or not you believe in the pseudo science of aphrodisiacs, Jimmyjane has come up with such exotic scent pairings that one of the new combinations will be sure to melt your pants off. The candle I chose is Lychee and Lapsang. Lychee is a juicy, sweet fruit with substantial flesh like that of a large overripe grape. I remember delicately eating a lychee fruit with my boyfriend. I popped open the hard skin and immediately, the sticky juice ran down my bare arms while I maneuvered the flesh out of the tough shell. It's sweet and earthy--so juicy and supple. It's a very sexual sort of fruit that conjures searing thoughts of a woman's wetness. Lapsang is a type of Chinese tea, very popular for its smoky, heavenly aroma and distinctly heavy flavor. The intense sweetness of lychee mingled with the smoky, almost dirty, earthy fragrance of lapsang souchong tea is indescribably sexy and seductive. The candle smells like sex should: mysterious, powerful, earthy, bright, rosy. This scent surpasses all others and instantly makes me want sex. The kind of sex that lasts all night and casts slow-moving shadows on the bedroom wall. Sleepy, passionate, slow-burn sex that makes both parties wobbly on their feet after it ends.
The candle is comprised of 100% natural oils and ingredients. There are no paraffins, petrochemicals, synthetic dyes or animal byproducts. The candle itself is creamy, much like a solid perfume. In fact, I've recently taken to rubbing a finger or two across the candle's surface and dabbing the solid oil on my wrists and behind my ears. The scent lingers on my skin for hours, much longer than some perfume samples I've tried.
The candle right now is sitting by my bed, unlit, a tiny white sculpture that warms my room and subtly fills it will a rosy scent. It looks lovely just as it is, and when it is lit, the orange flames illuminate the white ceramic holder and produce a soft orange glow that acts as a romantic nightlight. I've used candles before that come in glass holders, and while there's nothing wrong with those, sometimes the flickering flames in the transparent glass produce tiny glares that can be somewhat distracting for me while I'm trying to relax or make love. When my Jimmyjane candle is lit, it's just a soft, sexy glow that makes me miss my boyfriend terribly.
The candle itself is about 3" square, with one corner of the holder turned inward slightly to produce a spout of sorts, to make pouring the melted oils on yourself or your lucky lover all the easier. The gray scripted Jimmyjane logo adorns the bottom corner of the holder, a stamp of quality and performance. The oil is slick and slippery, almost like a wonderfully luxurious silicone lubricant. The warm oil on skin melts and becomes almost molecularly bonded with hot skin. It sinks in quickly, yet glides over the intended area smoothly for a long lasting massage. Full disclosure: I had no one to try this oil massage on except myself. After a long, hot bath I smoothed the melted oil onto my thighs and belly. My skin stayed soft and supple all night long, and the scent lingered until morning. I noticed the smell on my clothes as I went to make this morning's first pot of coffee and a sly smile crept across my face, like I caught a whiff of my lover's cologne the morning after a Biblical fuck.
Experience
I hate to talk shop when describing such a wonderful candle, an amazingly romantic experience (even solo), but here we go.
When the package from Eden arrived, I delicately unwrapped the snow white outer cardboard sleeve with Rorschach-like ink blots, emanating the sleek and simplistic style that has become Jimmyjane. I then peeled the pink satin ribbon away to find a scent so seductive and earthy, yet bright all but stabbing me in the nostrils. I breathed slowly and deliberately for a full minute while I opened the top flap of the stylish box. A message invited me to do something, to stop and think for a brief moment while I continued to be seduced by this scent.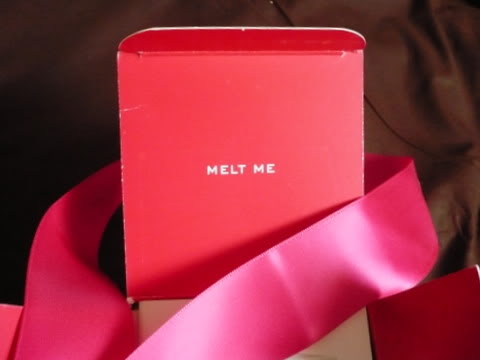 I peeled the scotch tape-like protector from the top of the candle and stuck my nose in it, almost touching the creamy candle itself. I fell in love with a fucking candle in that brief moment. I almost didn't want to even light the candle, because that would mean the candle would go away and the scent would leave me. When I get things I desperately love, I have an evil habit of tucking them away from the rest of the world for fear of them being destroyed or snatched away from me. I sat on my hands for maybe 5 minutes before grabbing my beaten up Bic lighter and firing up the wick. Of course I read the instructions that came with the candle before doing so.
The included booklet gives quite detailed instructions for the burning and care of the candle. Trimming of the wick is recommended if it's longer than 1/4 of an inch, and allow the oil in the candle to melt to the edges of the ceramic holder for at least 30 minutes before attempting to pour the oil out to use for massage. The candle does burn quite evenly, and when extinguished, the wick doesn't shed and leave soot behind. When you do decide to blow out the candle's wick, a slight wisp of smoke rises and mixes with the lychee and lapsang perfume. It's beautiful and ethereal and adds a whole new dimension to the fragrance of the candle itself.
Thanks to Eden, I was allowed to receive this candle free of charge in exchange for an honest review, but I damn well guarantee I will be purchasing at least one more of these candles in the same fragrance combination. The well built and expertly crafted scent of this special edition Afterglow candle has made me crave even more Afterglow candles and scents. I've never been more excited by such a seemingly small object, a lousy little candle. It's a seductive little white statue that beckons to be played with and adored for an eternity.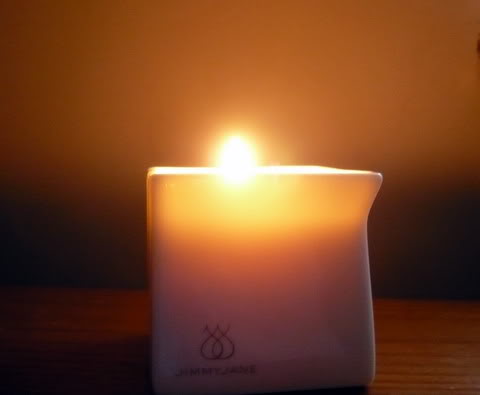 This product was provided free of charge to the reviewer. This review is in compliance with the FTC guidelines.

Thank you for viewing
Afterglow special edition
– body massage candle review page!