Sex kitten wicked wax review
Try not to devour your candle, as you may mistake it for a delicious peach dessert! Smelling quite mouth-watering and not tasting bad at all for an edible candle, you'll enjoy lapping this off of your partner or burning to make the room smell like you've just baked a peach pie!
Published:
Pros:
Smells heavenly
Doesn't taste bad at all
Easy to store
Cons:
Not good for massages
Sex Kitten Wicked Wax
is a scented, edible soy-wax candle by Entrenue. The site offers 6 scents/flavors which come in cherry, strawberry, sex on the beach, grape, chocolate and peach.
PACKAGING
:
This candle comes in a round, silver tin with a pop on/off lid. The lid has a sticker on it that does have a cute design, and lists the product information and the scent you chose. Mine says "Naughty Nectar" above the flavor! It is not incredibly discreet, although I would not be afraid to leave mine out. It contains the flavor words, as well as "sex kitten" at the top, but I could also easily leave the lid off, if I were worried about someone seeing it. The bottom of the tin has another sticker listing directions, cautions and ingredients. I was thrilled to see the "Drug and Cruelty Free" label on there! The bottom sticker is probably the most revealing as to the candle's true purpose, but the sticker is easy enough to peel off if needed.
I appreciated the fact that the candle does come in a tin with a lid, because this means that I can easily store it by putting the lid back on and stacking it with other candles of this type! No messing up the wax in this candle!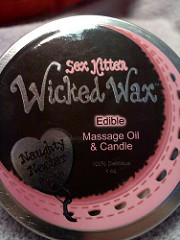 (see even the tin assures you that it is 100% delicious!)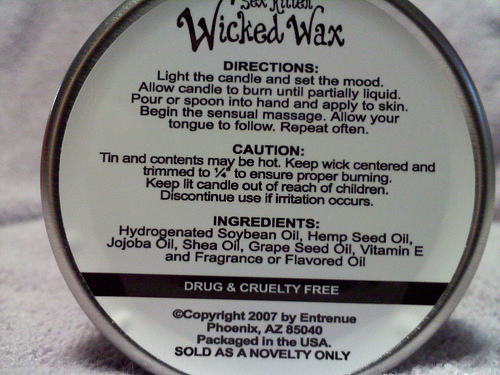 AROMA/SCENT & TASTE
:
My first scent was peach. I love the smell of peaches; fresh peaches, peach scented lotions, chapsticks, body sprays - anything I can get my hands on! I was very excited to own a peach-scented candle, since this is something I have not come across until now!
Taking the lid off of the candle I was immediately hit with a delicious scent hitting my nostrils. My mouth almost started watering because of how realistic to its name it smelled! I ran my finger along the hard wax and it didn't have much give to it, but you could certainly tell that this was a soy candle and a massage oil candle. It had a slight oily residue to its surface.
Once you light the wick, the aroma won't fill an entire room, but if you are within a few feet of the candle you can most definitely smell it! Being prone to migraines I appreciated the fact that it was strong enough to smell but not too strong so as to give me a raging headache. As for flavor, I was somewhat surprised to find that this candle did have a flavor to it, unlike my previous similar candle. It tasted slightly like peaches, not good ones but still, peaches! And if you breathe in while you taste it, you can get the flavor a bit more.
WHAT TO USE IT FOR
Although this candle can be used for massage, it does not make the best massage oil for large areas. I did enjoy putting it on the top of my hands, though. It smells so good on the skin and although it feels a bit tacky for the first 15 minutes after it is completely rubbed in, it eventually soaked into my skin and just left a nice peach scent. Over larger areas of the body, it is a bit difficult to pour without burning yourself or your partner and it clumps up due to drying and solidifying before you can really get anywhere with it.
I enjoyed this candle during bath time and while at my desk for a nice aroma, or it is great as a mood setter!
Experience
It took a good while for the wax in this candle to melt down into massage oil, but I certainly enjoyed smelling it as it did and having a nice candle light while spending time with him. To use as a massage oil, I took a small plastic spoon from a previous massage oil candle (since this one does not come with one) and dipped it in so as not to burn him or myself getting the wax out. I put a small amount on his back and began to rub it in, but it cooled off pretty quickly over larger areas. While it cooled off, it began to somewhat clump up, so it didn't really work out too well as a massage oil and we had to wash it off. It does wash off pretty easily with water and a washcloth.

I enjoyed using it as a mood setter and to make the room smell good. I enjoy having it on my desk, that's for sure! I'd love to get one of each scent and certainly another peach! I did, however, give this candle 4 out of 5 stars, because it is not that great for its intended purpose as a massage oil. Everything else about this candle was fantastic though!
Follow-up commentary
3 months after original review
I've pretty much used this candle up by now. I think that this was one of my favorite scents, and I do plan to purchase the peach scent again, as well as try some of the others out.
This product was provided at a discounted price in exchange for an unbiased review. This review is in compliance with the FTC guidelines.

Thank you for viewing
Sex kitten wicked wax
– massage candle review page!