Hidden in plain sight
This is the perfect solution when you have things you want quick access to and don't want to leave out. The padding is thick so you can hide a number of items and others still will not be able to tell that its not just an ordinary pillow.
Published:
Pros:
cute, invisible zipper, can hide multiple items
Cons:
none
What a simple, but clever idea. Create a pillow that zips open and where the padding is separated into to thick layers that you can stuff things inside. Then close it up with an invisible zipper.
This pillow is twelve inches square and is covered with black brushed velvet. This site lists it as having a faux fur covering (Black Valboa.) The "fur" doesn't extend out more than velvet. The hairs do point in a downward direction though, like fur.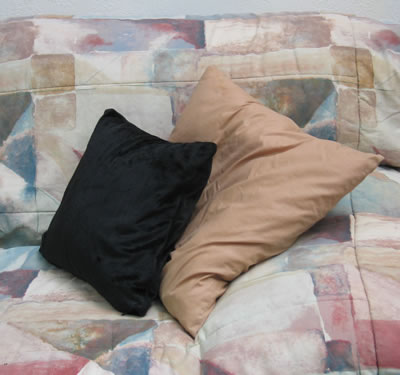 It looks like an ordinary pillow. It comes in a plastic bag with a glossy card stating that you can hide your vibe, diary, lubricants, condoms, massage oils, love letters and other items.
I found that even with several toys inside it, you wouldn't readily detect that anything was inside it if you simply leaned back on it unsuspectingly. I was surprised at how well it disguised that items were inside it, even when those items were a bit bulky.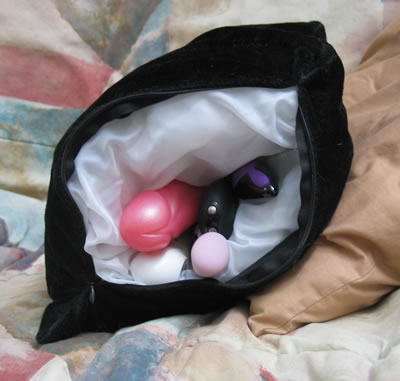 The picture above shows the pillow with
Gigi
,
G4 Elegance
,
MiMi
,
the Seed
and
The Original
inside. With all this and the zipper closed, it still looks like an ordinary pillow and you still wouldn't feel the toys inside if you leaned against it. If you picked it up with these items inside, you would probably notice that its heavier than you expect a pillow to be. I did not test the limits of how much could be stuffed inside, but there was actually room for more toys than this. I believe there easily is room for two of each of these items inside the pillow.
The zipper is an invisible zipper. Like all such zippers, it is a bit more trouble to zip and unzip than a regular zipper. It helps to hold the sides of the zipper straight as you zip to make sure it doesn't catch on one side or the other. The zipper can also stop if one side is not straight enough. When fully zipped, only the half inch long black zipper pull can be seen, but that is easy to tuck inside an indentation in the corner.
There are no care instructions. The Sportsheets site states that the fabric is washable, but does not give washing instructions. The padding can be completely removed from the covering.
You could also use this pillow to hide things other than toys. Books for example: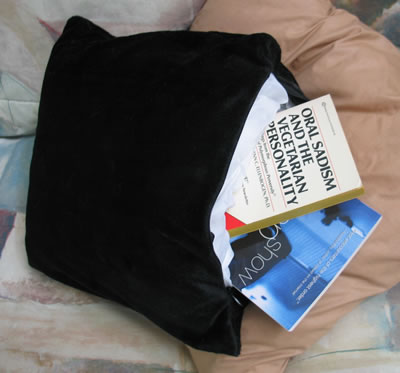 Or herbs: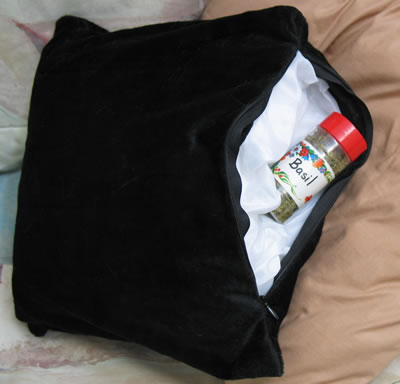 The one thing that doesn't work well inside this pillow is heavy toys or metal items. They fall straight to the bottom. Not only can you can feel them if you lean against the pillow, but if someone moves the pillow, they'll immediately know that something more than stuffing is inside it. Storing a heavy toy inside would still work if the pillow's purpose is just to hide something and its located where it won't be used by others.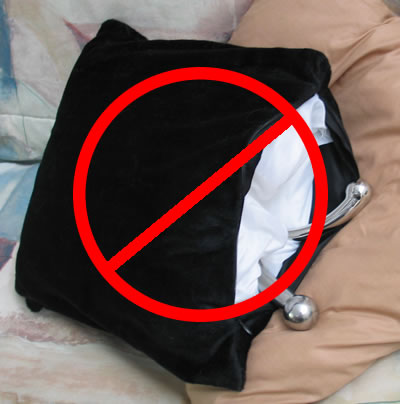 The pillow didn't attract animal fur as badly as I expected, but if you do have pets you will need to brush it to remove hair periodically. This pillow might not be the best choice if you plan to keep it in a location near where pets sleep.
Its a terrific idea. I just love the idea of having something hidden inside it that others don't suspect. especially if that something is "naughty."
This product was provided free of charge to the reviewer. This review is in compliance with the FTC guidelines.

Thank you for viewing
Hide your vibe zipper pillow
– storage container review page!