The Toys Hide but the Pillow Doesn't
The Hide Your Vibe Zipper Pillow by Sportsheets is a great way to keep that favorite toy or two out of the view of prying eyes. As long as you don't overfill it, and nobody tries to use it in a pillow fight, it's a pretty good way of hiding your goods.
Published:
Pros
Good size
Very fluffy
Almost invisible zipper
Cons
Shiny velour fabric
Can feel what's hidden if you try
I have children, and after a good toy session, sometimes I really love to just roll over and sleep, instead of trying to use my half-alert brain to figure out what I need to do to hide my toy. So when I saw this pillow I decided to give it a try to see if it would be a good temporary hidden storage solution for me. And it is! I can wrap my toy in a small towel so I don't have to clean it right away, put it in this pillow, zip it up, and not worry about what my children might see if I get an early morning "Hello Mom & Dad" visit.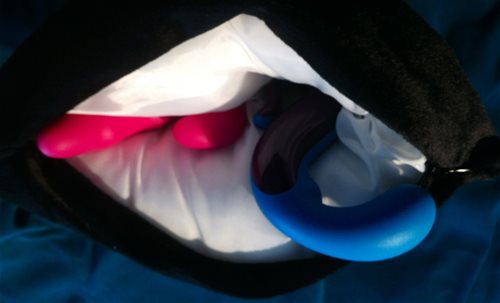 The pillow arrived in a plastic bag with a hang-tag on it with product information and pictures.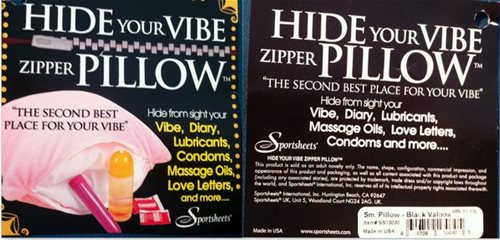 It is 12" by 12", and when empty and just laying on its front or back, it's about 7 inches tall. It is covered in a shiny black velour plush material that doesn't go with my decor at all, but isn't too outrageously tacky, so I can probably make it fit in (in this picture, it looks brownish, but it's a true dark black, not brown at all).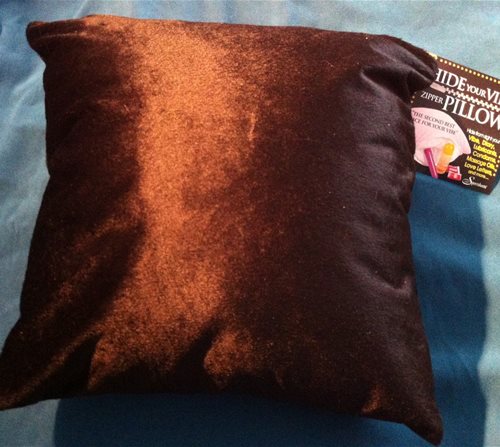 There is an almost indiscernible, small black zipper along one side, with a small, shiny black pull on it. If you're not looking for it, it's very easy to miss.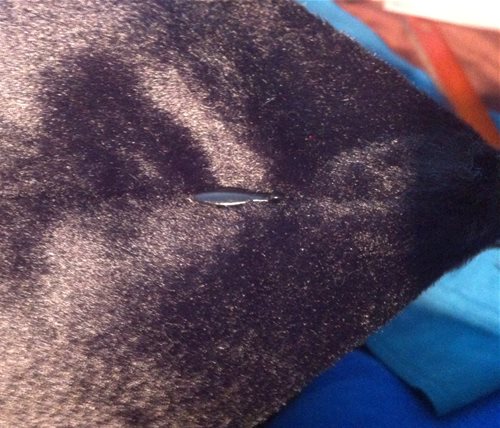 When you open the zipper, it opens to a white pouch that is also 12" by 12", surrounded by a good amount of stuffing, all inside the black cover.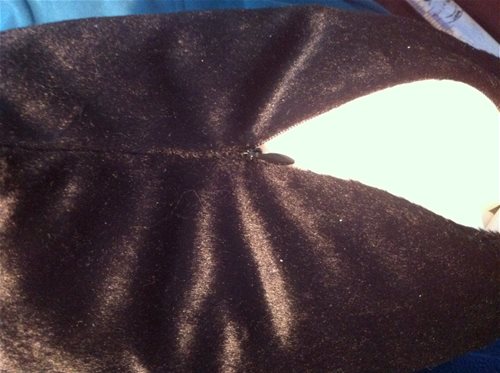 The pouch is made of a soft, somewhat shiny material, probably nylon, and it completely removes from the black outer cover. There is no washing information on either of them, but I wouldn't hesitate to put them through the washing machine. Neither of the fabrics used in this pillow are expensive or heavy-duty fabrics, but their quality is reasonable and the construction and stitching seem to be of good quality. The pouch does go to the edges of the pillow, and there is less stuffing there, so there is the possibility that if your toys move to the edge, they could be felt pretty easily.
One or two average size and weight dildoes, vibrators, butt plugs, or any other toy less than 12" in length, fit very nicely in this pillow, without being obvious. You wouldn't notice them at all, looking at the pillow. It can also reliably hide those one or two toys if you pick it up. But if you try for more, it starts getting unrealistically heavy, and someone would probably investigate to find out why. If you wanted to stuff the pillow full, you could probably fit about 8-10 average toys, and still have room for a lube or two, but the pillow would take on a misshapen form and would not be discreet at that point. Be careful to wrap glass toys in a cloth, bag, or bubble wrap before putting them in so they don't bump against each other or other toys, and always store your silicone toys where they can't make contact with other silicone items. Of course, being a pillow, you can also use it to rest your head on (it's more comfortable when empty).
Experience
I think this is a great idea for temporarily stowing a toy or two, and it's going to be a new fixture on my bed. It's nice when companies think "outside the box" and come up with a great idea like this. Since the idea is to have this be a way to camouflage toys, I just wish it came in more tasteful fabric choices so it would blend in better with the average person's bedroom decor (Sportsheets does advertise other colors, but they are nothing more than a few animal prints and maybe a pink). The shiny velour really stands out and doesn't belong well in my home's decor.
This content is the opinion of the submitting contributor and is not endorsed by EdenFantasys.com
Thank you for viewing
Hide your vibe zipper pillow
– storage container review page!