I Can Axis My Hitachi!
This little shape is pure genius! You know how truly awesome the power of a wand is, right? How about you try encasing it in a Liberator shape for some positioning creativity! This shape may not be very discreet if left out for company viewing, but it is multi functional in its lounging support. I absolutely love it!
Published:
Pros:
Microfiber Feels Great,
Super Comfy in All Uses,
Strong Enough to Hold Me Up!
Cons:
Purple Doesn't Match Liberator's Other Purples,
Only My Hitachi Wand Fits
Oh the Hitachi Magic Wand! It's a woman's best friend and the key to instant gratifying, and possibly juicy, orgasm. It has led the way in technology to bringing satisfaction to women who would have otherwise never discovered the pure ecstasy of climax. But what if you get tired of holding up that wand? Or perhaps you need more variety in the positions you can use it in. Or, even kinkier, you want comfortable and supportive ways of incorporating it into partner play?
Well, ladies (and gents), if you're having trouble
accessing
your Hitachi then maybe you should
Axis
your Hitachi! I present to you, for your vibrating pleasure, the
Hitachi Axis
! That's right! It's a Liberator shape meant to help you get your sex in shape!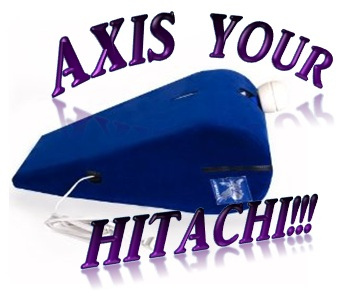 THE SHAPE
The shape of the Axis Hitachi is reminiscent of the wedge, only it's rounded and tapers in. At the thin, flat end it's about 8 inches wide and about as thin as a DVD case. At the other end, it's about 19 inches wide and 7 inches thick. The wide end is rounded for comfortability and the thin end is flexible and giving for easy positioning.
The shape is genius. You can use it without the Hitachi to lift up your hips, whether on your back or stomach, for comfortable positioning during partnered sex or solo fun. But you can also use it to prop up your shoulders or legs for lounging. But if combined with the Hitachi, your options become vast for pleasure! The rounded edges ensure that should you lean against it or straddle it, it's comfortable and not distracting.
THE FABRIC
The top layer of this shape is Liberator's microfiber material which has a velvety feel and a shimmery gleam in the light, similar to how satin reflects light. (Which is also, by the way, completely machine washable and dryer safe.) Besides being very attractive, the material helps create friction and "grips" the surface it's placed as well as the body that lays/sits on it. It won't be going anywhere!
I have it in purple, which is gorgeous and grape-toned. My only complaint is that is it
not
the same shade as my purple
Liberator Throe
or my purple
Liberator Wing
. Considering they're all purple, I was pretty upset that the shades were all distinguishably unique and didn't match.
THE LAYERS
Under the microfiber is a liner of water-resistant polyester that zips around the polyurethane foam. The best way to clean it is merely wiping it down with a wipe or wet cloth, letting it dry, and then putting the microfiber layer back on. But what you'll really notice is how odd the shape looks with the cover off. It's actually in two slices that lay on top each other, with one of them having a "slit" in it. That's where the Hitachi squeezes in to be snuggled tightly in. Trust me, it stays in place very well.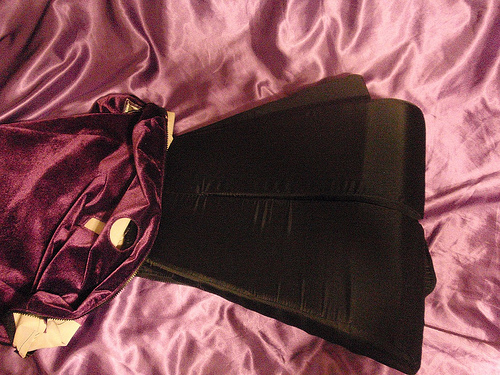 After washing the top layer once, I've not detected any strange odors whatsoever. And the foam is firm enough to hold me up without being hard as a rock. I find it super supportive and comfortable to lean on, even outside of sex use. My only tiny critique is that the thin end is a little, well, floppy.
THE HITACHI
(Unfortunately, it's not included.) For the sake of science, I purchased both the
Hitachi
and the
Fairy
to test in the Axis Hitachi. I wanted to know if the fit was flexible with other wands and my conclusion, sadly, is that it's not. It seems to be particularly designed for the Hitachi.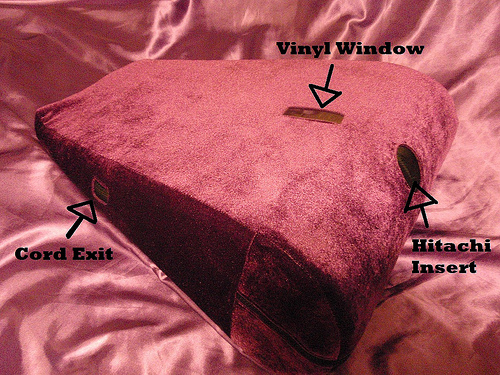 My Fairy didn't work because of two major factors. The size seemed to be a bit too bulbous and round for it to fit snuggly in place. It was much, much harder to get it in and then I found that it either sat on top or under the "slit" rather than inside it to be held in place. Also, the turn dial controls would rub against the fabric and turn itself to OFF every time I slide it in. And because of the window to the controls, I couldn't change the setting once inside. It was a headache.
But with the Hitachi, it fit perfectly. And since it's a flip switch to turn the Hitachi to low, high, or off, it can be changed through the window. I figured out how to change the settings with my feet when using it in the reclining position, which I highly recommend. But because of the thickness of the window and the strength of the controls, you won't be accidentally changing the setting when you don't want to. As for the rest of the details on the Hitachi Magic Wand, I'll save them for its own review!
Experience
THE POSITIONS
I know this is what everyone was wanting to know! After all, how exactly would you utilize such an awesome invention of pillowing your Hitachi? Anyway you want, of course! Here are just a few positions I really like and recommend. They can be used solo or with a partner, with or without the Hitachi.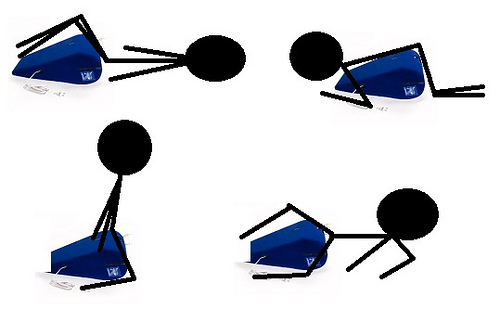 My absolute favorite has to be the first position there. I don't have to do a thing or lift a finger! But incorporating it with some more 'active' play (like the third position) makes it pretty damn fun. And I was going to try to find myself a model to show you some poses with a real body, but this little one didn't ask for pay. But if you want to see more ideas, and with an actual person to boot, check out the Liberator site under the
Axis Hitachi
. But I did also get a little Liberator book with my Axis Hitachi featuring position ideas with this shape and others in the collection that I think is an awesome reference tool.
THE DETAILS
1. The zipper was so easy to ignore and I was never bothered by it so I almost forgot to mention it in the review! It seriously never got in my way, which I found to be just awesome.
2. If you have a large vibrator or dildo, you could try to use it with the Axis Hitachi, but after some experimentation on my own, you might just want to invest in another shape made for that use. The Axis Hitachi seems to be too specialized for use with the Hitachi to fit much else.
3. My last detail that I nearly overlooked is that this shape, out of all of them, is probably one of the least discreet. With the open slot for the Hitachi and the window for the controls, people won't just think this is a pillow for propping you up in bed for reading... But you could always throw it in the closet or under the bed when not in use if you're the shy type!
This product was provided free of charge to the reviewer. This review is in compliance with the FTC guidelines.

Thank you for viewing
Liberator Axis Hitachi
review page!