Liberate The Whole Family!
All in all I am so happy that I got the Flip Ramp. It can be used for literally anything you can think of, and it doesn't have to be strictly for sex. The only issue I have is that the seam where it flips isn't "solid" (for lack of a better term) and it causes the piece to move around a little more than I'd like when I am using it for sexual purposes.
Published:
Pros:
Very versatile, discreet, can be used for anything. ANYTHING.
Cons:
Price, but you get what you pay for, the flip part doesn't work that well when using as a ramp.
If you own anything from the Liberator Bedroom Adventure Gear line, you know that it's fantastic! If you don't, know that anything you get will be well worth your purchase.
This gear is intended to help aid in sexual positions and spice up one's (or two's, or three's) love life --- although its versatility makes the possibilities are endless with this thing!
*Materials and Care*
This has 3 main parts: thick
foam
inside a
polyester
cover which is inside a
microfiber
slip cover.
*Note: The pic says nylon but it's supposed to be polyester*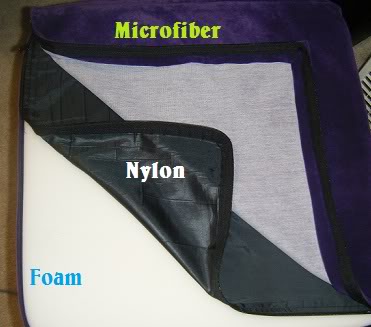 Microfiber
This velvety outer layer serves as a protective durable layer to keep the ramp in good shape. soft As we know, certain activities can lead to stains. Microfiber can be spot cleaned easily using a warm washcloth with soap. I also use a small
bristle nail brush
to kind of sweep any debris and lint off of it.
If need be, microfiber can be machine washed in tepid water on delicate cycle. It can be dried with low heat, but air drying is highly recommended.
Polyester
Polyester is also pretty durable when it comes to liquids and stains. This slippery slip cover has a low absorption rate and can be used as the primary cover for your ramp if you so choose. Polyester can also be hand washed with a washcloth and soap or washed on delicate cycle (though the thought of this in the washer makes me nervous). It can be air dried and put right back on your ramp.
Foam
According to Eden's material guide, foam "is considered hypoallergenic and does not promote the growth of mold or bacteria." Foam is very flexible and soft, and it contours to fit your body, but stays firm for comfort. The foam in this ramp reminds me of memory foam. It gives in to my body when I use it, but it retains its shape no matter what. It is nice and firm while staying pliable at the same time.
Foam can be washed with soap and warm water, then air dried.
*Shape and Size*
The Flip Ramp is a slightly smaller version of the original
Liberator Ramp
with a twist: it can be folded up for easier storage. It also has a slight dip in the bottom, somewhat reminiscent of the
Hipster
. Its slight curve is definitely not as pronounced, but I think it would make a big difference as opposed to the completely straight style of the ramp.
*Next to a smaller coffee table*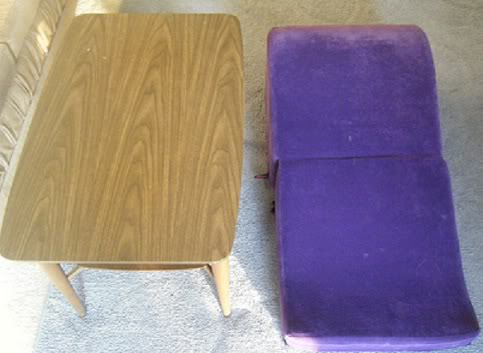 This folds up into a neat little square that is still quite large, but easier to store nonetheless. There is a large seam that runs through the middle, where the two pieces fit together where it folds, and this can actually weaken its ability to stay put during sex because it is much more flexible in that area.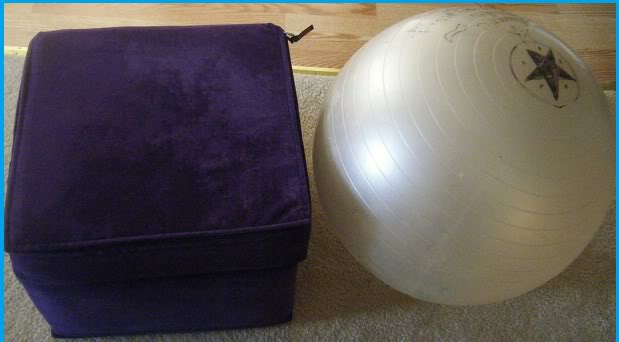 *Seam*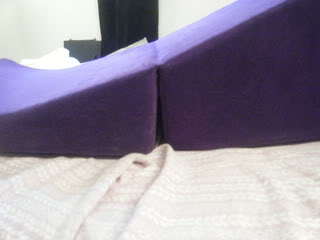 Dimensions
This measures just under 38" long, and 19" wide, with a height of ~11" at its tallest point folded out. The two seperate sections fold up in the middle to produce a square that measures 19" long/wide by 14" high. It serves well as an ottoman, foot stool, or chair when folded up.
Just because it is big doesn't mean it can't be stored, however. This is so discreet that no one will know what the hell it is unless you tell them. It can be stored right out in the open, and it would actually be really good dorm furniture.
*Performance*
This really is a must have for everyone. Not only is it good for sex positions, it works in so many other ways! More on that later, though.
This is really good for hitting those deep hard to reach places. Hip elevation and throat elongation can both be achieved for vaginal/anal or oral sex using the elevated end of the ramp. It works great for missionary and doggie styles, as well as any other way you can think of. You can lay on your side as well to incorporate some funky scissor like positions into your session.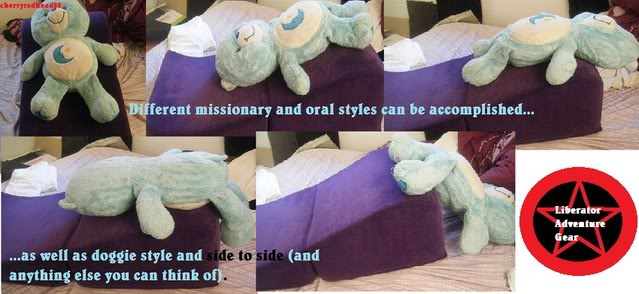 Bigger girls need not worry either --- this is smaller than the ramp and hipster, but you can still fit. I am not small and I still have some room to spare. It can be hard to stay in place when having sex because you might slide around a little bit. The foam stays firm and doesn't give in to pressure like a pillow would.
I do still need a few pillows to prop myself up with certain positions, but it could just be my preference. I plan on getting the Liberator Heart Wedge to add to this piece for that reason.
Experience
My liberator doesn't cling to my sheets as other reviewers have mentioned; this thing still moves around during sex due to this as well. It is a bit complicated for me to keep my body in one spot on it, which I guess is better than the opposite- sticking to it completely.

The uses for this thing are endless. It goes above and beyond a sex accessory with its durability, versatility, and discreetness. Here is a small list of uses that I have found for it in the last week alone:

-use for feet while laying on back, helps back problems
-ottoman
-computer rest (keeps it from overheating)
-sex, obviously
-makeshift table
-makeshift nightstand
-chair
-pillow

And the best use for this thing -- SANITY! There is one person who likes this more than me: my toddlin' tot.

My son absolutely adores this thing. The first night I had it, we played on it for a good 2 hours. This kept him out of trouble! It serves as a makeshift slide/ramp/mountain/spaceship/ whatever your child's imagination makes up, and he had a blast opening and closing this, playing peek a boo, sliding off of it, running up onto furniture, and jumping off into my arms with it.

The waterproof cover also works wonders since we are both prone to spilling things everywhere.
This content is the opinion of the submitting contributor and is not endorsed by EdenFantasys.com

Thank you for viewing
Liberator Flip Ramp
– position pillow review page!