Spreader Bar.. Where?!
The Fetish Series Limited Edition Spreader Bar made by Pipedream could have been constructed better. It simply cannot be used for real spreader play, the spreader bar is only 10" in length. You can easily open/close your legs/thighs. There are alternative measures you can take! Replace the velcro wrist cuffs with your own cuffs for either wrists/ankles and do some suspension play! You can be right side up/upside down. Always use caution and have the right equipment from a hardware store.
Published:
Pros:
+ Used For Wrist Restraints On A Hook
+ Wrist Cuffs Can Be Modified To Yours
+ Spinning Is Fun
Cons:
- Not Made For Ankles
- Only Spreads 10" apart
- Needs Better Cuffs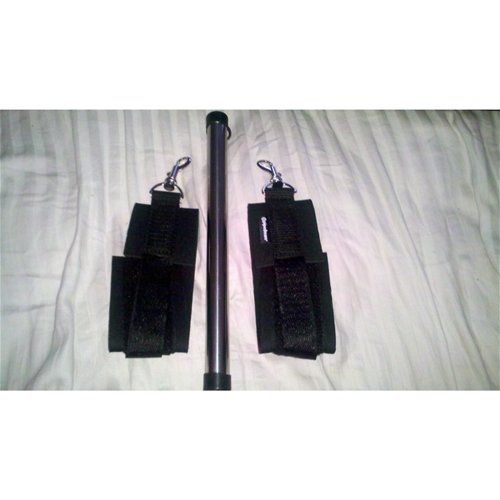 What is a spreader bar all about?
The Fetish Fantasy Series Limited Edition Spreader Bar is deceiving, to say the least. I am going to write this review in the most honest terms and not sugar coat anything because I am greatly disappointed. It isn't just because I am majorly into kink and this is merely a joke that I ordered instead of a real spreader bar, it is because the product page said "adjustable" and "26" inches long.. which honestly people, isn't that long for a spreader bar. I own a real spreader bar, and this definitely.. I don't even know what this is. It is a metal pole attached to two velcro cuffs. The first thing that I did with this product is steal their little knob thingumabobs and put my OWN and personal ankle cuffs on them. This product is actually made to be used to your ankles, but you can use them for your wrists as well. I think it may serve a better purpose if used on your wrists. I will get you a picture of it if you keep reading this very brutally honest review. Whoever decided to invent these were very much mistaken in the fact that these don't technically work. They are all for show. I wanted them to work, and let me be the optimist here, I thought they might be kinda cute to use. It isn't a complete disgrace of a product because SOMEONE out there will find good use for them and think they are just delightful. Honestly, now that I've tried them above my head, that is how they are going to be working for me, now on. They are not ankle cuffs for me now, they are solid wrist spreader bar cuffs that can hook to my ceiling so I can't get away.
What are the materials used for this product?
It is made out of Metal, Neoprene, and Plastic. If you don't know about these said materials, read before -- if you do, skip to the next section.
Metal is an element that readily forms ions (cations) and has metallic bonds. Metal is phthalate-free and has firm, smooth texture. It is usually shiny, with a high density, ductile and malleable, usually has a high melting point, and retains heat well.
Neoprene is the trade name for a family of synthetic rubbers based on polychloroprene. Neoprene displays outstanding physical toughness and remains useful over a wide temperature range. Usually used for manufacturing of harnesses and BDSM equipment, neoprene has an outstanding resistance to damage caused by flexing and twisting.
Plastic is an synthetic or semi synthetic polymerization product.
Of course, if you are allergic to any of those materials.. please don't buy this product.
On the Eden Safety scale, this product gets set as an 8. It is also :
Adjustable
- Where do you adjust? In the cuffs? That I ripped out and put my own in?
Kinky
- I can see this being kinky because it is recommended for BDSM play.
And of course.. Food-grade material / Hypo-allergenic / Latex free / Non-porous / Phthalates free
What are the measurements, now that you have me dying to know?
Let me tell you all about the measurements! The entire spreader bar and cuffs AS A WHOLE is 26" long. I know all of you wanted the actual spreader bar to be that long, but unfortunately, it isn't.
The spreader bar is 10" long. What am I going to do with 10" of a spreader bar? The idea of a spreader bar is to make your submissive incapable of closing their legs and/or arms. I can open and close my legs to my hearts content. I am so thankful that I bought the other real spreader bar on this website before it was discontinued. I would be much more pissed off if I didn't have those.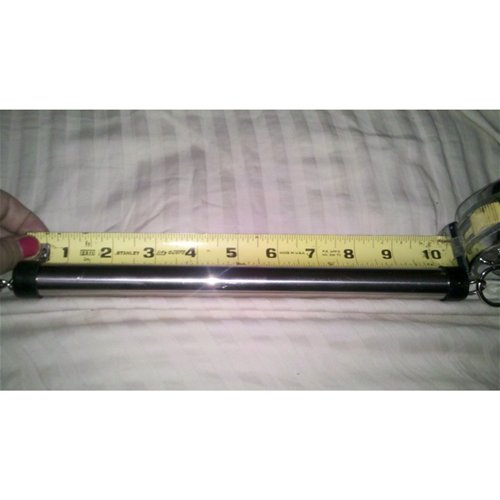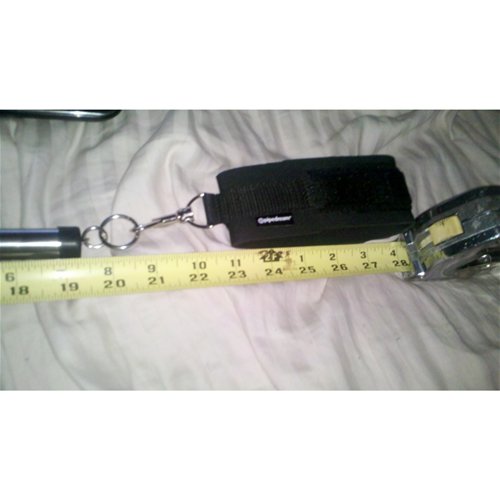 How to clean this unique set of spreader bar madness?
The Spreader Bar -- Metal toys can be boiled or be bleached (10% solution), are dishwasher safe (top shelf), or can be washed with soap and water. I don't recommend boiling them, or putting them in the dishwasher. There is plastic attached to it and it will melt. I personally wipe this down with an antibacterial wipe and call it a day.
The cuffs -- As neoprene has a closed cell structure, no dirt will penetrate into the material. Consequently, cleaning with clear water or a damp cloth is sufficient.)
The Plastic -- Can easily be cleaned with antibacterial soap and hot water or by wiping down with isopropyl alcohol.
I'm not quite sure where posting pictures of the box fits in here.. so I'll just post them right here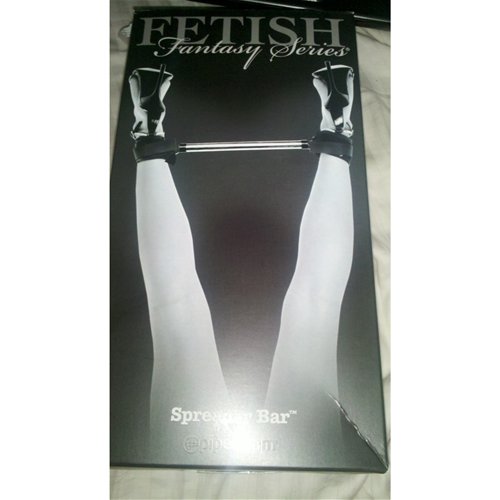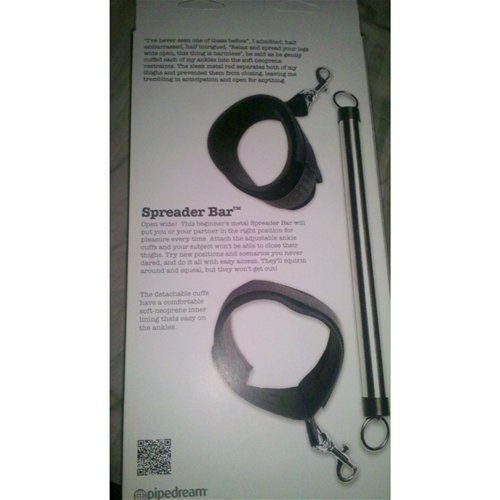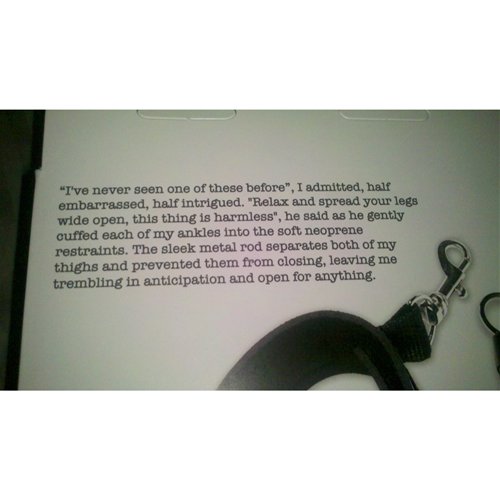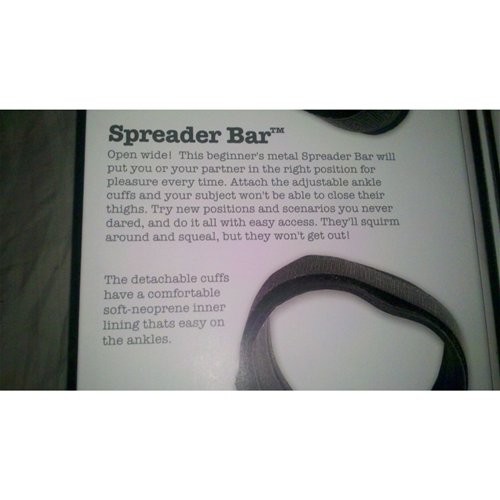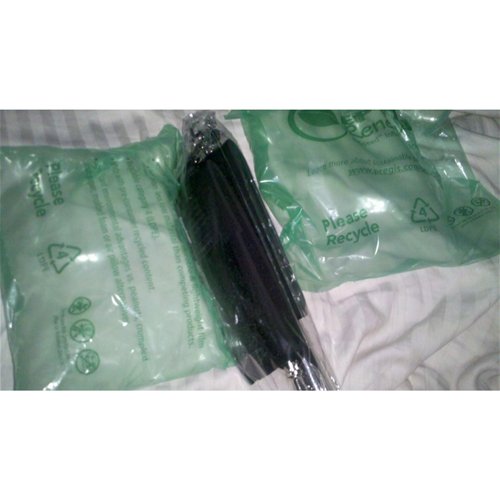 Experience
continued..
What do you use this item for? What Alternative Uses Have You Come Up With?
I use this item for my wrists instead of my ankles. I "modified" the limited edition spreader bar to my new limited edition spreader bar make. I cut out their metal pieces that attach to their spreader bar, and attached my own cuffs, then attached them to the limited edition spreader bar. I like my wrist cuffs better anyways, you can lock them and they hold up quite nicely. I also now have a hook that goes above the bed that is extremely sturdy, as well as a hook in the corner of the room, so I can dangle and have my arms restrained properly in this spreader bar motion. I highly enjoy this. It allows my Master to do whatever he wants to me, and I am locked in my own cuffs, with a "small" spreader bar. I very much enjoy allowing my Master have control over me during this situation. Chains and all that work too, rope tends to break if you don't get high quality rope, so this works when on the hook. Our activities include hard penetration, orgasm denial, teasing, whipping, flogging, cropping, paddling, slapping, and basically inflicting pain and seeing how much I can take of it before having to use my safe word.. which hasn't been muttered in quite a while. You can also spin if you are suspended from the ground with this set of spreader bar. It is quite fun, lose yourself in it! We are talking major hooks and expendables from the hardware store to induce such a fun experience. Do not try at home if you are not equipped to do so. I just thought of another way to use these cuffs! You CAN dangle from some ankle cuffs of your own that hold you considerably and now you can be upside down on a hook in your bedroom! I am so totally turned on right now. That is some major domination and risk play right there. Be careful, but always have a little risk to get some major pleasure, people!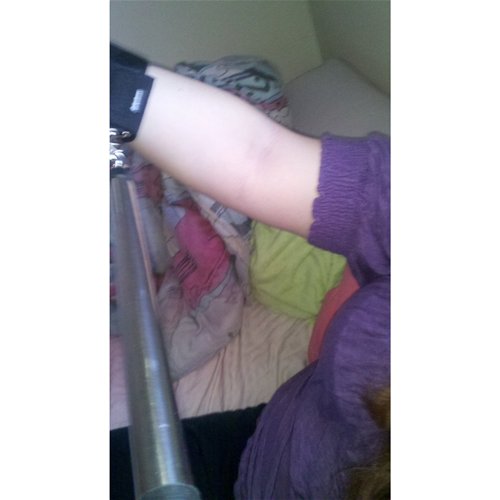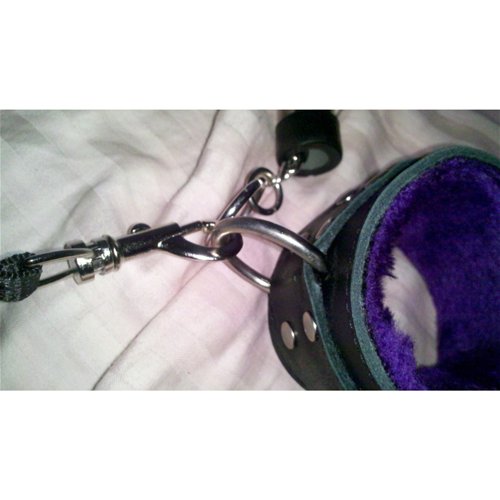 Anything else you'd like to share with me?
The Fetish Series Limited Addition Spreader Bar made by the Pipedream company didn't live up to my expectations of the usual ankle bar spreader situation, but have exceeded my expectations for wrist cuffs on a hook with a nice spread associated with it. This product is no good for ankle restraint by any means, you can wiggle all you want and you can eventually get out of the spreader bar quite easily. You can close your legs easily and that is not what a spreader bar should be for. This is a great beginners spreader bar when you are just learning to experiment. Beginners will eat this shit up. It is attractive to the eye, but any Master/submissive that knows a little bit about spreader bars will find alternative ways to use this product. I know that I found alternative ways to use it, you can to. It is not a complete loss.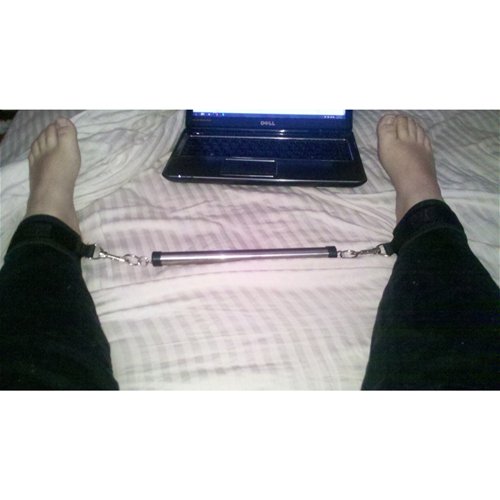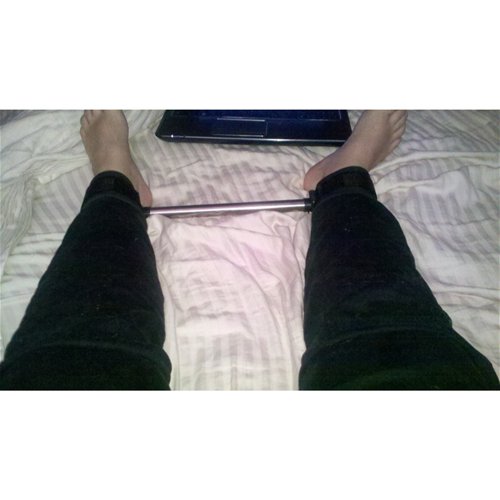 This content is the opinion of the submitting contributor and is not endorsed by EdenFantasys.com

Thank you for viewing
Fetish Fantasy spreader bar
– sex toy review page!