The Largest Storage on Eden! And free, to Boot!
One of my favorite free gifts from Eden! If you have a large collection or toys, or simply want to be green, this is a great tote to have! It also makes a great gift to spread the Eden Love!
Published:
Pros:
Durable
Big
Good Value
Good Gift
Cons:
May not be Discreet enough for Some
You've got to be kidding, Mwar. This tote is really the biggest storage on Eden?
I'm quite sure it is! Out of all the current toy strage available on Eden, the Eden Tote is the strorage option with the largest space. While there are more sophisticated and visually appealing storage options here on Eden, they are not a good choice for those who have more than a few medium sized toys. And if you're on Eden even once in a while, you're collection will outgrow most of the storage options we have here (and I loved how the purple chest looked too!) Basically, if you want to store more than your favored toys, the Eden tote is a great option for you.
Fine, I'm listening. So what can I use this Bag for?
The Eden Tote can be used for more than just toy storage (if you dare). Even if you don't want it to leave the house, it has multiple uses. Here's a list of some of the ways I have personally used my Eden Tote.
1. Quick, overnight travel bag
2. Sex toy storgage (I know, duh)
3. Laundry bag for delicate clothing
4. Lingerie storage
5. Grocery shopping (Eco friendly!)
6. Craft storage, such as yarn or scrapbooking material
7. Give to a friend to spread the Eden love! (add a bow for extra Aw! Factor)
8. Books and library trips
9. Workout bag for the Gym
10. Pool/Beach trips
All right. Tell me the specs. How big is it, and how much will it hold?
The Eden tote is made of the plastic/fabric that most reusable bags are made of. It has a black background with the pink and green eden color scheme advertising EF and the "Sexy and Smart" saying. It holds a good amount of stuff. it can hold all the sexy toys I own along with the packaging some of the toys came in. Here's a picture of it holding sexy things: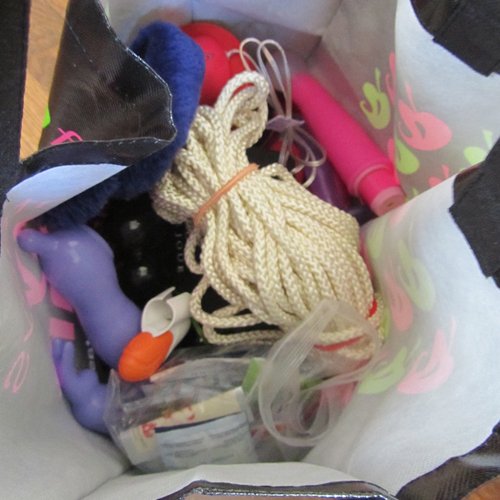 Here's a picture of all the things the bag was holding. The bag was only a bit over half full with this stuff in it. The rope and bag of condoms are not completely in the picture, but they're there.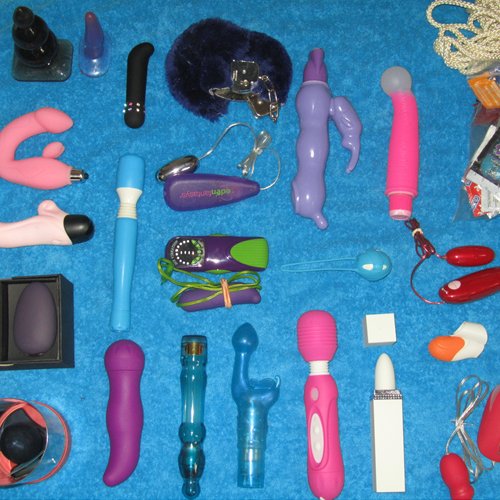 And here's the Eden Tote in a more innocent lights (I own more than one). This one has yarn because I sell scarves and such in the winter.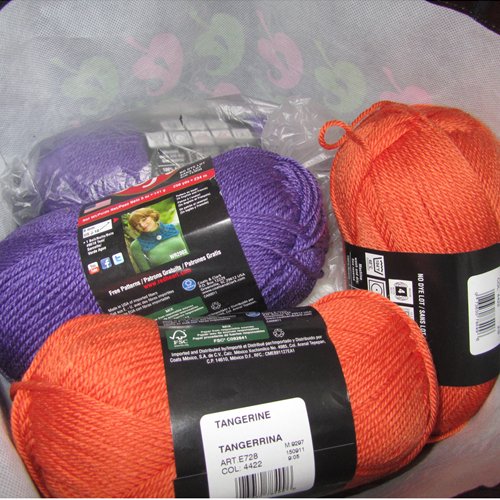 So yeah! This bag can hold a nice amount of stuff, not matter what you decide to use it for!
I don't know, Mwar. This bag is far from discreet...
It might not be completely innocent, but this bag isn't that out there. Sure it says "Sexy & Smart" and has the Eden site on it, but unless someone is familiar with Eden, they don't know for sure what you have. If you decide to use this during shopping, it is unlikely anyone is going to point you out (they have so much going on themselves).
Sometimes we feel like a beacon, especially if we're carrying something we think is provocative. Generally, most people won't notice (if you're curious, check out the "spotlight effect" it makes us feel like we're always being watched/observed, but we're generally not). Unless you have younger kids I see little issue with using this bag in public. If someone does know what Eden is and see the bag then the two of you can share a knowing look and continue your way.
Also, I think being sexy & smart is an awesome thing! There are much worse things to be called or "labeled" as, if you ask me. Besides, this tote is Free is you decide to pick this as your free gift from Eden. Even if you decide on another gift (I know you like your wet wipes, Edenites!) it only costs a whopping 2 bucks.
Experience
Okay, Mwar, this sounds like a good idea. Anything else you want to share?

This bag is pretty darn sturdy. I'm rough with my things and this bag has taken a lot of my abuse. I've been cautious not to overload it with heavy or sharp things in order to keep the life of this bag. I think the bag may not be discrete enough for some, but I don't think it is obnoxiously obvious. Either way, I think it would be cool for Eden to come out with yearly designs or something. I would add a little variety to the totes I have collected. Either way, this makes a great gift for a friend (you can also throw in a free toy if you happen to make more than one order in a short time).

Cleaning:
Cleaning the Eden tote is pretty easy. I wipre it down with a wet cloth or wipe. I've spilled things on it and i clean it my using general cleaner and paper towels. It cleans with little hassle.
Follow-up commentary
2 months after original review
I love my Eden totes! They are great for a variety of uses and they are a great choice for the free gift.
This content is the opinion of the submitting contributor and is not endorsed by EdenFantasys.com

Thank you for viewing
Edenfantasys tote bag
– storage container review page!