Tote in style
Want to take Eden with you on the go? Now you have the option to take their tote wherever you go. It is very easy to carry and is quite sturdy.
Published:
Pros
Sturdy
Cons
None for me
Use
You can use the Eden tote for anything that you normally would carry a bag around for. I have some small OCD tendencies when it comes to organizing my sons room and I use several of these bags for containing his toys into sections. They make a great bag for holding action figures and Hot Wheel cars.
I also have a bag in my closet that I store some of my sex toys in as well. It will hold quite a bit of sex toys and I am able to grab the bag easily when I am looking for an item to use for a photo comparison.
I have taken these bags to Wal-Mart with me while I went grocery shopping as an eco-friendly alternative to using their plastic bags.
I have also used these to take with me while swimming. They are the perfect size to keep beach towels and extra set of clothes in.
No matter what you do, I'm sure you will find a good use to these Eden totes.
Material and Care
The Eden bag is made out of shiny plastic and is considered to be very durable and water resistant. I haven't had to clean my bags yet, but if I need to, all you would have to do is gently wipe it off with a damp cloth. The sides are sewn about 1/8" wide. The top is sewn 1 1/8" down. There are no loose strings and everything seems to be sturdy and sewn properly.
Design
The majority of the bag is black with eden across the top in green letters and then Sexy & Smart written in pink in the center of the bag on one side. The other side has the Eden leaf design in three rows of alternating pink and green colors with 6 leafs to a row. Under the last row, is edenfantasys.com. If you do not like the design of the tote, you can always turn it inside out to the plain grey insides.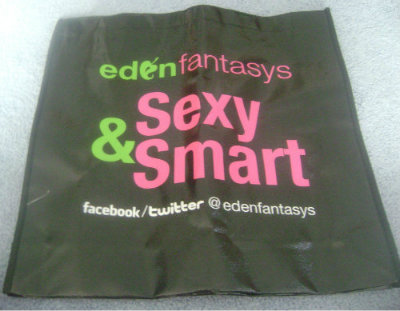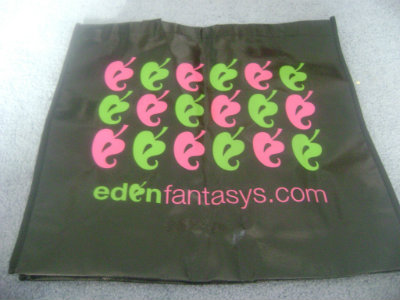 Size
The Eden tote measures 15 1/2" in length, 15" deep and 4 3/4" wide. The bag has two straps that are 25" long and 1 1/8" wide and are very sturdy and have held up well. I have only had one issue out of all of my tote bags with the straps breaking and that was the one that held my sons action figures. If a bag can withstand a three year old and a five year old stuffing it with their favorite toys, and carrying the bag all over the house and to their grandmas when they visit, then it is a great bag in my opinion. I believe it will hold up to a good 25 pounds of weight. The straps are long enough to sling this bag over your shoulder or carry in your hands.
Experience
I have nothing bad to say about my Eden totes. They have been a lifesaver for me when it comes to keeping the boys room clean. I can take these anywhere and carry anything I wish so they are a win in my book. I try to pick some up with my orders when I need a new bag, because this is my go to Eco-friendly bag.
This content is the opinion of the submitting contributor and is not endorsed by EdenFantasys.com
Thank you for viewing
Edenfantasys tote bag
– storage container review page!