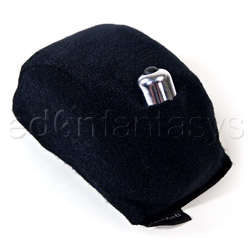 Hump bump & vibe
Position pillow
by Sportsheets
Vibe Baby
The Hump, Bump, and Vibe set comes with a foam piece with a Nylon cover, a standard bullet, and 3 watch batteries. The back is Velcro and is compatible with other Sportsheets products. The design is odd and the size is impractical.
Published:
Pros:
Can be upgraded with other Sportsheets products, powerful bullet, Velcro
Cons:
The foam piece is small, design is hard to manipulate
Okay, so let me start by saying, there isn't a whole lot to say about the Hump, Bump, and Vibe. It's pretty simple. You get a Nylon square with a hole which holds the included bullet. The piece is made by Sportsheets and also is lined underneath with Velcro to use with other Sportsheets products. Which you probably will want to do, because alone this toy is a little lame.

When I chose this product to review, I should have read the measurements. I had no idea how small it actually is. Only 4 3/4" long and 2 1/2" tall. This thing is tiny! I feel like my body just covers it up and using it is a whole task of its own.

Because it is so small, I find it really hard to ride it and enjoy it. And if I try to use it during doggy style sex, it's damn near impossible. It's just too small that it doesn't give a solid base to grind on, not even during solo play. It does have Velcro on the bottom that will adhere it to something else Velcro or a SportSheets products such as the I like it Doggie Strap or the Pleasure Pillow. Even when I used it this way with the Pillow, I was unable to find a good groove with it. And so, I really don't use it. Another issue with the design is the placement of the bullet. It sits in a small whole in the foam piece. It is at the end of the foam piece and placed so that you have to place your pelvis directly on the bullet and it doesn't work for me. I think it would be more practical to place the bullet the other way to where I could sit down on it in the middle of the foam piece. It is really odd and my body doesn't work at all with it. Yours might, who knows, but it doesn't work for me.

The bullet it comes with is a one speed, push button bullet that is powered by 3 watch batteries that are included. It has a battery stopper inside that has to be removed for it to function. The one speed is intense. I love the bullet. I am a bullet kind of girl and this one rocks my socks. But to buy the whole set for one bullet? There are better solutions. The bullet is pretty quiet. I can hear it over the covers when in bed but it won't be heard through a door. It also has a silicone ring in the battery compartment so it can be used in the bath or shower. Just make sure the battery case is closed tightly. I am positive that the bullet is plastic. It can be cleaned with soap and water and you can use alcohol on it for sterilization.

To clean the foam piece covered with Nylon, I recommend just wiping it off with a damp cloth. It can be cleaned in sudsy water, but foam tends to put off an odor after soaked. So the less time it is wet, the better. Allow it to air dry.

So all together, I wasn't a fan of the Hump, Bump, and Vibe. It does come with a nice bullet, but I can buy a standard bullet for less. The set just didn't work with my body.
This product was provided free of charge to the reviewer. This review is in compliance with the FTC guidelines.
Thank you for viewing
Hump bump & vibe
– position pillow review page!