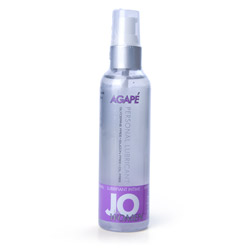 JO agape personal lubricant
Lubricant
by System JO
A Lube That Does the Job As Advertised
Are you looking for a reliable water-based lubricant? Check. Do you want a large enough bottle so that you can use it liberally? Check. Do you need something cheap enough to tack onto an order to get free shipping? Potential check. Is it high-quality luxurious packaging? Try something smaller and more expensive! But does it get the job done? Yes. It is as advertised: a somewhat long-lasting, non-sticky, fragrance-free, water-based, latex-safe lubricant. Feel free to use it liberally!
Published:
Pros:
Water-based
Never gets sticky to the point of discomfort
A large bottle for a decent price
Cons:
Ingredients still aren't necessarily as wholesome as the packaging implies
It just doesn't wow me.
I've spent the past week trying to find out everything I could about the System JO Agape personal lubricant (especially for "women's sensual needs"). My girlfriend wasn't exactly direct about answering whether it met her sensual needs or not. But it certainly didn't obstruct my attempts to meet those needs, which in any case is, I think, my responsibility more than the lubricant's. I was also interested in whether the Agape lubricant would meet MY sensual needs, although it's apparently not designed for that. In the end we tried the lubricant on our hands, on condoms, on vibrators and in contact with many different parts of our bodies.

First, however, I wanted to find out exactly what it was we were using. No literature came in the packaging, so reading the bottle would have to suffice. The 4-ounce bottle contains a normal/fairly large amount of lubricant. The top is covered by a clear piece of plastic which makes sure you don't discharge the lube accidentally. When you take the plastic cover off and press down, the bottle distributes a small amount, a large drop of sorts, of the lube. And what is it made out of exactly? The ingredients are:

(INCI) Methyl paraben - a cosmetic preservative which protects against yeast and mold
Propylene glycol - a cosmetic ingredient which causes your skin to retain moisture
Propyl paraben - another cosmetic preservative
Sodium Carboxy methyl cellulose - high viscosity, non-toxic, non-allergenic; a gummy substance that is used as a thickening agent
Purified water (Aqua)- a solvent, used as a spreading agent

Are these normal ingredients? Are they safe? The label proudly proclaims that the product is "glycerin free, silicon free, oil free." This is true, and the other ingredients are fairly common. There is some discussion about the long-term safety of the two parabens, which are used as preservatives. Still, no evidence has shown a link with cancer or any other disease. Parabens are currently used in 14,000 different products. Some have reported that propylene glycol could cause a burning sensation. It is categorized as a "generally recognized as safe" ingredient because it's non-toxic, but it is a potential skin irritant. Nevertheless, this is an ingredient in KY and many water-based lubricants. Unless you have prior negative experiences with propylene glycol, as far as I can tell there's not too much to worry about.

Now, let's talk about how this water-based lubricant performs. There's a list of benefits on the bottle, and I'll respond to each in turn.

"Formulated specifically for women"

I still don't know what to make of this claim. Is it? In what way? Avoiding using glycerin as an ingredient is a plus, perhaps especially for women.

"Enhance your sense of pleasure"

As with any lubricant, for certain actions it definitely can enhance pleasure. It's a basic lube. There's no tingling and no warming.

"Never sticky or tacky"

This is definitely true--to some extent. The Agape lube never actually becomes sticky, but if you don't use enough or if it's starting to wear off, then it might feel just a little tacky. I'm not sure this is really a negative because it just indicates you need a little more. In no way does it cause you to rush to the faucet because you can't stand the way everything sticks to everything else. Some lubricants are definitely like this, and so I'd say the Agape lube succeeds in that it never gets gross. I like that.

"Long lasting"

All lubricants would like to be long lasting, and the Agape lube doesn't work miracles for $15. It's not bad, but it's certainly not the case that you never have to reapply. I'd say it's "long enough lasting." Some drops spread around will last until you want to change the pace in any case.

"Fragrance free"

It literally has no smell.

"Latex safe"

Absolutely. It's water-based and safe with condoms and silicone toys.

"Washes off easily"

It does wash off exceedingly well. There's no scrubbing. It just disappears.


These are the qualities that System JO claims their Agape lubricant brings to the table. For the most part, it delivers. It's a solid water-based option that's somewhat inexpensive for a decent-sized bottle. I used it for hand jobs, vibrators, on condoms, and with a couple of anal toys. It never caused a problem, and it slicked everything up, as I was hoping.
This product was provided free of charge to the reviewer. This review is in compliance with the FTC guidelines.

Thank you for viewing
JO agape personal lubricant
review page!