Let's be safe and wet!
Overall this is a great buy, it is great for that just in case night. Although there is nothing super about this kit, it is effective enough.
Published:
Pros:
You can be safe and wet at the same time. The lube is a good one.
Cons:
Ordinary condom.
What is it and what do you get?
The wet safe sex kit is a male includes a male condom and a pack of lube. The male condom is Premium and is used to go over the males penis or it can be use to share sex toys. The lube is Wet Synergy basic and is best used to lubricate the orifice you are inserting an object into. You can use it anally and vaginally and for intercourse, oral sex, or masturbation.
The Condom
This Premium condom is made in Malaysia and is manufactured and distributed by IBI Synergy Inc. It is a latex condom, so those with latex allergies beware. It is lubricates with silicone based Reservoir teat. When used properly condoms are affective against STD's, STI's, and unwanted pregnancy.
In order to use this properly you must pinch the top and roll is all the way down the penis. Pinching the top allows no air into the condom, which is what you want. There is a chance that this condom can break, so it is best to use more than one type of contraception. You never want to use a condom more than once.
The top of this condom has a nipple like design; this is to catch the semen inside. This condom is 8"long and it can handle 6" circumference without breaking. The condoms do have a lot of stretch to them and should fit the majority of men. I do not have much experience with condoms, but this one was fairly thin.
Condoms should never be in a wallet or any place where they can be easily bent; this could put a tear in the condom. The best place to store condoms is something like a
Condom cube
. You should never try to wash them and reuse them, which would defeat the purpose of using them. Always check the expiration date as well and never use an expired condom.
The Lube
Wet Synergy Basic is a hybrid lube of water based lube and silicone based lube. You should spot test your silicone toys with this lube before using, since it could damage your silicone toy. It can be put onto a latex condom, since it is latex friendly.
This is a 0.1oz sample package. The expiration date is located on the front at the bottom and is an impression. On the back of the package it has directions, warnings, and ingredients. If you are allergic to any of the ingredients you should not use this, if you do not know if you are allergic to the ingredients you should spot test. You do this by applying a small amount on your wrist and leaving it on for a period of time. If irritation occurs then do not use this lube, but if not you should be alright.
This lube is very nice actually. A little of it goes a long way and it is moisturizing. When it comes out of the pack it is a thick clear gel like lube, it has a slight menthol smell to it, but is super faint. I did not notice any taste to this lube. The feel of this lube reminds me of mountain ice; for those of you who have no clue what I a referring to, it is the blue icy hot stuff you put on muscle aches. I was surprised at how long it lasts, there is hardly any reapplying. It is easily washed away with just water also, so no more of the beading up.
Ingredients: Glycerine, Deionized water (Aqua), Dimethiconol, Sodium Polyacrylate, Dimethicone, Cyclopentasiloxanem Trideceth-6, PEG/PPG, Dimethicone, and Pentylene Glycol.
Yes, the package said Dimethicone twice.
Overall
Overall the condom was okay, there was nothing great about it and to me was ordinary. The condom gets 4 stars for being good and thin.
Overall this lube performed beyond expected and I plain to purchase a bottle. The lube gets 4 stars since it contains Glycerine.
Packaging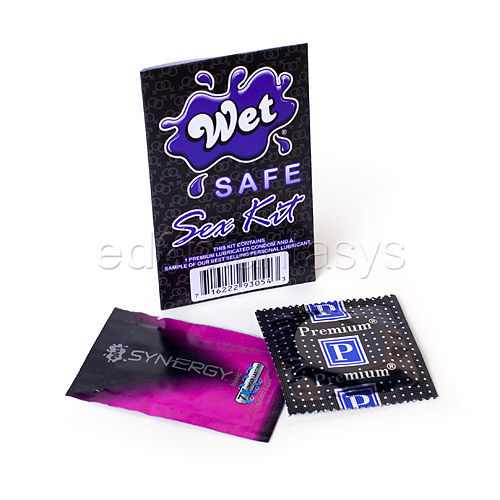 The condom and the lube come tucked away in this card board envelope. It does contain some informative information and is a good read.
Follow-up commentary
4 months after original review
Should you do the math on these packs, they are a really good deal. You get a condom and sample of lube for $1.00. A pack of condoms that cost $15.00 usually has about 10-12 condoms in it. If you purchase 15 of these, you get 15 condoms and 15 lubes for the same price. It is a really good deal.

I still like this kit because it is a good deal.
This content is the opinion of the submitting contributor and is not endorsed by EdenFantasys.com

Thank you for viewing
Wet safe sex kit
– lubricant review page!