The Best Oral- Jel
All five flavors may not be appealing to you, but im sure some of them will. Great for oral play, without the clean up mess, adds spice to giving oral pleasure for you and your partner. Guaranteed to last a long time, especially if you only use about a quarter size amount each session. Worth the money, especially if you enjoy using oral lubes.
Published:
Pros:
Taste Great
Variety of Flavors
Water Based
Cons:
All flavors may not be to your satisfaction.
I would recommend this product to anyone who wants to add a little flavor in their oral play. There are different types of flavors to appease to your appetite, which makes the pleasure of oral even more spontaneous. I have to admit, at first, I was skeptical about trying this product. This is because I have never really took a liking to oral flavored lubes. They have always left a bad aftertaste in my mouth or I just didn't like the way it tasted while in my mouth. The Good Head Gel is definitely worth the money! The gel is a 5 pack of 1 oz bottles. The flavors are Mystical Mint, Wild Cherry, Sweet Strawberry, Juicy Passion Fruit, and Sexy Cinnamon.
It doesn't take but maybe a quarter size to get started. You really don't need much at all. The gel is not as thick as oral gels that I have used in the past which is definitely a plus. Because you don't want the gel to be so thick in your mouth, as to where it interferes with the way you are orally pleasing your partner.
I tried all 5 flavors of the lube. The Mystical Mint has a cooling sensation to it. The Passion Fruit flavor is great. It has a sweet taste, but not an overly sweet taste. The Sweet Strawberry isn't all that sweet, to me, but it still has a flavorful fruitful taste to it. The cinnamon flavored is advertised as having a warm, tingling flavor, but that didn't appeal to me. The cinnamon flavored lubed would probably be my least favorite because it had somewhat of a bitter taste to me. The Sweet Cherry has a very strong cherry taste to it. Also, this may be the one that you would want to try if you're interested in acquiring better deep throating skills, or if you're a beginner, because if definitely stops the gag- reflexes. This is because this lube has a numbing effect - which makes deep throating a little more easier and less gag-ful. I particularly prefer to use this one over the rest. The lubricant is great. It makes everything easier, its not to slippery or not to thick. Clean up with this product is easy, all you need is a little soap and water; and you're done.
My guy didn't have any complaints about any of the flavors of the lube gels. He didn't experience any type of displeasure or dissatisfaction. The clean up on him was not messy because these are water based lubes, which means not a lot of sticky residue to deal with after. The bottles are resealable, which is another convenience for this product.
These bottles last a while. I have been on the same bottles for the past three months and I'm still not half-way done with any of them. This product is definitely worth it and I find it to be an overall fantastic product for those wanting to orally please while adding a little flavor and variety.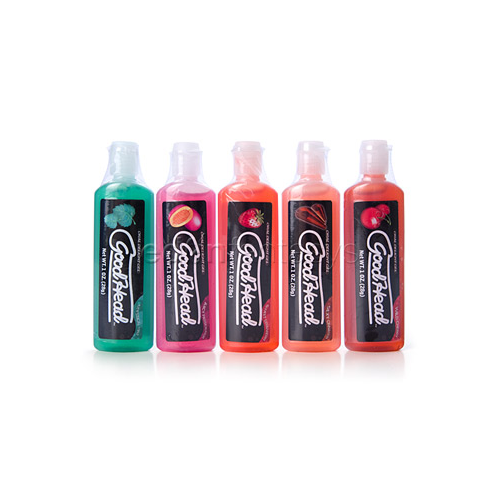 Follow-up commentary
1 month after original review
I still like it and enjoy using this product. I still prefer the cherry flavor over all the other flavors, however the Mystical Mint is starting to become a favorite of mine as well. Definetely worth the price, one of the best tasting oral gels, great for both male and female use.
This content is the opinion of the submitting contributor and is not endorsed by EdenFantasys.com

Thank you for viewing
Good head gel
– lubricant review page!