The Name Says It All
The Smooth & Slick lubricant by Cal Exotics was a very generous portion of lube for the price. It was also smooth and slick, as the name suggests. Though it wasn't as long lasting as more popular lubricants, it didn't leave a sticky feeling when it dried. My expectations were low prior to purchasing it, but after use I was pleasantly surprised at how smooth it actually was.
Published:
Pros:
-Smooth
-Slick
-Generous Amount of Lube
Cons:
-May Require Reapplication During Use
The Smooth & Slick lubricant by Cal Exotics is contained in a very generous, 8 fl oz. bottle. This is definitely more bang for your buck than a lot of lubes. The bottle is a simple, plastic container with a pop top for pouring. I'm not a big fan of pop tops, as they can leak, and this lube is no exception. When I opened the top to get to the little plastic film that covered the opening off, I noticed how loose the top is upon resealing. I can literally twist the top off by lightly touching it between two fingers. This will surely cause a leaking problem in the future, so if you have the same issue with your bottle make sure to store this upright and in a sealed baggie to prevent damage from it leaking.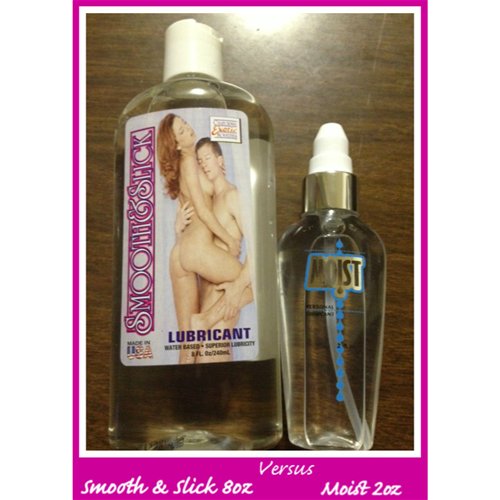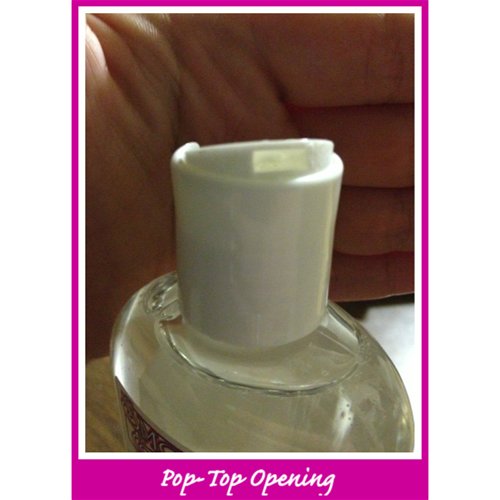 The bottle has two sticker labels affixed to it; one on the back and one on the front. The front label makes this container non-discreet, as it depicts a naked couple sexually caressing each other. The back label contains all of the ingredient and use information. The ingredients are: Deionized Water, Glycerine, Peg-8, Aloe Vera Extract, Carbomer-940, Carboxymethylcellulose, Tetra Sodium EDTA, Methylparaben, and DMDM Hydantion.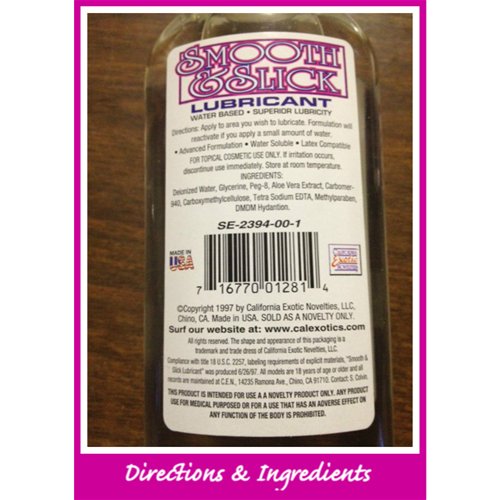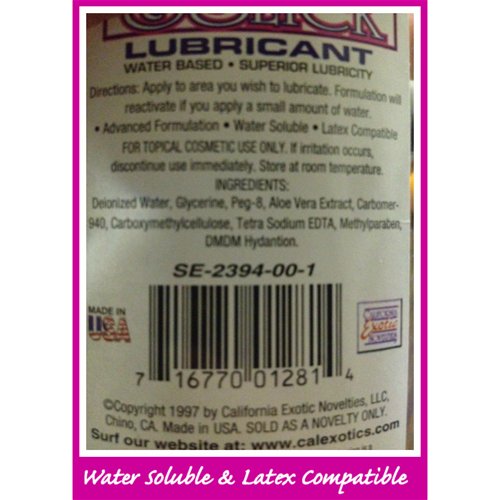 This is a water-based lubricant. It is latex friendly, unlike oil-based lubes, so this makes it great for couples who use condoms as their birth control method or for those who use condoms for STD prevention. For either use, a water-based lube will not weaken the latex, so this is worry-free. Water-based lubes also make clean up a breeze as they are water-soluble. Since it is water-soluble, this should only be used outside of water. If you plan on having intercourse in the tub/shower/Jacuzzi you will need to use a silicone based lubricant because water-based lubes will rinse off and provide no protection from friction.
The Smooth & Slick lubricant is truly what it claims to be; smooth and slick. It feels velvety and similar to a silicone based lubricant. It's slick and has an average viscosity. In comparison, it is less thick than the System Jo H2O but more thick than the Moist Personal Lubricant. It lasts shorter than the Moist and about the same as the System Jo. This may require additional reapplication to keep moist. Luckily there's plenty of it, so running out of the lube quickly won't be an issue. You can also conserve the lubricant by adding water to your body. The lube will reactivate if you apply a little bit of water to the area you lubricated.
The Smooth & Slick lube is also not sticky! When it dries you just feel smooth. The lube doesn't go stringy if you rub this between your fingers. Eventually it will just absorb into your skin and you won't feel like you had anything there. It doesn't even leave a smell. The Smooth & Slick is also odorless and flavorless. There's no chemical or plastic-y smell to it.
Though it doesn't last as long as my other lubricants, I still like this. This is a very generous amount of lubricant for the price and it doesn't leave you feeling sticky. The fact that you can add a dab of water to reactivate the lube if it starts to dry out earlier than you'd like is really cool, too.
Follow-up commentary
3 months after original review
I've still got nearly 3/4ths of the bottle left over. It's a great buy; large bottle at an affordable price and it's not sticky. It's good lubricant and I will be stocking up on more in the future so I'll always have lube on hand! In my initial review I mentioned the bottle leaked a bit. The lubricant dries pretty gummy on the side of the bottle, so cleaning the bottle is necessary and not something I like to have to do with a bottle of lube but with this one it's the case. Still, it's a great amount of lubricant, affordable, and good quality, so transferring this into a better container or keeping it upright isn't a bad trade.
This product was provided at a discounted price in exchange for an unbiased review. This review is in compliance with the FTC guidelines.

Thank you for viewing
Smooth and slick lubricant
review page!