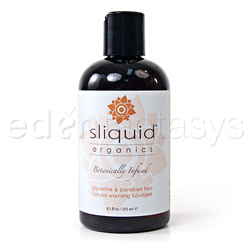 Sliquid organics warming
Lubricant
by Sliquid LLC
The Polar Opposite of Warming
Don't be fooled by its name, this "warming" lubricant couldn't be further from warm. While I like it in my mouth and on my nipples, I don't like it on or inside my neither regions. Might be fun for cold temperature play, but don't underestimate its icy powers!
Published:
Pros:
Tastes good, organic/vegan ingredients, nice for blow jobs.
Cons:
Very cold and tingly, dulled sensations during sex.
How would I describe my initial reaction after opening my bottle of Sliquid Organics Warming Lubricant? Hesitance. I was hesitant. You see, as a person who suffered with asthma from before, I can remember up until college, I am far too familiar with the smell of Vicks VapoRub. And if you compare the ingredient lists of this Sliquid lube and Vicks VapoRub, you'll find they have one thing in common: Menthol.

The smell is obvious if you sniff with the cap off. It's a cool, minty smell that reminds me of cough medicine and Bengay. Have I scared you off yet? I hope not, because the smell is strong only when sniffing the lube up close. In use, the scent is much fainter. If you rub it all over your nose, you likely won't find it pleasant; but in most cases, if you smell anything, it'll smell more like a breath mint than a vat o' VapoRub

But wait, there's more good news! Despite my hesitance, I remembered a piece of advice from an old friend: "Don't smell it, just drink it". While usually applied to unpleasantly fragrant, yet tasty, alcoholic beverages, it also applies to this warming lube.

It's quite yummy, dare I say, delicious! It's minty and smooth, kind of like mouthwash, but without the burn. And there isn't that throat-numbing sensation that comes with cough drops, either. I'd rather lick this water-based lube than taste any of my "tasteless" lubes.

Now, here comes the big plot twist. There is nothing warming about this lubricant! It feels much like any other water based lube I've tried when I first spread it on my vulva, and then it gets tingly, very tingly and cold, as though someone's blowing air across my skin. Amazingly, it feels even colder if it gets inside my vagina, perhaps because I'm naturally warmer inside, so the contrast is more evident. While the lube washes off easily with water and a little friction, I never felt uncomfortable enough to need immediate cleansing. Indeed, the lube is quite gentle despite its tenacious tingling.

The lube is clear, somewhat thin, and separates from itself well (in other words, doesn't leave sticky lines of lube between transfer points like Probe). The 8.5 fl oz. bottle is short and stout, making it sturdier and more discreet. While I'd like a pump top, the lube is thin enough to flow from the press top adequately. The label is inviting and professional with its smooth, matte finish. Being free of glycerine, paraben, and petroleum, it's good for sensitive users or anyone who wants a simple clean lube and doesn't mind the tingling. All of the lube's ingredients are vegan, and the plant additives are organic. The bactericide used in this product is phenoxyethanol, also called rose ether.
Experience
Vaginal sex with this lube was not fun for me at all. His dick felt like a big peppermint stick. Everything from my clit to my cervix was so tingly and cold, that I couldn't focus on whatever pleasure I may have been feeling. His thrusts felt duller, and the sensations seemed almost delayed. My partner initially said he liked the feeling of the lube, but later stated that he enjoyed the novelty of it more than the actual experience. Toy play wasn't much different for me, except I was able to orgasm thanks to the vibrations.

My favorite use for this Sliquid lube so far? Blow jobs. Not only does my partner's shaft taste good, but my mouth feels cool and refreshed, which helps when I've been going for a while. It also dulls the gag reflex somewhat.

I didn't try the lube anally, but if you use it, please do so with caution. The tingling effect might overwhelm mild sensations of discomfort, which could lead to injury or pain afterward.

It's nice for nipple play, and mediocre for massages. It spreads around nicely, but doesn't stay slick as long as lotion or oil does. Even with the lube all over my back, I couldn't smell it; the menthol didn't permeate the air. It didn't leave any residue when it dried, which was nice. And afterward, my skin smelled fresh, but not minty.

For those of you who like cold temperature play, this lube would definitely bolster that effect. I'm not a fan of feeling chilly in my nether regions, so this lube isn't going down there again.

I don't think Sliquid Organics Warming lube is inherently bad, but I certainly wasn't expecting it to be so cold on my vulva. For me, it'll be a lube for blow jobs and nipple play. For you, it could be a lot more versatile.
This product was provided free of charge to the reviewer. This review is in compliance with the FTC guidelines.

Thank you for viewing
Sliquid organics warming
– lubricant review page!