0 to 300 in two seconds flat!
Let your pit crew work on making your engine purr with this corset's race inspired looks and shape enhancing features. The two position bra style back clips allow for some adjustment and the zippered front makes is easy to get on. This corset could be worn to the race track, sports bar or just for a night of 'Time Trials' in the bedroom. Either way it is sure to make the race to the finish a record breaking run.
Published:
Pros:
Gear Heads dream, 'Engine' starting looks, Good workmanship.
Cons:
Not enough boning, Thin material over boning, Zipper is stiff and needed wax.
Yup, I am a gear head. I grew up around the drag strip and have had my hands in grease and oil for the last 35 years. It's no wonder than I had to get this corset from Coquette. I mean, checkered flag, gloss red, flat black and go fast styling, what right minded gear head would not red line seeing their partner wearing this? I must say this is one hot look on my wife and makes my motor purr like a finely tuned Top Fuel Dragster. My erection broke records from limp to rock hard in just under 3 seconds. Not even Larry Dixon (See Experience section) could compete with me!
So before I blow a head gasket, lets get the basics out of the way. This Corset comes in small, medium, large and extra large. (
Corquette size chart
) The wife comes in at 36-D, 37 inch waist and 41 inch hips. I bought the large for the wife which means it should fit a body with a C cup, 38 - 40 inch bust, 30 - 32 inch waist and 40 - 42 hips. As you can see the cups are a size down but she is under the bust measurement. Her waist is bigger than listed as well. To go to the next size up would have made it fit pretty loose in the bust and hips but tight in the waist. I figured I can always alter it if needed, but after getting it and trying it on it may have been better to go with the XL size.
The main problem is with the plastic boning, there is only three of them on each side (half of one on the cups) of the front. If there was another one or two on each side and a three or four on each side of the back, it may have made for a better look. As it is, it does not hide love handles. Furthermore, the back bunches up, in fact it almost looks like she has tit's on her back (see below). Still, in the end, she is happy with the fit and what slimming it does. After two kids, anything that helps hide a few extra pounds is a plus. I think she looks very sexy with it on, I look forward to her "Tuning" my engine!
Front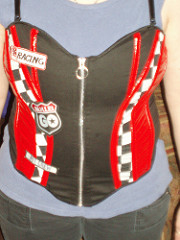 Back
There are straps for the shoulders that can be removed if wanted, there are hooks that simply slide on and off loops on the top edge of the corset. The front measures 15" long from the top of the cup to the bottom of the zipper. The back is 12" long at the clips. There are to sets of loops for the clips spaced 1" apart for some adjustment.
The tag on the back of the corset says it is made from 100% Polyester. The front section does not have any stretch to it while the back is very stretchy. The area with the hooks in the back does not stretch, this gives the back it's only "boning", not that it does any good. The red sections on the front look and feel like thin vinyl, this is the only area that I think will not hold up very long. The boning is held in by it and I feel it is just to thin; it just feels cheap. You get three patches along the left side, one "RACING", one "M.H.LEI-GO" and "PIT CREW".
The front has a metal zipper to make putting it on and off less of a pain. If the damn thing worked like it should, this would hold true. I know that new zippers have a breaking in period but this was one stubborn zipper. I had to apply some
Snow Seal
(Old shoe repair trick) which is a bee's wax based waterproofer. After applying some it worked much better, the wife could put it on without my help after that.
After a hand wash and hanging it to dry you can keep it in the plastic bag it comes in or put it in a drawer.
Experience
I am a bit torn with this corset, on the one hand it is very sexy for a gear head like me. Fantasy's of my own "Pit Crew" on the bedroom are high on my list. I love the over all look of it on the wife and my motor is revving when ever she puts it on. Plus this Corset could be worn out for a night at the races or the sports bar. As a "Corset" though, it is a pretty big fail. It does little to shape due to the lack of boning. For the money I figured the quality would be better, at least have some boning in the back and sides.
I am giving it three stars, take one off for lack of boning and one for the thin vinyl that covers the boning. Even though the boning is plastic, I just don't see it holding up for to long.
I would say that if you fit in the measurements it should fit pretty good. Might be best to go up a size if you are not sure. With some care it might last for a time, I'll report back with the follow up.
For an idea how fast I go from idle to red line check out this-
Larry Dixon's record setting run
This product was provided at a discounted price in exchange for an unbiased review. This review is in compliance with the FTC guidelines.

Thank you for viewing
Racer corset
review page!