(3x/4x) Bring out his basic (animal) instinct
How comfortable is this piece? Let me put it this way...I normally sleep in the buff but I fell asleep and napped today while wearing this and never noticed I had it on.

I love this piece because it is so easy to put on and take off due to the zip front. I love the color and I love the fabric.

My only regret is that I can't get one in purple...and red...and navy and...well you get the idea! I'd have a whole closet of these and wear them daily!
Published:
Pros:
Super stretchy material
Zip front
Very comfortable
Cons:
Needs to be hand washed & line dried
I am writing this review based upon the 3x/4x size and all measurements given will be for that size. HOWEVER, next week I will be returning this piece to Eden Fantasys and get it replaced in a 1x/2x size. Both my husband and my daughter agree that while it is "ok" for me, it really is too big and I should go down one size.
What it is … how to wear it
This corset and thong would be great when worn in the bedroom, however, I plan to find a way to wear it out for special dinners or something with a jacket. I was trying this on the other day when the UPS man pulled up with a delivery and I had no hesitation to go to the gate and get my package from him. I felt like I was still "decent" which is hard for me because I was brought up believing that showing ANY cleavage was wrong.
This item is currently available at Eden Fantasys in sizes M, L, XL, 1x/2x and 3x/4x.
Packaging
This came packaged in a clear bag that is designed to hang up. The thongs were attached to the corset by a plastic tag.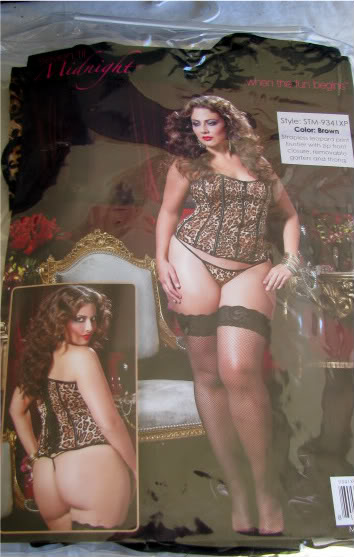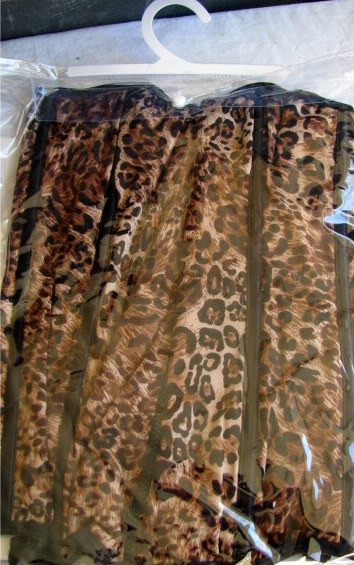 Material & Care
The fabric is 90% nylon and 10% spandex and it is
very
stretchy. The tag states that it should be hand washed in cold water and line dried. You should not use bleach on it nor should you iron it.
Because of the plastic boning in this piece, I think I would hand wash this. However, you could probably throw the thong in the washing machine if you used a lingerie bag on the delicate cycle with cold water.
Design, Sizing & Fit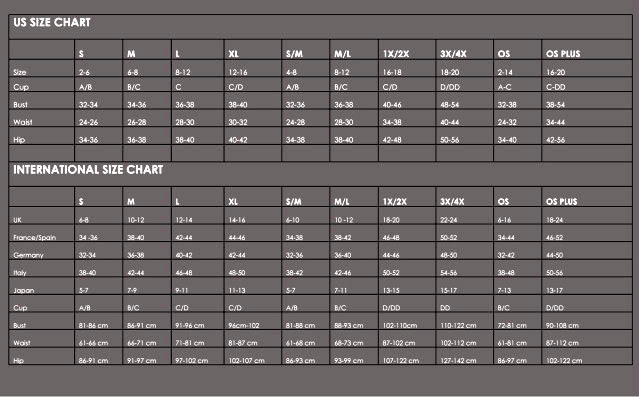 According to the sizing chart, my bra should be 48-54D or DD, my waist 40-44" and my hips 50"-56". I am currently 265 pounds, wear 18-24 tops, wear 44D bra, with a waist of 49", hips of 57" and a torso of 18-19" long.
Based on these measurements this item should be tight in the waist and fit about ok in the hips and be loose in the bust.
However,
that is not the case with this piece. It's loose both in the bust and in the hips and the waist fits fine.
Specific Measurements
center top of front to hem
15.5"
top of cup to hem
16.25"
width of front
18" unstretched
cup width & length
There are no "defined" cups on this piece
garter length
The garters are a maximum of 8" with an additional 5" ribbon.
G-string/thong description
The triangle portion is 6" wide at the top, 1" wide at the bottom and 9" in length. The bottom 3" has a black crotch liner.
The unstretched width of the top is 19" but I was able to stretch it to 27" without any problems at all and it could probably stretch even more than that.
Close-up photos
One thing I love about this piece is that it
ZIPS
up the front. I can put it on all by myself.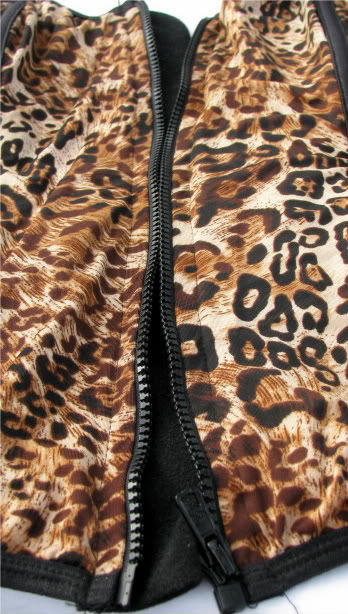 Showing half of the front: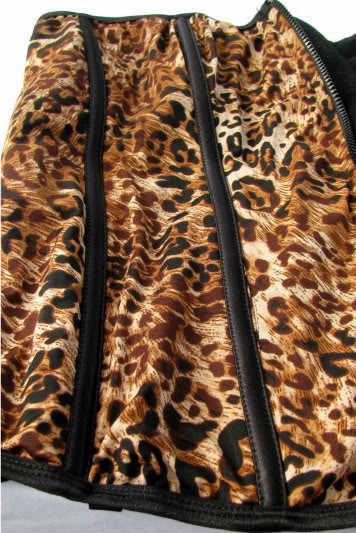 The only flaw I could find with it was where there appeared to be a piece of extra mesh attached to the inside: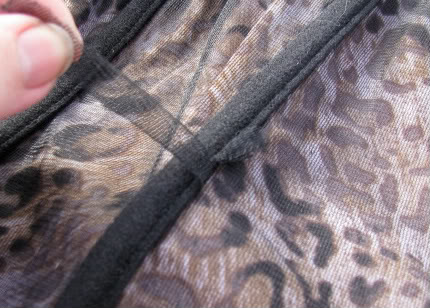 The front near your breasts has a black mesh lining that is very soft: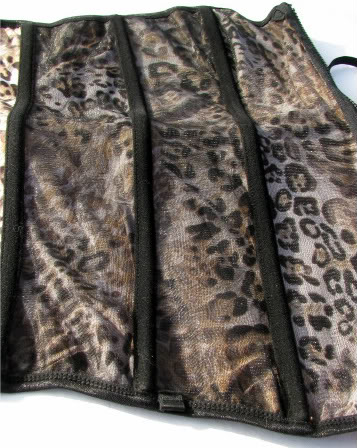 The side is just the super soft fabric that is so stretchy and comfortable: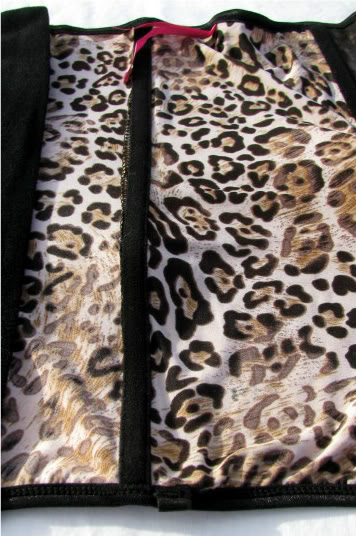 The back has a modesty panel: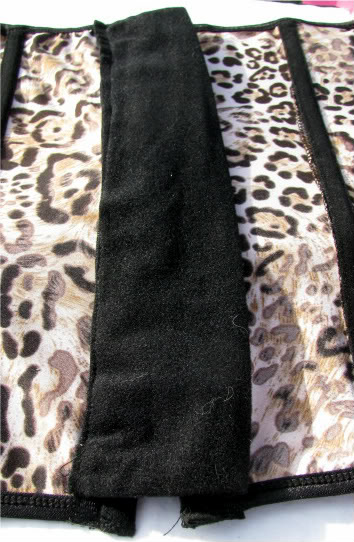 The lacing without the privacy panel: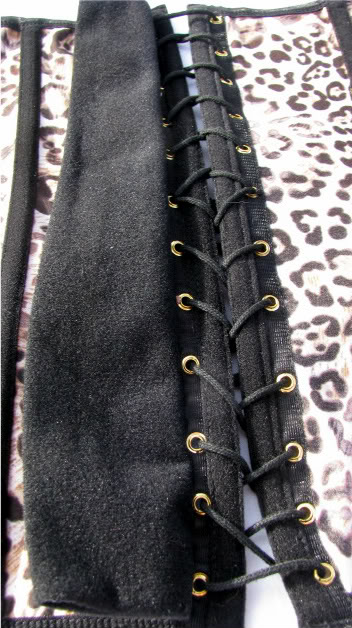 The thong: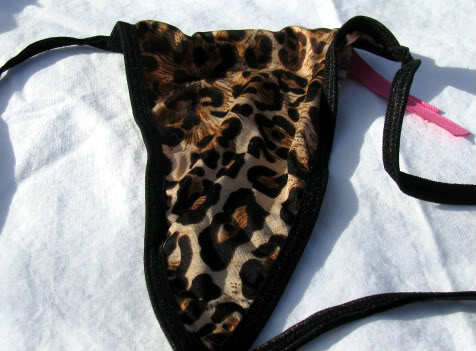 Modeling the Garment
As usual, I did a front, side, back and then breast support shot to show you how this looks.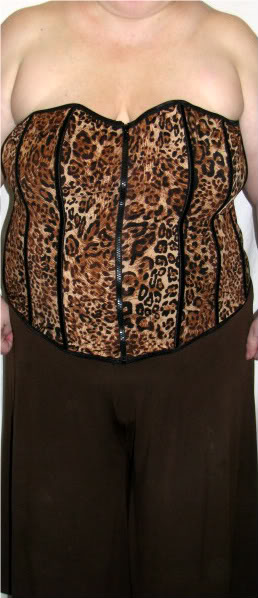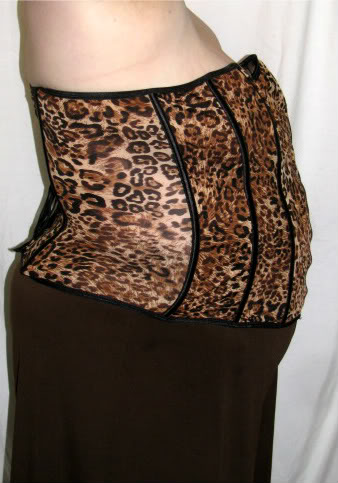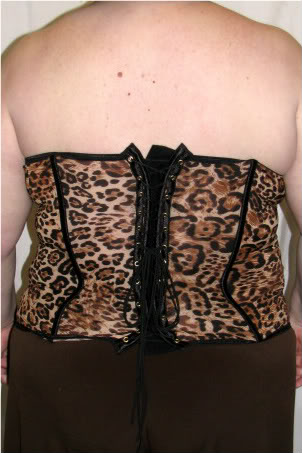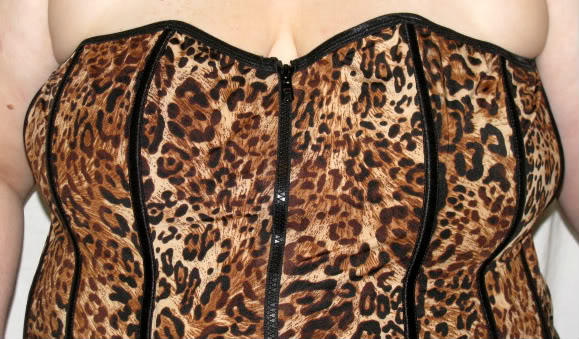 I also did a close-up of the back lacing: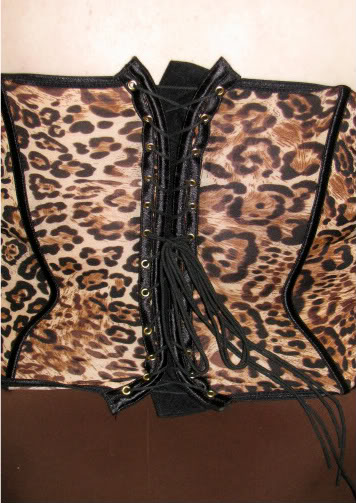 Experience
Comfort & Final Thoughts

From 1 to 5 with 5 being the most comfortable, I will give this a 7...no an 8. How about a 10?

In other words, it is very comfortable and very easy to put on and take off. I love the fact that it zips up the front and I love the mesh fabric that sits next to my skin. Even the sides where there is no mesh are super soft and stretchy.

This is the first two corset/bustier style items that I have had where I feel comfortable enough wearing them that I would be willing to wear it out in public if I could find a jacket to go over it. I love the way it clings to my body and while it really doesn't do the job a corset should do (unless you tighten it a lot), it is very comfortable as a top. I think it's the first corset that my husband has really felt like it fit my personality and lifestyle.

Warning

My only concern is recommending this to you is that I wound up buying a size that is too large. I based my order on my waist and hip measurement but this corset is stretchy enough to cover my waist and hips, probably due to the spandex in it. So please be careful when ordering this garment and you may need to order a size down from what you think you'd need.
This content is the opinion of the submitting contributor and is not endorsed by EdenFantasys.com

Thank you for viewing
Basic instinct corset and thong
review page!