Basic Instincts and animal urges come out to play!
All in all, I do love this corset. The material has just the right amount of give, while still stays soft on my skin. I wish that it just cinched the waist a bit more though, unfortunately it lacks in that department. I love that it has the easy closure of a zipper, so I don't have to fight with laces, especially when wearing this under something as a surprise! (Seriously, how would a surprise work if I've gotta ask him to lace me up!?!)
Published:
Pros:
Soft, stretchy material. Great for those in-between sizes.
Cons:
Laces are rough material. Wish it had more waist cinching abilities.
The Basic Instinct Corset is a perfect entry-level piece for someone who is looking just for the aesthetics of a corset, but doesn't necessarily need bust support or any shaping. This piece by Seven 'til Midnight is sexy and tempting, but leaves a bit to be desired.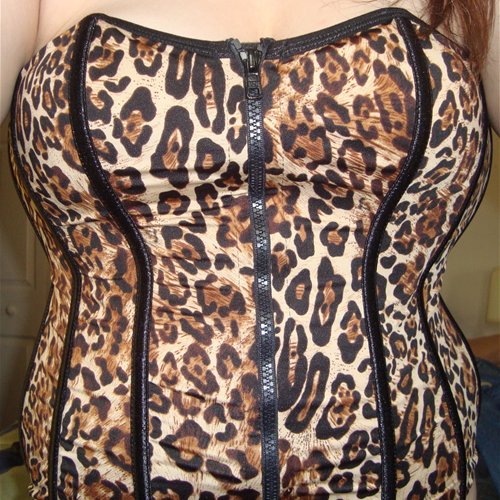 The laces up the back of this corset meet in the middle and are easily adjustable without help prior to putting the corset on. Once you have it on though, you may need a bit of assistance with tightening it up. The laces are made of the same as a rough shoelace is made of, and I do wish these laces were a bit more luxurious then that. Thankfully the laces are reinforced with eyelets so there's less worry of them ripping through.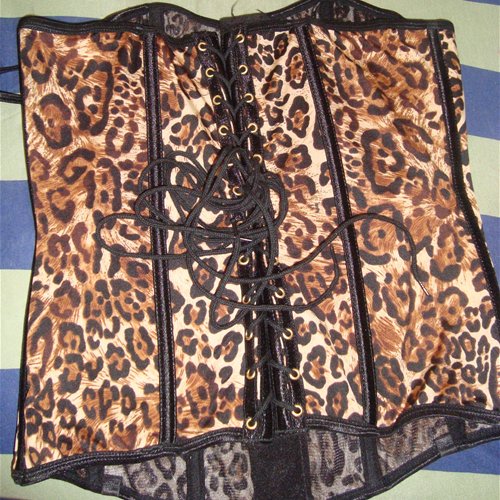 The zipper in the front is pretty sturdy for this corset and it serves its purpose just fine. The zipper is great so that you don't need to be constantly readjusting the laces to put it on and off. One of the nice things about this zipper, its about the same width as the black boning stripes, so its rather inconspicuous. It's not all like, "HEY! Here I am! I'm a BIG BLACK ZIPPER!!"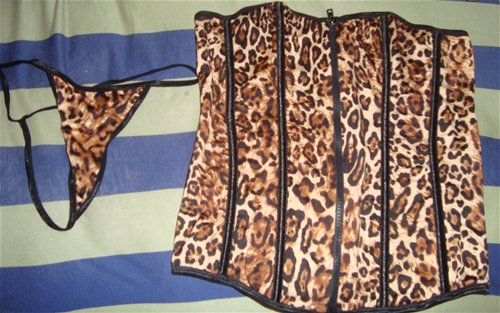 The boning in this piece is plastic, so they do give a bit more than a corset would with metal boning. They really don't give you much shape though. This corset, although it has boning and lacing, isn't the best shape building corset out there.
The material of this corset is polyester and spandex and is lined with a net-type back (think almost like pantyhose), which keeps it soft on the skin and gives it quite a bit of stretch. With that being said, take the stretch into consideration. I'm more in between sizes, and I ordered up thinking that I would be fine with just tightening the laces up. In actuality, I should have ordered down and loosened them instead. I'm sure this would have made me more able to fill out the top of this corset as well. On me I feel like the XL has just has a little too much room in the bust. (I'm a 38C, size 14 dress.)
The undies that come along with it though, I pass on those. They're just a bit too skimpy for me, and I prefer to wear this corset with some black lace boyshorts or something similar. It's all a matter of what YOU feel sexy in, and that G-String isn't it for me. Its black, with the same print as the corset in a little triangle to cover your frontal ladybits. Nothing's getting covered at all in the back though!
All in all, for the price, you can't beat this set. It's comfortable, versatile, inexpensive and pretty darn sexy!!
Experience
My experience with this corset has been pretty good! I have worn it for bedroom reasons, and I've even worn it under a blazer out to the bar. It's a pretty versatile piece! I have a hard time getting the laces tight enough, but that's probably because I'm in-between sizes. The great thing with this corset, is if you are in-between sizes, it does have quite a bit of stretch and give if you choose to order one size down. I should have ordered the large instead of the extra large personally, as it fits everywhere else except my bust. I have just too much room up there. Ordering down a size and loosening the laces a bit probably would have been a better idea for me.
Follow-up commentary
3 months after original review
As much as I loved this corset/thong in the past, I've lost just a teeny bit of weight and I just can't get it to work for me anymore!! The laces tighten, but they just don't tighten enough without bunching up. This one was a little big on me to begin with, keep in mind if you order, it doesn't easily go down a size!!
This content is the opinion of the submitting contributor and is not endorsed by EdenFantasys.com

Thank you for viewing
Basic instinct corset and thong
review page!