A different kind of belt
This is a high-quality, great-looking belt for a reasonable price, and perfect if you want something other than the countless lacy garter belts.
Published:
Pros:
Comfy, quality material, holds up stockings well, 6 straps.
Cons:
Not exactly "one size fits all," connecting components can come apart.
I had been looking at getting a garter belt for quite some time to wear at Rocky Horror showings. I wanted a black belt that was not lacy, and this fit the bill perfectly. It even has 6 garter straps, a smaller detail I was also looking for!
Material and Sizing
The main belt is a nylon/spandex mix that looks a bit like very thin pleather. It stretches a little, but does fit snugly. It is smooth and shiny and quite comfortable, not scratchy or irritating in any way. Being black, I found it works with any color, and any other sort of material as well, so don't worry if you don't have other pieces in the Wetlook collection.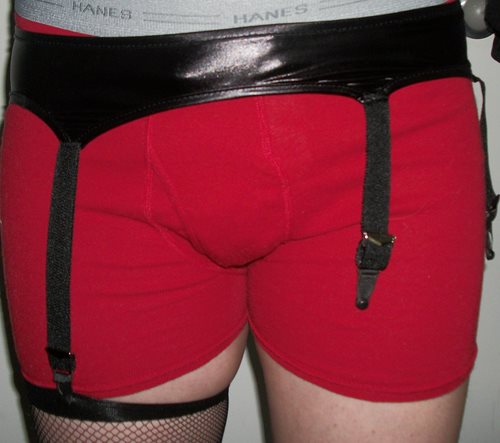 I chose the one size fits all, which supposedly fits hips 40-42". I am about 39" around where I like this to sit, and the belt fits me perfectly, or at least as well as I'd hoped, as I don't actually have a lot of experience with garter belts. I would say if you're much larger than 42", definitely go up a size, and if you're much smaller than me, this belt will probably be a little big.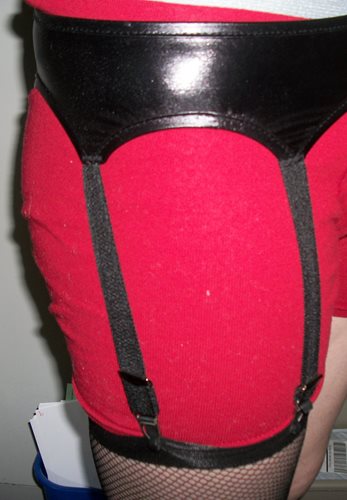 The back of the belt connects like a bra, hook and eye style, and I generally wear it on whichever hooks I find first. The stretchiness of the material covers the difference for me, and I haven't had a problem with "muffin top" very much, though I don't have very much fat around my hips.
The straps are made of a very stretchy knit material that seems to hold up to a lot of use without losing their shape. The longest strap length (and the one I use the most) is around 5", and they can adjust to about half that, or 2.5", not counting how much they can stretch. The straps have (very sturdy) metal clamps that hold them at the length you want without any sliding around.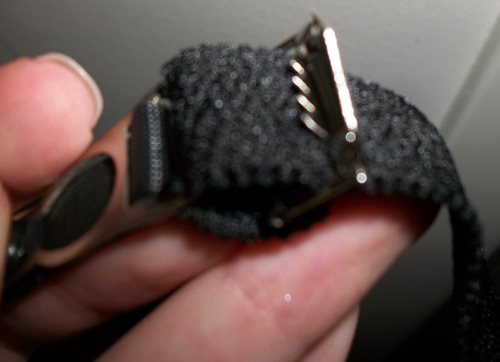 I only had one complaint with this belt, and that was when I tried to connect the straps to my fishnets. I had no issues with the side or front straps, but the back straps took me a while, and I managed to "break" the piece (which can easily be put back in its place, but renders the strap useless until you do that.) Basically, the black piece comes out of the metal piece because it is connected by wrapping itself around and through a slot in the metal, not glued or sewn in any way.

That said, the pieces stay in place while I'm wearing the belt, so I think it's as much of an issue with the user as it is with the product. (:
Care and Storage
It's hard to say how I'd clean this material; I haven't had a reason to yet. I would not recommend throwing it in the washer because the garters are not detachable, and the metal would likely scratch or tear the fabric. If it does need cleaning, just spot clean with soapy water and air dry or pat dry.
The belt is very easy to store. It does come on a plastic hanger, but I simply fold it and put it in a drawer. It is pretty obviously not a regular piece of clothing, so tuck it away from judgmental eyes if you think that will be an issue.
This content is the opinion of the submitting contributor and is not endorsed by EdenFantasys.com

Thank you for viewing
Wetlook garter belt
review page!