My New Favorite Belt!
This sexy little garter belt has made it's way into my top 10 list. It's sexy, it's comfortable, and it's functional -- how can you lose? It's also quite affordable, which makes it even better! I love it so much that I'm thinking of buying one or two more, just in case anything should ever happen to this one.

If you don't have this in your collection yet, you should definitely consider adding it!
Published:
Pros:
Affordable, High Quality, Sexy, Functional, Metal clasps!
Cons:
A few loose threads, Hand wash only
On my must-haves for sex appeal list, garter belts are right at the top. There is just nothing sexier than a good garter belts and some thigh high stockings, in my opinion. I just love when I can find one that's functional enough for day-to-day wear, yet sexy enough to wear as lingerie.
This sexy little belt recently found its way into my collection, and let me tell you -- it's sexy, it's functional, and absolutely amazing. If you don't own it yet, get it now! Trust me, you'll regret passing up this sexy belt.
What's Included:
For $20.99, you will receive the wetlook garter belt. There are no panties, or other pieces, included. The garter belt features adjustable (but non-removable) garter straps, and it's unbelievably sexy. Sadly, however, the belt is currently only available in black.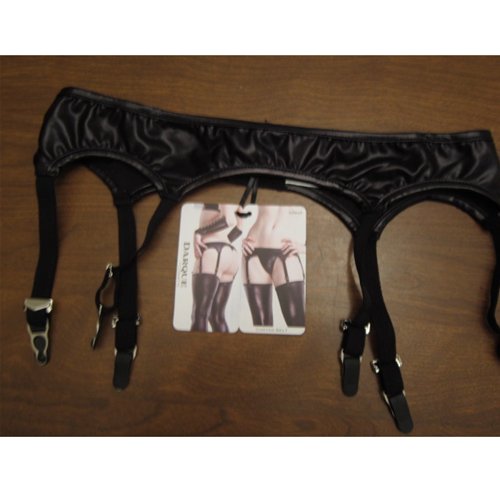 How to Wear:
This garter belt is one of my absolute favorites. It's comfortable enough for me to wear for extended periods of time, yet it does what it's supposed to well. What is it supposed to do, you ask? Well, it's supposed to hold up my thigh highs. It's also not visible through clothing, making it a great choice to wear underneath dresses or skirts.
So it's functional, comfortable, and fitted enough to wear everyday, but that don't think that means you can't wear it as lingerie, too! This belt is as sexy as it is functional -- which is VERY! This item is sure to wow as lingerie!
Material & Care:
The wetlook garter belt is made out of 80% Nylon and 20% Spandex, exclusive of the trim. With such a high spandex count, it should come as no surprise to hear that this belt is very stretchy. That being said, you should keep in mind that this belt is going to fit snugly, as it's supposed to. So, if you're a little larger than the size chart recommends, the fit of this belt may cause you to get the appearance of "muffin top".
The exterior of the garter belt is the shiny, black wetlook material. It's beautiful in person, especially as it appears to shimmer when the light hits it just right. The exterior feels smooth, sleek, and oh so touchable.
The interior of the garter belt reminds me of the material that swimsuits are made of, only softer. It's comfortable and smooth against my skin. It doesn't cause me any irritation at all.
All in all, the material here is fantastic! The belt is breathable, comfortable, and it feels incredibly durable.
To care for this belt, you should hand wash it only. Then, allow it to line dry.
Sizing:
Coquette has made this item available in two sizes: one size fits most, and plus size. I purchased this in one size fits most.
According to the size chart, one size fits most should fit someone with 40-42" hips.
My hips measure 40", and this garter belt fits me well on the last hook. I could fasten it on the tighter settings, but I get the appearance of muffin-top when I do so. I do think that this piece could fit up to 42", but any larger than that is going to want to purchase the plus size.
I took the following measurements with the piece laying flat, and open (unclasped).
Unstretched the piece measures 30.5"
Stretched it is 40"
Design:
This is your basic, sexy garter belt. It has six non-removable garter straps. Yes, I said six! I love that this piece as six garter straps, as that means that it holds my stockings up more evenly. Two of the garter straps are found at the front, two in the back, and then one on the outside of each thigh.
The garter straps have a little pattern on them, which you'll see in the photo below. The garters are not removable, but they are adjustable.
As you can see in the photo above, there is a little metal triangle shaped item that's a little ways above the clasp. To adjust the garter, you need to lift that little triangle -- it opens sort of like a latch. Once it's open, you'll see that it has little teeth. Slide the little metal bit up the garter strap, with the latch open. Once you get it where you want, snap it shut, and you're good to go!
The garters, at their longest possible setting, measure to be almost 7" long. At the shortest length, they're 4" long. The fact that these straps are adjustable makes this belt great for both petite and tall individuals.
Experience
Design cont.
The clasps on the garter straps are made of metal! As such, they're incredibly durable, and they look really sleek. I love the appearance of the metal clasps -- very sexy!
The garter belt features a hook and eye closure setting.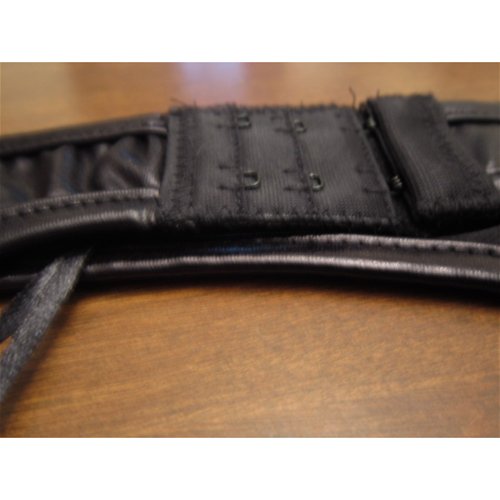 Packaging:
This belt arrived in a plastic bag. A plastic hanger was included, although the hanger I received was broken. The fact that the hanger was broken isn't a big deal to me, because I don't hang my garter belts.
There is a hang-tag attached to the garter belt with a little safety pin. Removing the safety pin does not damage the fabric in anyway that I can tell.
Quality:
There are a few loose threads on the hook and eye closure, but that's nothing that concerns me. This belt is great quality, especially when you factor in the extremely affordable price!
Follow-up commentary
10 months after original review
This is still one of my favorite garter belts. I wear it frequently, and it's held up wonderfully. I also really love the fact that it has 6 garter straps, as it holds my stockings up more evenly.
This product was provided at a discounted price in exchange for an unbiased review. This review is in compliance with the FTC guidelines.

Thank you for viewing
Wetlook garter belt
– garterbelt review page!